Stardust #Truth Postcard Campaign.

Contact the author of the petition
A message from Bridge Mc Dermott and Christine Keegan.
2018-09-23 16:36:04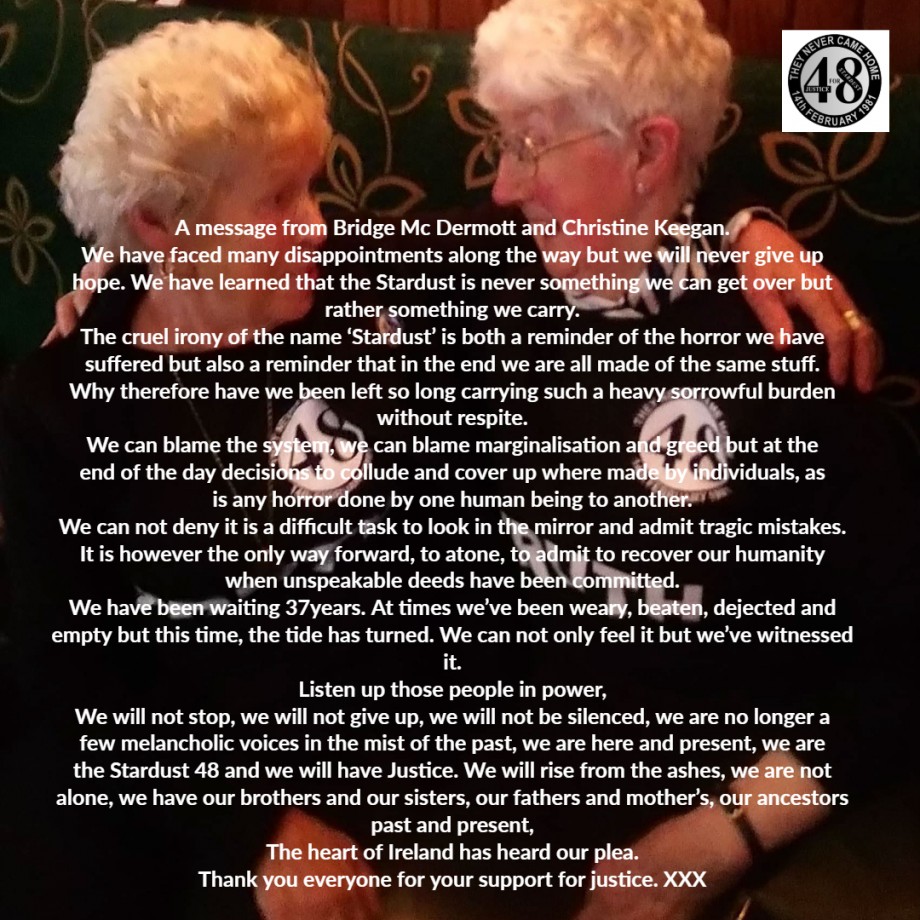 Maurice Frazer https://www.facebook.com/JusticefortheStardust48/
Our Story
2018-09-13 19:52:02
In the early hours of the 14th of February 1981, a fatal fire took place within the Stardust Nightclub, Artane. Some 840 people attended the Valentine's night disco when the blaze broke out, which resulted in the deaths of 48 young people and 214 more injured.
The average age of the 48 dead was just 19 years old. Fire exit 2 was locked. Fire exit 3 was locked. Six other fire exits had chains wrapped around their panic bars. Fire exits 4 and 5 were blocked by various materials, impeding the patrons from escaping. The windows had both steel sheets and bars welded to them. These caused the high number of fatalities.
During the Tribunal of Inquiry into the Fire of the Stardust, Justice Ronan Keane stated that the owner of the Stardust had acted with "reckless disregard" for the safety of his patrons. However, the outcome of the report in 1983 stated that the fire was started due to "probable arson". This left the victims and their families with a sense of "criminal wrongdoing" as this cast suspicion upon all in attendance that night. This finding also allowed for the owner of the premises to sue Dublin Corporation for compensation.
The Coffey Report of 2009 found the findings of "probable arson" to be hypothetical and this was subsequently removed from the public record. There now remains an absence of cause of the fire, something which lies heavily upon the victim's families minds and is a continuing source of considerable hurt. In this report a number of points were made which contradict the original Tribunal, such as the location of the fire and evidence not being dealt with correctly or simply ignored in the original inquiry. former Justice Minister Alan Shatter has ruled out the possibility of a new inquest into the fire which killed 48 young people, stating that it is not in public interest.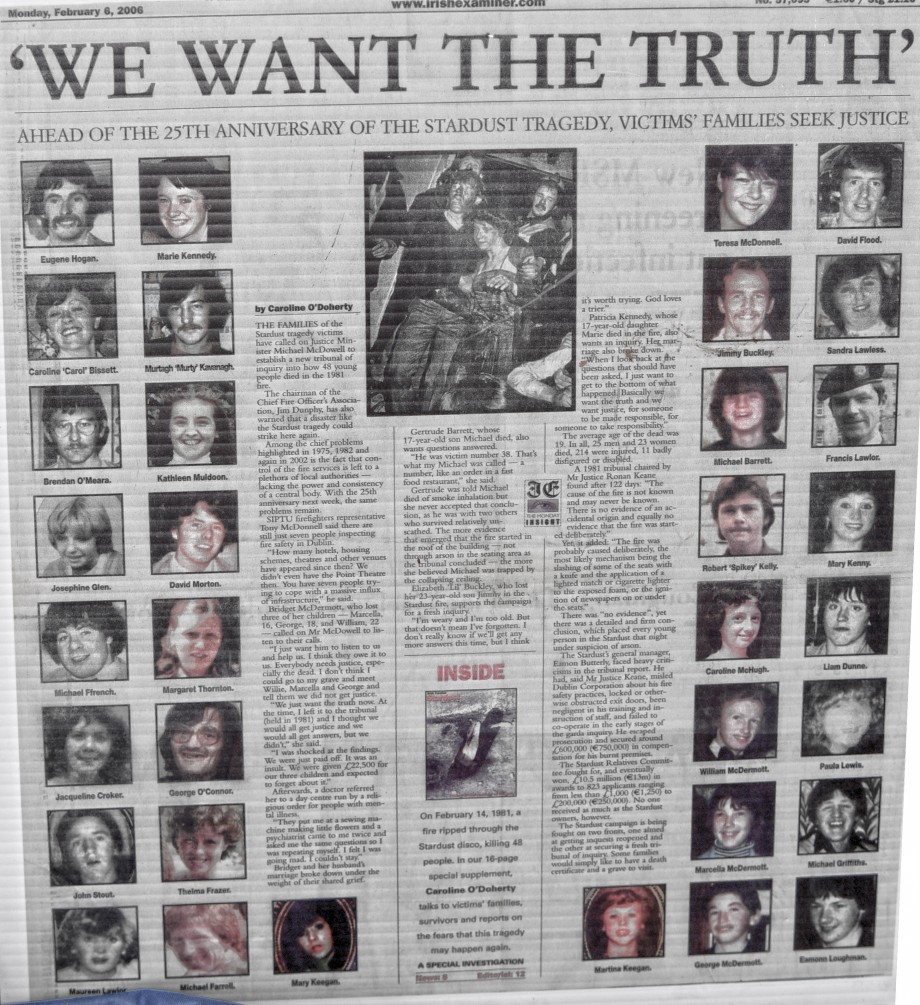 To this day, the families and the victims of the Stardust tragedy are still without justice and closure. Despite declaring the tragedy to be "the worst event in the history of the State", government after government have failed to act on this issue. This must be brought to the attention of the public/media/government and a fresh call made for a new public inquiry into the tragic events of Valentines night 1981.
Maurice Frazer https://www.facebook.com/JusticefortheStardust48/