Petition for Gates to be Operational in El Prado Pod and Closed outside of Construction Hours (6pm-6am)

Contact the author of the petition
Response on Behalf of the Developer
2022-07-25 22:56:06
Hello Chase,    
   Please be advised that the decision to keep the gates open permanently until the final close and occupancy of the last home is conducted will stay the same. It was acknowledged during the final close of sales in Esperanza that this is the case and will stay the case until final occupancy. Please see the referenced section 3.57 of the Covenants and Restrictions regarding gate closures.  The adherence to recorded and thoughtful Covenants and Restrictions is not something to be taken lightly.  In this case the declarant felt it is in the ultimate best interests of the community to remain open until all homes are sold and occupied.     
There is still too much time and sales left to be had and too much traffic going in and out to close, even for a 12-hour period. In previous experiences, closing gates too early causes a high potential for gates to prematurely be broken and damaged resulting in budget overflow. We understand the want for the gates to be closed but please understand that even when the gates do close in the future, they are just access gates, not security gates. Even with gates closed there is still a potential for theft and vandalism. It is every homeowner's right to protect their property and we expect such to happen but closing the gates right now may only cause a deterrence, but it won't solve the issue for vandals that really want to get in and steal property. It is always recommended that everyone take all personal belongings and items of value into their homes and never leave vehicle doors unlocked, or home doors for that matter. Again, we completely understand the want for the gates to be closed but, for now they will stay open until the final sale and occupancy has been established. We greatly appreciate yours and everyone else's understanding at this time. 
Respectfully,    
Cody Davidson
Community Association Manager
Goodwin & Company
Our Mission: To enhance the value of the communities where we live and work.
OFFICE: 512-502-7500
CELL: 210-447-5585
11950 Jollyville Road, Austin, TX 78759
www.goodwintx.com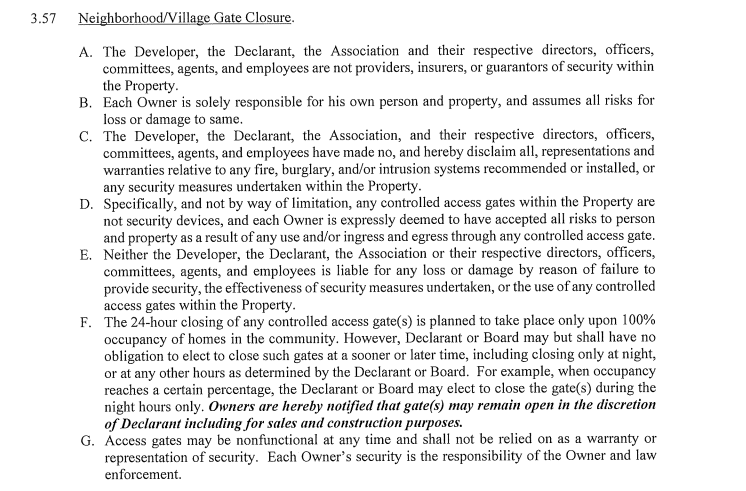 Chase Henckel
Communication about this Petition
2022-07-09 02:40:45
Hello, 
We were able to collect 78 signatures for this petition, so thank you to all who signed. I plan on sending the developer an email tomorrow with a copy of all the signatures of our petition and the change we are requesting to be made to get our gates working. I know even if this works in our favor, it may take some time before they actually make the gates operational. I am just thinking the time needed for everyone to get their codes and/or their RFID/fobs for their cars that will make the gates work for all the current homeowners. At least this should ignite the fire to start that process, but I will keep everyone posted.
Thank you for all of your support and let's hope and pray for the best. Any questions/comments/concerns are appreciated.
Chase Henckel