AN APPEAL TO THE EUROPEAN UNION TO RE-OPEN THE DOOR FOR DIRECT EXPORT OF HORSES FROM SOUTH AFRICA TO EUROPE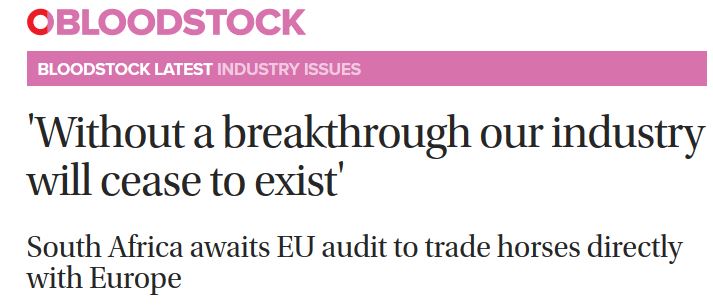 After years of negotiation, and with the South African Bloodstock (plus other equine sports) industry in freefall - the latest news regarding the never-ending saga in attempts to get the EU to re-open the door for direct equine exports from South Africa to Europe - has apparently reached an absurd 'stalemate'!
To try and keep this as brief as possible:
The South African Bloodstock industry currently supports over 150,000 people
Currently, horses from South Africa being exported have to endure:

21 days pre-export quarantine.
3 MONTHS on the Indian Ocean island of Mauritius.
Between 30 - 60 days residency in Europe before further travel.
All of the above adds to tremendous risk of illness and injury to the horses that have to endure this process.

South African-bred Thoroughbreds feature in the pedigrees of the likes of Champions; US Horses of the Year; European Classic winners- such as JUSTIFY (Triple Crown Winner and US Horse of the Year); WISE DAN (twice US Horse of the Year);  BEHOLDER (4 x US Champion); STAR CATCHER (European Classic Winner); HENBIT (Epsom Derby winner); amongst many others!
RELEVANT PRESS ARTCLES
An excerpt from yesterday's (24 October 2019) Turf Talk Newsletter - outlinging the absurd situation can be found here:  http://www.eqbza.com/ttnews20191024_b.pdf
Racing Post (Tuesday 23 October) posted the following: https://www.racingpost.com/bloodstock/bloodstock-latest/without-a-breakthrough-our-industry-will-cease-to-exist/405268
Internationally acclaimed trainer Mike de Kock also posted the foillowing on Tuesday: https://mikedekockracing.com/2019/10/23/we-need-a-little-help-from-our-friends/
This is an INTERNATIONAL APPEAL made to all horse lovers and it is hoped that sufficient signatures to this petition will persuade 'the powers that be' that this ongoing impasse is one that not only effects the well-being and care of ALL horses in South Africa - but the livlihoods of tens of thousands of people.
Thanks in anticipation that you will take the time to read and sign!  AND, PLEASE TWEET THE LINK TO THE PETITION AND USE THE HASHTAG #OpenTheDoor (thanks to Gary Woods of EI Bloodstock)
Alistair Brown
Equarius Bloodstock (Twitter https://twitter.com/Equarius_Bldstk )
Sign this Petition
By signing, I authorize Alistair Brown (Equarius Bloodstock) to hand over my signature to those who have power on this issue.