Four Tips to Becoming a Professional Game Designer
Becoming a game developer entails a lot of effort. The industry itself is quite broad to the point that game developer is becoming an umbrella term. A game developer can be someone who punches in lines of codes to make game functions work, or it can be someone who creates impressive assets that will be used as sprites and backgrounds in a game. The latter is a bit underrated by some people just because the first impression of a game developer is, well, someone who does nothing but code for hours on end. Both are equally important. Aside from the inherent artistic capability of a game designer, there are a few things to keep in mind when going this career path.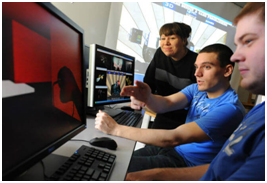 1.    Start with free software.
Top of the line software used in designing game assets and animating them can cost a significant amount of money. Sure, it's worth the investment. But investing outright even without a secure stream of income from the very beginning is risky and downright impractical. Not to mention that most software today are not sold on a one-off basis but through a monthly subscription. Try not to be pressured too much in using what established professionals use. Check out open source alternatives. Another advantage of this aside from saving money is that open source software are slightly less convenient to use. How's this an advantage? Well, it's going to be a breeze once the opportunity to switch to paid applications presents itself.
2.    Join events
Meeting up with other people who are into game designing will help an aspiring game designer in more ways than one. First, it's a good way to build a network. Down the road, someone that one established a connection with might be looking for an artist. Not just any artist, but one that has a specific style of artwork and game design for the game they have in mind. Second, it's an amazing learning experience. Meeting professional game designers in person is inspiring. Their success story can fuel an aspiring game designer's motivation for days on end.
3.    Learn by doing
Learning how to become a video game animator takes more than just technical skills. And yes, it takes more than artistic talent as well. Open up that graphic design software and keep at it. Practice and experience go hand in hand with theoretical know-how and good eye for art, culminating in a caliber of expertise that industry leaders will be looking for. Since it's a career that deals with visual output, the progress made over time is going to be inspiring.
4.    Collaborate
It's rarely a one-man show. Game development will need the participation of other industry experts to become a success. Marketing included. If there's a promising idea at hand, it might be a wise idea to create a startup and get essential people on board. It's a risk, obviously. Not all startups are able to find financial success. But where financial success fall short, experience and wider network fills the gap.
Sign this Petition
By signing, I authorize Deborah Richardson to hand over my signature to those who have power on this issue.