Karjaa primary school in Finland - Healthy facilities project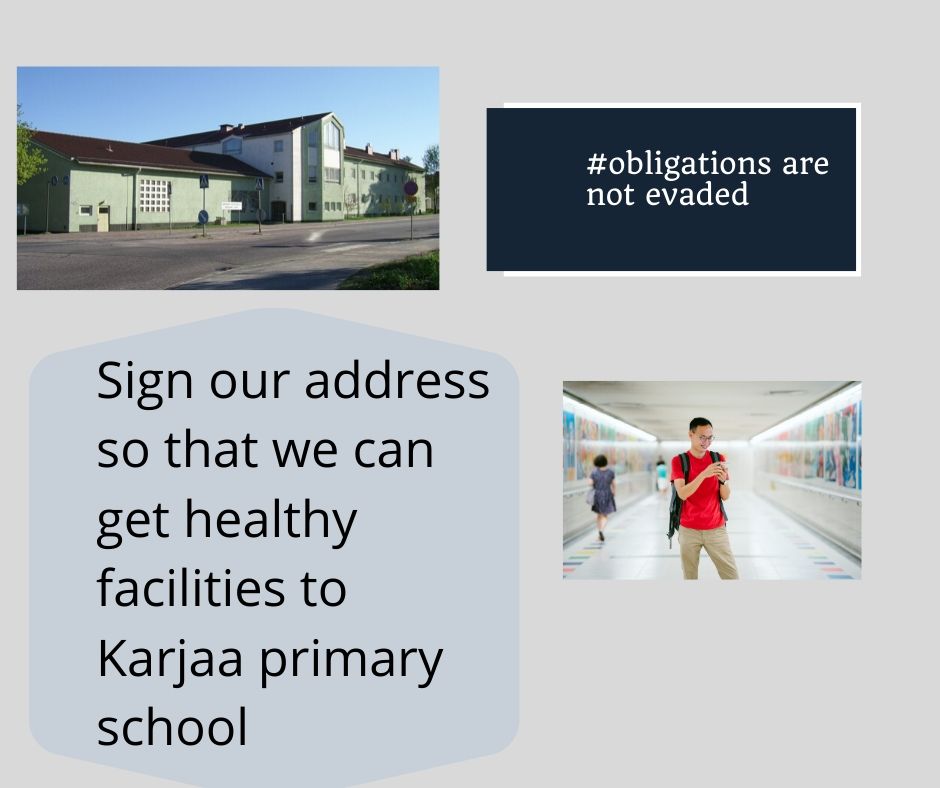 Healthy facilities are the basis of high-quality basic education - and that is why we insist that the B-house of the Karjaa primary school in Finland should be banned from use and evacuated so that young people and staff are no longer exposed to health problems. In addition, all indoor air problems at the school should be thoroughly mapped and repaired.  
According to Chapter 7, Section 29 of the Basic Education Act, "a person enrolled in education has the right to a safe study environment". The city of Raseborg must ensure that students have the opportunity to study in good indoor conditions.
Indoor air problems in the Karjaa primary school became public in 2014, and despite repair efforts, B-house and other facilities are still causing symptoms to students and staff.  
The school will host an outdoor news conference on 10.10, welcoming as many students and parents as possible!  
6.2.2020 we got the results off the circumstance query. At least 64 (24%) off students suffer off this. Then the group between good and poor has 83 (31%) students and in this group there is problably many that also suffers off the problem. How many is reality. Somewhere between 64  - 147.

Between 2014-2019, Baumedi Oy company has researched the facilities and the list of measures is long, but despite this, indoor air syndrome is constantly increasing.  
In September 2019, 12 new announcements were made, and there are already more dozens of symptomatic students. It is a matter of political choices and decision-makers now need seasonal priorities. The value base of a municipality is reflected in what the decision-makers consider important and in what matters the municipality invests.  
The health of children, young people and school staff cannot be deliberately endangered.  
There have been several concerns on behalf of the students and the staff on several occasions, and there have been several discussions in the Indoor Working Group.  
It has long been known that the school building is in very poor condition. Both children in school and adults working there are seriously ill.  
Persistent headaches, coughs, difficulty breathing and asthma are common health symptoms among those working in the building on a day-to-day basis. This things are also known by the city medical staff.  
It is downright irresponsible to delay the repair of the premises. Children have the right to a healthy school building where no one has to worry about getting sick. After all, children cannot take sick leave from school work.  
We require the decision-makers of the city of Raseborg to solve the situation of the Karjaa primary school quickly, either in the form of a new building or in the form of evasive action.  
You can find nuch reaserch off the topic by google for example using search " Causes of Indoor Air Quality Problems in Schools "
Please sign to support the children which suffer from indoor air problems
Sign this Petition
By signing, I authorize Karjaan yhteiskoulu -terveet tilat hanke to hand over my signature to those who have power on this issue.