Let the Fall Fair continue at Quality Farm & Garden
Due to an event that was held in the past couple of weeks at Quality Farm that led to a (as far as I know single) complaint by a neighbour due to noise(?), the SCRD has deemed the facility can no longer host events due to it being part of the ALR. (I will try to find more detailed info on the complaint and judgement).
This will include the Annual Fall Fair, which has taken place at the site for the past 15 years over a weekend in October--as far as I know--without a single complaint.
The Fall Fair is an event that is well-attended and enjoyed by residents from all over the Sunshine Coast--allowing artisans and vendors a fun atmosphere to sell their wares, it also acts as a fund-raiser for groups like the hospital auxiliary and Lions Club.
We would like the SCRD to review their blanket decision of disallowing ALL events to take place at Quality Farm and make an exception for this event--especially in light of the events' history and benefits to the community.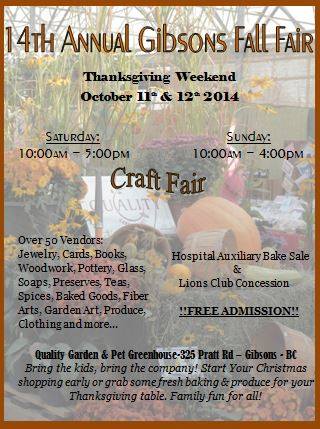 Sign this Petition
By signing, I authorize Verna Chan to hand over my signature to those who have power on this issue.