Make VajGraff apologise for defacing the Queens statue in Bristol
Yesterday, 7th january 2016, a "streetartist" calling herself Vajgraff defaced the statue of Queen Victoria in a busy part of Bristol by drawing genitalia onto the lower half of the statue.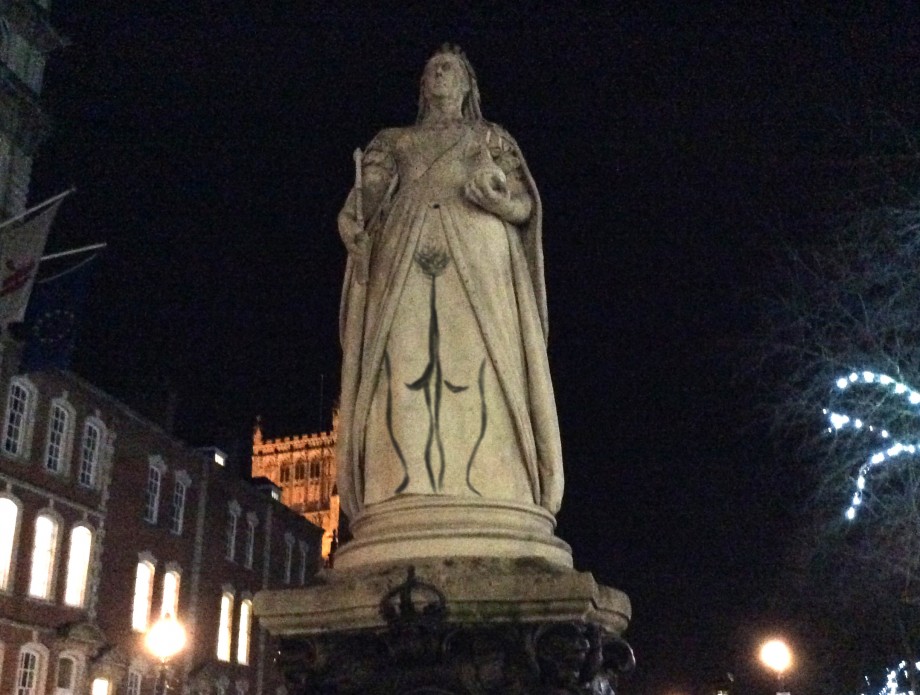 She has rather stupidly publicly admitted to carrying out this vandalism but actually seems proud of her actions. She replied offensively to me when I asked her about it on twitter and shows no remorse.

This statue is 200 years old and is near a Cathedral and school and has tourists and children passing by all the time. She obvioulsy is just a Banksy wannabe and is trying to cash in on Bristol's reputation as a centre for grafitti and make herself famous with this cheap stunt. 
I demand that she makes an apology to the people of Bristol and is made to pay the full costs of cleaning it up and any other pieces of her so-called art.
Announcement from the administrator of this website

We have closed this petition and we have removed signatories' personal information.

European Union's General Data Protection Regulation (GDPR) requires a legitimate reason for storing personal information and that the information be stored for the shortest time possible.
---
Is there something you want to change?
Change doesn't happen by staying silent. The author of this petition stood up and took action. Will you do the same? Start a social movement by creating a petition.
Start a petition of your own
Most popular petitions in last 7 days
  This petition is being circulated to demand Erie County Executive Mark Poloncarz stop his aggressive move to steal Bills football season tickets from lifelong fans and to stop other fans from attending home games at "Poloncarz Stadium" under the guise of public health. If his segregation efforts succeed, Poloncarz Stadium will only allow vaccinated fans to attend Buffalo Bills home games. Fans who had the virus in the past, people with even stronger natural immunities, will not be able to atte
Created: 2021-09-15 Statistics
| Time period | All countries | United States |
| --- | --- | --- |
| All time | 754 | 747 |
| 7 days | 754 | 748 |
                   MGHS PSAs JOINT COMMITTEE NY Chapter - Sharon Wilson, PresidentCanadian Chapter - Simone Thomas PresidentJamaican Chapter - Shelly-Ann Morgan President "Calling out the truth may appear irresponsible to those who wish to hide it, however, it is the only way forward". (Author unknown) "The heights by great men, reached and kept; were not attained by sudden flight.  But they, while their companion slept, were upward toiling through the night".   What We Believe... 'We have Liber
Created: 2021-09-10 Statistics
| Time period | All countries | United States |
| --- | --- | --- |
| All time | 1015 | 219 |
| 7 days | 1011 | 219 |
Dear GCISD School Board Trustees and Superintendent,Those who have signed this petition have done so of our own free will. This petition may represent GCISD students, parents, GCISD educational staff, and/or anyone within our Grapevine-Colleyville area who are supportive of Dr. James Whitfield's continued dedication and service to Colleyville Heritage High School as its acting Principal.On July 26, 2021 during the GCISD school board meeting Open Forum, former school board candidate & GCISD p
Created: 2021-08-01 Statistics
| Time period | All countries | United States |
| --- | --- | --- |
| All time | 2209 | 2186 |
| 7 days | 159 | 164 |
Whereas the over population of deer in the Delafield and Waukesha area contributes to a significant destruction of vegetation, Whereas the Lapham Peak and Delafield area is the epicenter of Chronic Waste Disease in the county,  Whereas Waukesha County ranks amongst the highest number of deer vehicle collisions with nearly 900 per year, and Whereas the over population of deer contributes to Lyme's Disease spread through deer ticks, Whereas Bow Hunting, especially from an elevated stand, shooting
Created: 2021-09-10 Statistics
| Time period | All countries | United States |
| --- | --- | --- |
| All time | 124 | 124 |
| 7 days | 124 | 124 |
Tampere Disc Golf Center is under threat.    Some politicians of city of Tampere have addressed lately their will to give land for the expansion of the nearby golf course. This particular piece of land they have in mind happens to be Tampere Disc Golf Center (TDGC).  If this is to happen it means the end of TDGC as we know it. Tampere and Finland and actually the whole disc golf community will lose something extraordinary.  TDGC was built by the city of Tampere in 2018 and it has 27 beautiful ho
Created: 2021-08-27 Statistics
| Time period | All countries | United States |
| --- | --- | --- |
| All time | 17736 | 1551 |
| 7 days | 566 | 59 |
*** SHARE TO ALL CAT GROUPS*** Asking for help.   please sign this. It's been 4 weeks since a lady that was in my small town of Marine on St Croix took my cat. This lady that I can not name because she is a professional at " playing a victim " noticed my cat, Conky across from my driveway. 20 feet from my front door and decided to play god with my cat. She claims that she was not well cared for. Even though I have vet records, a letter from my vet and several people stating otherwise. The law in
Created: 2021-09-16 Statistics
| Time period | All countries | United States |
| --- | --- | --- |
| All time | 56 | 56 |
| 7 days | 56 | 56 |
Subject:  HOA Representation We, the residents of Cypress Point & Ivy Ridge, need your help.  We need for you to do your job.  This is not a letter filled with sunshine.  It is to remind you that WE pay YOU.  Therefore, we ask that you immediately stop all letters of violation mailed to the homeowner.  If there is a proposed violation, email the letter, and/or post it on the portal with an email notification.  At least provide the option for the homeowner to choose for paperless notification
Created: 2021-09-10 Statistics
| Time period | All countries | United States |
| --- | --- | --- |
| All time | 54 | 54 |
| 7 days | 54 | 54 |
As a homeowner in the S-G II Association, I am signing this petition to object to the signing of a golf course contract between the S-G II Association and Sterling Golf Inc. The golf course located at 16500 Houston National Blvd, Houston, TX 77095 is not connected to any of our properties in the Association. It is of no value to me or my property. This contract is not in the best interest of our Association as a whole. 
Created: 2021-09-09 Statistics
| Time period | All countries | United States |
| --- | --- | --- |
| All time | 189 | 189 |
| 7 days | 34 | 46 |
By signing below I support the CAAMP legislative proposal and urge the Legislature to support and pass this important Anger Management Law for the State of California.
Created: 2019-10-10 Statistics
| Time period | All countries | United States |
| --- | --- | --- |
| All time | 163 | 163 |
| 7 days | 1 | 36 |
In light of the recent mask policy dictated by the Archdiocese of Miami, we are petitioning for a change to the mask policy at SPPS. After spending the entire 2020 school year with masks, the physiological and psychological effects of long term mask wearing on kids has been noticeable. In addition, the efficacy of masks in class during the 2020 school year was debatable. As such, we are asking that SPPS follow the direction of Miami Dade Public Schools and Governor DeSantis to keep masks optiona
Created: 2021-08-09 Statistics
| Time period | All countries | United States |
| --- | --- | --- |
| All time | 33 | 33 |
| 7 days | 1 | 33 |
Petitions.net
We provide free hosting for online petitions. Create a professional online petition by using our powerful service. Our petitions are mentioned in the media every day, so creating a petition is a great way to get noticed by the public and the decision makers.