Put Out the Illegal Fireworks in Fair Haven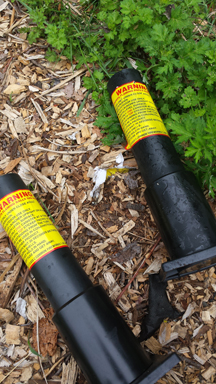 Every year since at least 1988 we have had to endure the detonation of illegal fireworks throughout Fair Haven, Connecticut – nowhere more outrageously than on lower Grand Avenue.
Most recently, Friday, June 26, 2015, law-breakers discharged a number of 1.3G Fireworks (display fireworks) in the middle of a wood-chip-mulched Community Garden at 12 midnight, waking the entire neighborhood.
As concerned citizens and neighbors, we feel that preventing the possession and detonation of illegal fireworks must become be a top priority for the NHPD.
The infringement on everyone's right to a certain quality of life by the noise is the least of the problems.  Fireworks like these threaten the safety of children and wildlife, and the very survival of the historic community of Fair Haven itself, made up mostly of wooden-structured homes some of which date back to before 1776.
(Visit http://www.ct.gov/despp/lib/despp/public_information_files/brochures/tipsfireworks.pdf to learn more about illegal fireworks in Connecticut.)
BY SIGNING THIS PETITION, I JOIN MY NEIGHBORS IN URGING THE NEW HAVEN POLICE TO STOP THE DISCHARGE OF ILLEGAL FIREWORKS IN FAIR HAVEN IMMEDIATELY, EFFECTIVELY, AND FOR ALL TIME.
Sign this Petition
By signing, I authorize Donald Harvey to hand over my signature to those who have power on this issue.
Most popular petitions in last 24 hours
President of Republic of Poland Excellency  Andrzej Duda Presidential Palace in Warsaw Krakowskie Przedmieście 46/48  00-071 Poland                                                      Dear Excellency / Mr. President  Andrzej Duda   I am appealing to you, Mr. President, in terms of your humanness, capacity as President of the Republic of Poland and history with the "Law and Justice Party",  for your urgent intercession in the case of Polish Master Mariner, Captain Andrzej Lasota, Master of Cypru
Created: 2019-11-24
| Time period | All countries | Poland |
| --- | --- | --- |
| All time | 8437 | 6336 |
| 24 hours | 121 | 58 |
Save the green areas at Lund torv and Vabua in Kristiansand. The biggest green spaces in the area and the most popular toboggan are at risk. Protect the green spaces and don't risk the biodiversity and the red listed species.  
Created: 2019-11-26
| Time period | All countries | Norway |
| --- | --- | --- |
| All time | 589 | 583 |
| 24 hours | 51 | 50 |
The goal of this petition is to reinstate Elvis' name on the "USS Arizona Memorial" in Pearl Harbour - Hawaii... Elvis' name was removed from the memorial because of his alleged abuse of prescibed medication! This removal is an insult to the memory and legacy of Elvis Presley! Elvis helped to raise the funds to finish the construction of the memorial by doing a benefit concert in 1961. Elvis should be aknowledged and his name should be reinstated!!!!!
Created: 2016-01-04
| Time period | All countries | United States |
| --- | --- | --- |
| All time | 3123 | 1573 |
| 24 hours | 23 | 17 |
Fyrirhugaður er flutningur og skert starfsemi Punktsins handverkssmiðju, úr stóru og flottu húsnæði sem hentar vel fyrir þjónustuna sem Punkturinn veitir, og er staðsettur í gamla barnaskólanum/ Rósenborg. Starfsemin eins og hún er í dag er fjölbreytt, stór og er fjölbreyttur hópur sem sækir þjónustu Punktsins. Í bland við venjulega opnun, sem er opin öllum, þá eru þau með námskeið af ýmsum toga fyrir fullorðna og einnig fyrir krakka í skólum bæjarins. Starfsendurhæfing Norðurlands er t.d í sams
Created: 2019-11-29
| Time period | All countries | Iceland |
| --- | --- | --- |
| All time | 154 | 152 |
| 24 hours | 21 | 20 |
To, His Majesty The King of Bhutan Tashichhodzong, Thimphu Kingdom of Bhutan   Sub: Appeal to Release Political Prisoners.   Your Majesty, With due respect we the following justice loving global citizens would like to put forward our most sincere request for your kind consideration. Following the dawn of democratic government and constitutional monarchy, we have a great expectation that our brothers and sisters who were arrested on political grounds who are serving prison sentences in various pr
Created: 2019-11-23
| Time period | All countries | United States |
| --- | --- | --- |
| All time | 352 | 146 |
| 24 hours | 18 | 7 |
به نام قادر رحمان انجمن معزز صنعت پخش دارو شرکت های محترم پخش دارو بدینوسیله ماگروهی ازهمکاران دکترگودرزی_داروسازموسس درشهرری که به دلیل مداخله شریکی شیاد در درخواست داروخانه ازتعدادی شرکت پخش و فروش داروها درخارج از داروخانه مورد ظلم  واجحاف قرارگرفته است درخواست آزادی این همکاررااز زندان داریم, از ریاست معزز واعضای محترم صنعت پخش دارو و شرکت های محترم پخش طلب کارازداروخانه دکترگودرزی تمنا داریم باعنایت به فرمایشات اولیای الهی مبنی برصبرومدارا بربندگان مظلوم پروردگارمنان موجبات آزادی ایشان رااز
Created: 2019-12-06
| Time period | All countries | Iran |
| --- | --- | --- |
| All time | 38 | 35 |
| 24 hours | 15 | 13 |
The forests of Donovaly represent a unique natural wealth. They are an irreplaceable natural environment in which thousands of residents and visitors regularly relax, do sports and recreate and provide a unique microclimate for all of us. These are forests in the protection zone of NAPANT (Low Tatras National Park), where there is a II. degree of nature protection, they are home to a number of protected animals, plants and biotopes of European and national importance. This wealth is increasingly
Created: 2019-11-07
| Time period | All countries | Slovakia |
| --- | --- | --- |
| All time | 22068 | 21397 |
| 24 hours | 10 | 10 |
PETITION AGAINST EXPLOITATION OF SOCIAL WORKERS, SOCIAL AUXILIARY WORKERS AND CHILD & YOUTH CARE WORKERS. Dear Mr President Cyril Matamela Ramaphosa Social Work is a vital scarce skill designed to help children, Families and communities. This profession addresses deeply rooted social problems ranging from child abuse, poverty, domestic violence, substance abuse, HIV & AIDS, sexual abuse, dysfunctional families, disability and elderly support. This profession is and has always been instr
Created: 2018-03-01
| Time period | All countries | South Africa |
| --- | --- | --- |
| All time | 3834 | 3775 |
| 24 hours | 9 | 9 |
  After their recent Stategic Review the Royal British Legion have proposed to increase the number of case workers to help beneficiaries. In turn they plan to close the 4 UK Break Centres Alderson House, Bennet House, Byng House and Somerset Legion House along with the Handy Van Service. The Break Centres provide an invaluable opportunity for members of the armed forces community to avail of an all inclusive break for some well deserved respite. A break can give someone a safe sanctuary to meet
Created: 2019-11-20
| Time period | All countries | United Kingdom |
| --- | --- | --- |
| All time | 2847 | 2766 |
| 24 hours | 8 | 8 |
Mr Meat operates past legal business operating hours and entertains customers. People consume alcohol at these premises, listen to loud music, urinate in public, expose themselves indecently and are perpetrating lewd acts of violence. We, the undersigned are concerned residents that urge the Bylaws department of TMPD to strictly enforce bylaws. We have children who need to study. We have small children who have to witness the indecent exposure. We cannot sleep due to the loud noise. We constantl
Created: 2019-12-04
| Time period | All countries | South Africa |
| --- | --- | --- |
| All time | 50 | 48 |
| 24 hours | 7 | 7 |
I AM AN AMERICAN CITIZEN.My wife, and 2 kids are American citizens.  In 2010 my mother, Rosária Silva (now 75  years old) was granted a permanent resident visa (green card) I had applied for her. She moved in with us in the US. She's a retired public school custodian in Brazil. We have always paid for every meal and need of hers while under our care. She never had to start a US bank account. We provided for every need. Her financial ties to the US are family-related. If proven ties to the US and
Created: 2019-12-04
| Time period | All countries | United States |
| --- | --- | --- |
| All time | 112 | 106 |
| 24 hours | 7 | 7 |
Petitions.net
We provide free hosting for online petitions. Create a professional online petition by using our powerful service. Our petitions are mentioned in the media every day, so creating a petition is a great way to get noticed by the public and the decision makers.