Sauvons les Serres d'Auteuil
(English version below)
A l'ouest de Paris, dans le bois de Boulogne, il existe un site exceptionnel ouvert toute l'année au public, classé Monument naturel, dont chaque centimètre du sol est inscrit à l'inventaire des Monuments historiques: le Jardin botanique des Serres d'Auteuil, l'un des quatre sites du Jardin botanique de la Ville de Paris. Cet ensemble patrimonial unique en Europe, mêlant des jardins, des arbres, des collections et des serres de fer et de verre cathédrale, fut imaginé en 1898 par Jean-Camille Formigé, l'architecte des Promenades et Plantations de Paris.
Avec l'appui de la Mairie de Paris, la Fédération Française de Tennis (FFT) a voté en février 2011 un scandaleux projet d'extension incluant la dénaturation, l'amputation et la bétonisation d'une partie du jardin botanique: annexion pour 99 ans (ramenée depuis à 50 ans) des bâtiments protégés de l'Orangerie et du Fleuriste, construction d'un court de tennis de 4950 places à quelques mètres du Palmarium après arrachage d'une centaine d'arbres et d'arbustes, destruction de 5 serres techniques récentes et surtout de 9 "serres chaudes" centenaires modernisées, contenant une collection rarissime de quelque 10 000 plantes tropicales, dont plusieurs variétés en voie d'extinction.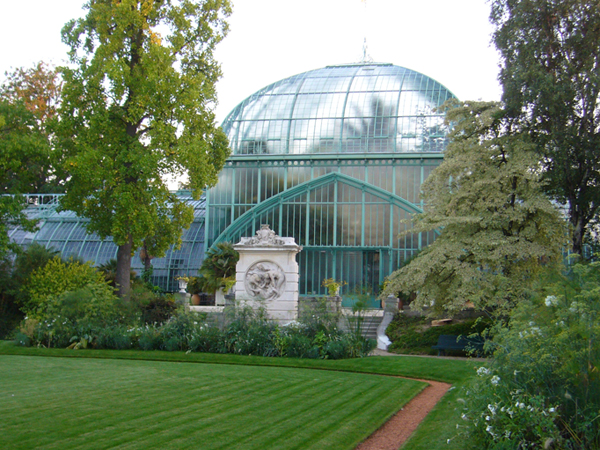 Est-il raisonnable que la FFT envisage de saccager le Jardin botanique des Serres d'Auteuil (déjà amputé du tiers lors de la construction du périphérique en 1968), alors qu'il existe d'autres solutions d'agrandissement ? Notamment un Projet alternatif préconisant le maintien du Court N°1 et la couverture partielle de la saignée faite par l'autoroute A13 juste au nord de Roland-Garros, contre-projet proposé par trois associations nationales reconnues d'utilité publique: Vieilles Maisons Françaises (VMF, présidée par Philippe Toussaint), La Société pour la Protection des Paysages et de l'Esthétique de la France (SPPEF, présidée par Alexandre Gady), et France Nature Environnement.
Est-il même raisonnable, à l'ère du Grand Paris, d'envisager un agrandissement du stade Roland-Garros actuel, alors qu'avec ses 8,5 hectares on ne trouvera jamais sur place l'espace lui permettant de rivaliser avec les trois autres sites du Grand Chelem, qui s'étendent sur 18 à 20 hectares ?
Est-il admissible que ce quartier d'Auteuil et des Princes soit asphyxié, livré de toutes parts au « sport business » au détriment du sport amateur et scolaire, des espaces de verdure et des sites du patrimoine: Parc des Princes bientôt agrandi, nouveau stade Jean-Bouin de 20 000 places uniquement dévolu au rugby, ancienne piscine municipale Molitor détruite à 95% pour édifier un hôtel-spa-boutiques-restaurants-bassins aux tarifs prohibitifs, ancien stade Hébert municipal servant aux scolaires privatisé et bétoné tous azimuts par la FFT, Serres d'Auteuil menacées.
N'est-il pas scandaleux, alors que dans le monde entier les stades sont construits à l'écart des habitations, que tous ces sites voisins ne fassent pas l'objet d'un plan d'ensemble respectueux du patrimoine et des espaces verts protégés, telles les admirables, les uniques Serres d'Auteuil ?
Il est urgent de se mobiliser, rien n'est encore joué, il faut faire échec au projet de la FFT qui dénaturerait définitivement le Jardin botanique des Serres d'Auteuil pour deux semaines de tournoi par an.
Merci de signer la pétition et de la faire circuler!
On peut aussi envoyer un don à l'une des associations nationales reconnues d'utilité publique contribuant aux nombreux recours en cours ou à venir:
(bien préciser qu'il s'agit d'un don en faveur des Serres d'Auteuil)
MERCI DE VOTRE INTERET POUR NOTRE JUSTE CAUSE
Lise BLOCH-MORHANGE, porte-parole du Comité de soutien des Serres d'Auteuil
(English version)
SAVE PARIS AUTEUIL GREENHOUSES !
West of Paris, France, in the Bois de Boulogne, there is a wonderful garden labeled National Monument, opened every day of the year to the public: the Auteuil Hothouses Botanical Garden (Jardin botanique des Serres d'Auteuil), one of the four botanical gardens of the City of Paris (which is not very rich in green spaces).
This a unique place in Europe, a mix of gardens, precious trees, plant collections and hothouses made of iron and cathedral glass, a rare example left of the art of architecture and landscaping of the end of the XIXth century by the great architect Jean-Camille Formigé.
In February 2011, with the unexpected help of the City of Paris, the French Federation of Tennis (the FFT, which organizes every year the French Open at Roland-Garros stadium), voted a scandalous extension project, which would amputate and destroy part of the Auteuil Botanical Garden.  In order to build a 4950 seat stadium in the garden, a few feet away from the Palmarium, they would destroy 5 technical hothouses and 9 "warm hothouses" with a 10 000 tropical and subtropical plant collection of great value.
Why amputate again this garden (a third of it was used to build the Périphérique Boulevard in 1968) when there are other solutions?  Especially an Alternative project promoted by 3 national associations  suggesting to expand Roland-Garros by covering part of Freeway 13 runnig just north of the stadium.
What sense would it make, at the era of Great Paris (Grand Paris), to expand the 8,5 hectare Roland-Garros stadium by just a few acres, when its competitors (US Open at Flushing Meadows, Wimbledon England, Australian Open at Melbourne Park) are already much bigger and will grow even more?
And while all over the world stadiums are built far away from residential aereas, why concentrate so many stadiums in this neighborhood and not imagine an urban plan respectful of heritage and green spaces?
We must fight this project which would ruin for ever the general perspective in the Auteuil Botanical Garden with a tennis  stadium which would be used only 2 weeks a year! 
We are fighting in Court the FFT project, and in order to help us get the best possible laywers, you can make a donation to the following Website:
(Dont' forget to click on Serres d'Auteuil please)
Thank you so much for your support, all my best,
Lise Bloch-Morhange
petition's author