Condemn Brutality of Home Repossessions by KBC Bank. Evict KBC from Ireland.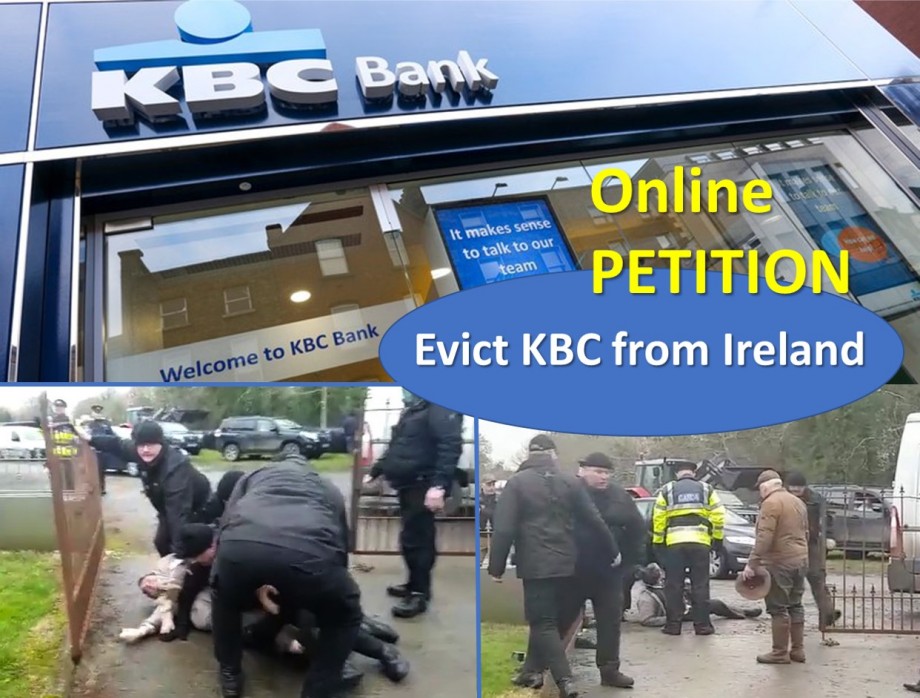 In the light of the recent, brutal and traumatizing eviction of a family of three elderly people at a house in Strokestown, Co Roscommon and earlier violent eviction of the family with children in Balbriggan, Co. Dublin, who were inflicted with physical injuries to the head, as well as other repossessions throughout the Ireland, we invite you to sign this petition to send a clear message to the director and all the agents of KBC Bank Ireland plc that Irish Sovereign people do not and will never tolerate such inhuman treatment. 
Anthony McGann (prime owner of the home and farm) was trying to deal with the KBC Bank and he told them he was happy to pay them so much a month, at least €1,000. But KBC Bank wouldn't do any discussions with him whatsoever. Instead, the bank invited ex-paramilitaries from Northern Ireland to reposses the family home. 
The private security contractor (GS Agencies), which carried out the barbaric eviction and assaulted homeowners is allegedly from East Belfast and allegedly former members of the UVF. 
The UVF was a loyalist terrorist organisation responsible for the murder of many innocent Catholics during the troubles in the past.
Ian Gordon, the owner of GS Agencies is an ex-British soldier who served with the Royal Irish Regiment and the Ulster Defence Regiment.
During the actual eviction by GS Agencies, two elderly brothers and an elderly sister who were all on the same farm for three generations were put out on the road just before Christmas.
A retired garda who tried to assist his evicted friends got assaulted and his face smashed by the security thugs who were working for KBC Bank.
And the uniformed members of the Gardai, who are paid by our tax money are said to have stood by as the eviction took place and did nothing, despite the brutality of action carried out by security firm hired from Northern Ireland.
KBC and other banks must be held accountable for the use of violent behaviour against homeowners and this behaviour must not be allowed ever to continue.
Join us in the boycott of KBC Bank Ireland plc by closing your accounts with KBC, withdrawing your savings, joining local peaceful protests at their branches and by signing this petition as a sign of public condemnation of KBC Bank behaviour and eventually evicting them from Irish soil.
... Banks were bailed out and in return they reposses homes of families who are in financial difficulty or who question validity of certain contrtacts, while at the same time financial tycoons like Denis O'Brien had their debts of over €300 million writen off by the banks.  
Central Bank figures state that 15000 mortgages are in arrears for the last two years, which potentially can lead to a massive wave of evictions and homlessness in the numbers upto 45000. 
Stand in SOLIDARITY with the People of Ireland and prevent future evictions. 
___________________________________________________________________
The results of this petition will be published on Social Media, send to newspapers who are willing to publish it and announced on the radio. TDs who are willing to present it in the Dáil Éireann will be encouraged to do so.