ST. CHARLES PARISH MAKE MASKS OPTIONAL FOR OUR CHILDREN 3rd-12th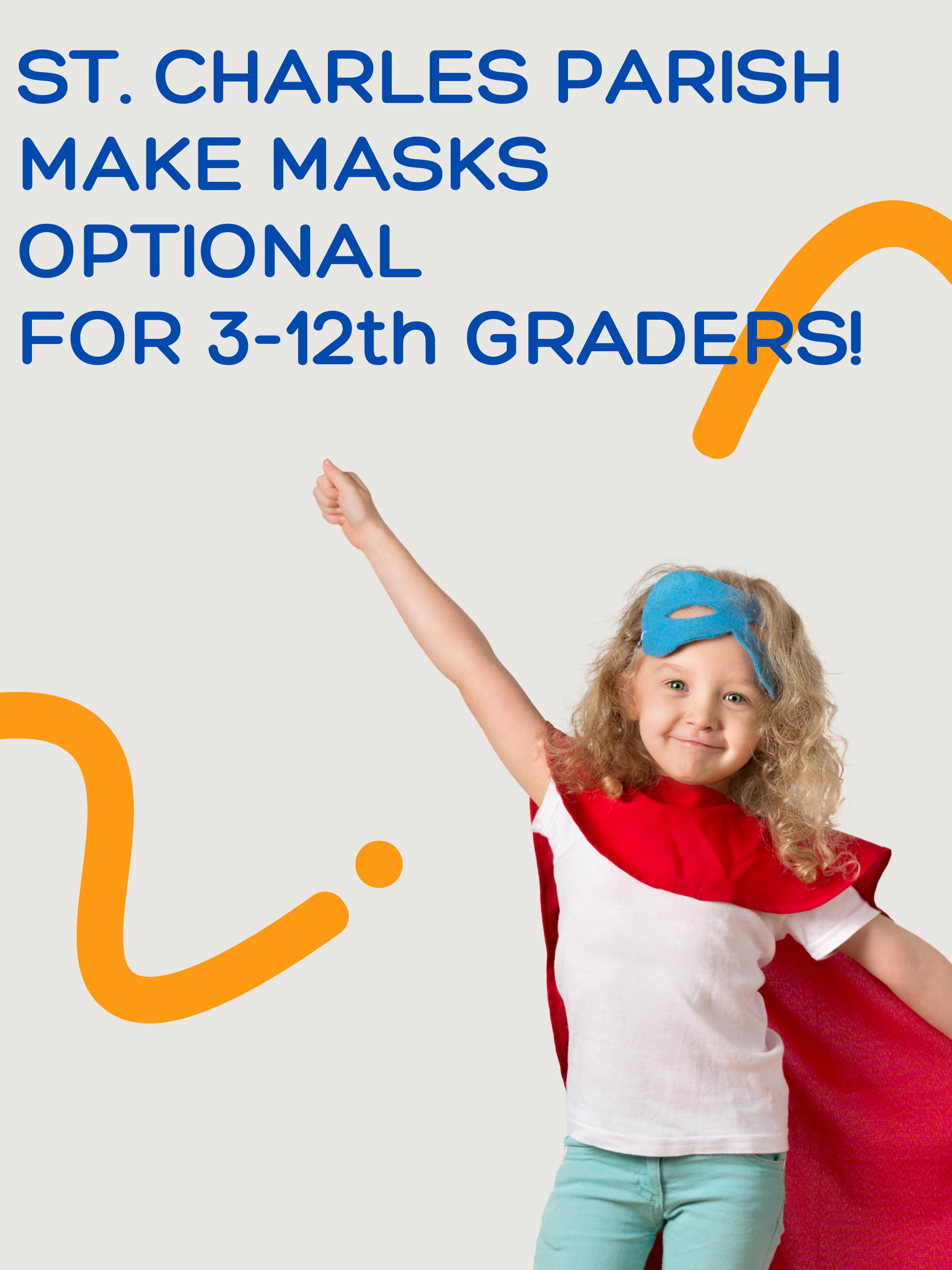 Here's just a couple of reasons why 𝐂𝐇𝐈𝐋𝐃𝐄𝐍 𝐒𝐇𝐎𝐔𝐋𝐃𝐍𝐓 𝐁𝐄 𝐖𝐄𝐀𝐑𝐈𝐍𝐆 𝐌𝐀𝐒𝐊𝐒 𝐅𝐎𝐑 6-8 𝐇𝐎𝐔𝐑𝐒 𝐀 𝐃𝐀𝐘!
1. A fraction of carbon dioxide previously exhaled is inhaled at each respiratory cycle
2. Masks inhibit air flow into and out of the lungs
3. Wearing a mask for more than a few minutes causes a significant reduction in a person's blood oxygen level.
4. The quality and the volume of speech between two people wearing masks is considerably compromised
5. Wearing masks for extended periods increased incidences of headaches and negatively affected work performance.
6. A complete distraction!
In Germany, where schools are open and masks are mostly optional, the association of "Kinder f.Weltfrieden eV" commissioned a laboratory analysis to investigate the level of microbial contamination that results after a fresh mask is worn by a child for 6-9 𝐇𝐎𝐔𝐑𝐒 𝐈𝐍 𝐒𝐂𝐇𝐎𝐎𝐋. What they found was alarming to all those recommending we mask our children for several hours every day. The masks were found to be 𝐂𝐎𝐍𝐓𝐀𝐌𝐈𝐍𝐀𝐓𝐄𝐃 𝐖𝐈𝐓𝐇 82 𝐁𝐀𝐂𝐓𝐄𝐑𝐈𝐀𝐋 𝐚𝐧𝐝 4 𝐌𝐎𝐋𝐃 𝐂𝐎𝐋𝐈𝐍𝐈𝐄𝐒. Where do you think the bacteria, molds, and viruses progressively colonizing and growing on the warm moist mask-mouth interface end up?
Sign this Petition
By signing, I authorize Jacquelyn A. GRISAFFE to hand over the information I provide on this form to those who have power on this issue.