Vaccines to the Himalayas - Open Letter to the European Commission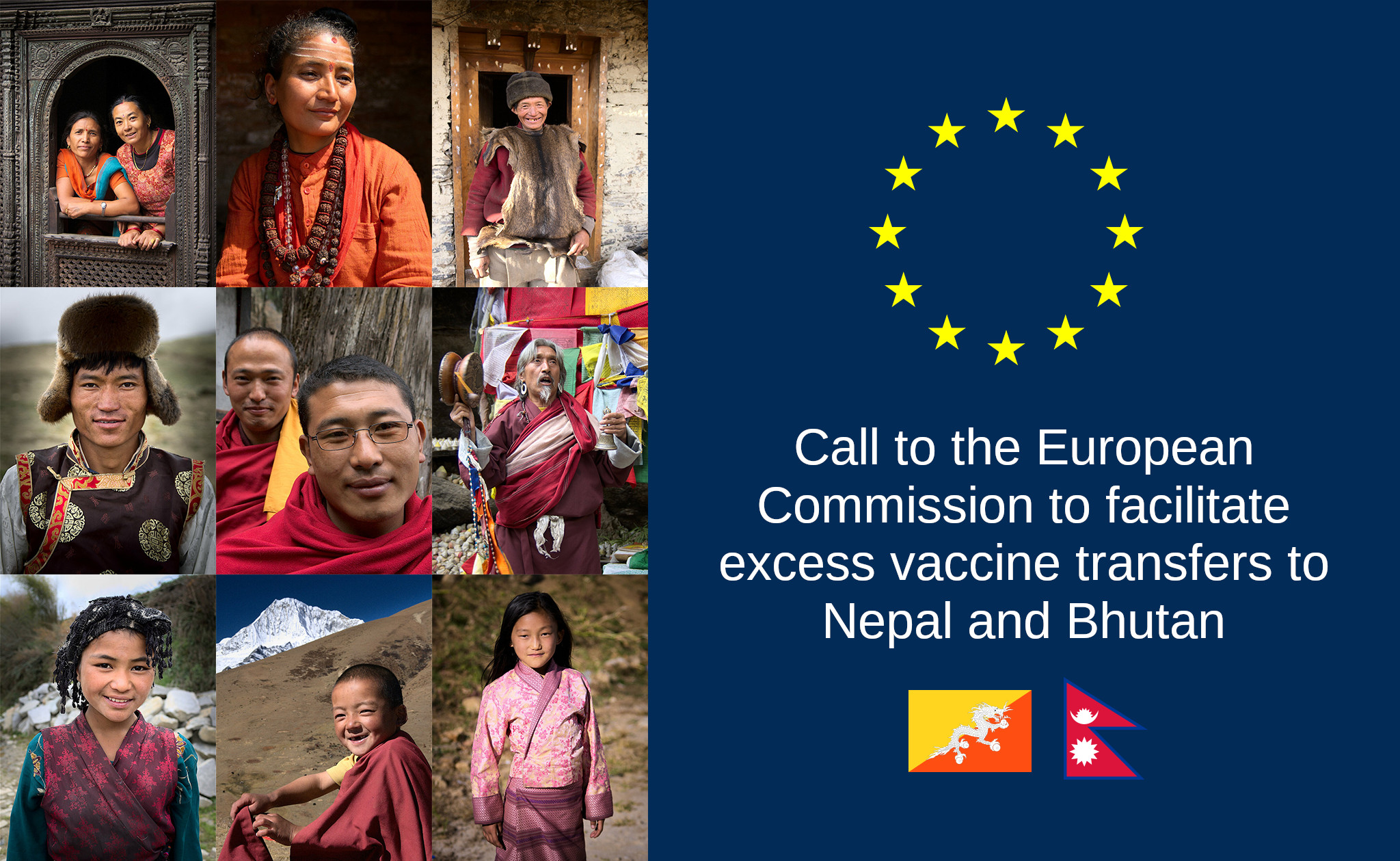 Open Letter to the European Commission to facilitate direct transfers of excess Covid-19 vaccines from EU member states to the countries with most urgent needs, namely Nepal and Bhutan

Dear Commission President von der Leyen,
We would like to bring to your attention the pressing issue of excess vaccines which were purchased by the member states through the centralized EU vaccine acquisition mechanism. Many of these vaccines, such as Vaxzervia produced by AstraZeneca, are not being administered or their use in most EU member states is substantially restricted. As a result, millions of doses are now idly awaiting other allocation.
Many foreign governments, namely Bhutan and Nepal, asked for donation or purchase of excess vaccines from EU member states. Many public initiatives in EU member states also appealed to their respective governments to facilitate transfer of excess vaccines to Nepal and Bhutan or other mid and low income countries.
However, EU member states are not in liberty to donate the surplus vaccines directly due to the legal constraints of the contracts between vaccine manufacturers, member states and EU.
We, an informal group of people with close relationship to the Himalayas, namely Bhutan and Nepal, are nonetheless convinced that these countries, currently affected by regional outbreak of Delta variant, would be best helped by direct vaccine donations. Nepal and Bhutan urgently need almost two millions doses of AstraZeneca vaccine in order to administer second rounds to its citizens. Unfortunately, it has been reported by the media that WHO's COVAX facility asked Nepal and Bhutan to request doses from other vaccine manufacturers. This may cause delays and complications for rapid response to fight against Covid-19 pandemic in these countries
We thus appeal to European Commission to facilitate a mechanism which would allow member states to transfer vaccines bilaterally to other countries or enable member states to target their vaccine contributions multilaterally to the countries where it is most urgently needed.
The reasons for above are as follows:
While COVAX is a fair mechanism of vaccine distribution among the low and mid income countries, its prioritization is not taking into account the receiving country's actual situation amid Covid-19 pandemic, its specific vaccination needs and its vaccine administration preparedness. Ability to direct at least part of the available supplies to the places where the vaccines are currently most needed would overcome these shortcomings.
By denying the foreign government requests for direct vaccine donations, EU member countries and the EU itself is damaging its international image. At the same time, other vaccine manufacturing countries are successfully using vaccine diplomacy to increase their soft-power and will certainly yield from that in the future.
Inability to react positively to the appeals of member states' citizens to donate vaccines to countries in urgent need reinforces the EU's stereotypical image as bureaucratic, inflexible and alienated. Allowing member states and its people to decide on how to distribute the excess of vaccines would counteract such feelings among EU citizens.
The USA just recently decided to distribute its excess vaccines partly through COVAX and partly bilaterally according to US foreign policy prioritization. We believe that this is an example to follow.

On top of that, many EU member states will soon have vast caches of soon to expire vaccines for which there will be no recipients among the EU citizens. In such a case, European Commission should pave the way for the member states for the swift transfers of such expiring doses to the third countries which are ready to receive and administer such supplies in the short time.
We would like to request you to consider the above points thoroughly. We have full faith and hope in the European Commission's ability to make the right decisions that would be taking into account a global responsibility of the EU as well as the international relations priorities and wishes of EU citizens.
Yours sincerely,

Michal Thoma, photographer and writer, Czechia
Věra Exnerová, Nepal director of the humanitarian organization People in Need, Czechia
Jan Tráva, mountaineer, Czechia
Petr Horký, filmmaker, Czechia
Kunda Dixit, editor and publisher of Nepali Times, Nepal
Françoise Pommaret, ethnohistorian and Tibetologist, France & Bhutan
Karma Phuntsho, Loden Foundation, Bhutan and Cambridge University, UK
Stanislav Tomka, entrepreneur, Slovakia
Gabriel Točka, Namasté, Society for Nepal-Slovakia Friendship, Slovakia
Zdeňka Karky, former Czech honorary consul in Nepal, Czechia
Kul Chandra Gautam, former deputy executive director of UNICEF, Nepal
Manjushree Thapa, essayist, fiction writer, translator and editor, Nepal & Canada
Tomáš Zdechovský, Member of European Parliament, Czechia
Buddhisagar, writer, poet, columnist, author of Karnali Blues and Firfire, Nepal
Saurav Dhakal, curator, Story Cycle, Nepal
Malvika Subba and Anushka Shrestha, Miss Nepal, entrepreneur, philanthropist, Nepal
Buddha Basnyat, Himalayan Rescue Association and Mountain Medicine Society of Nepal
Kateřina Konečná, Member of European Parliament, Czechia
Šimon Pánek, director of the humanitarian organization People in Need, Czechia
| | |
| --- | --- |
| | The author of this petition has closed this petition. |