Reduce the speed limit in Falmouth to 40km/hr
To the Councillors of the Break O'Day Council
We as electors of the Break O'Day Municipality, local residents and/or visitors to the area petition the Council as the owner of the roads in Falmouth
TO apply to the Commissioner for Roads for a reduction of the speed limit to 40km/hr throughout the village AND TO erect warning advisory signs as shown on the attached map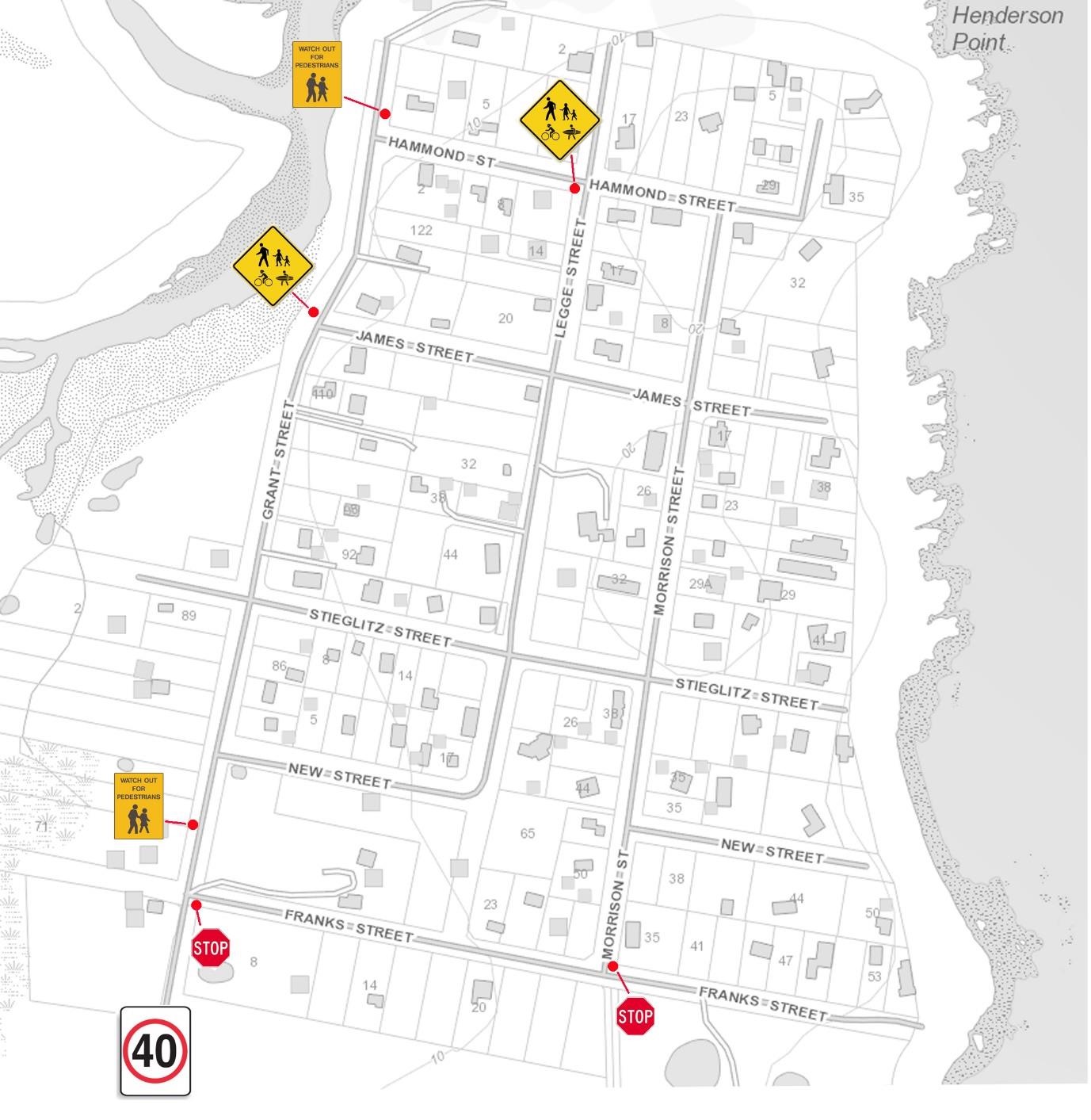 Background
There are no footpaths in Falmouth. While there are wide and well-maintained grass verges on many Falmouth streets, most residents and visitors walk on the formed roads.
Traditionally, Falmouth has been a place where children are free to roam relatively unsupervised between shacks and homes of relatives and friends. Until recently this caused few issues as there was little vehicular traffic and most drivers were familiar with the habits of pedestrians and the need to watch out for children.
However with the increase in short-term holiday rentals such AirBnB in recent years, the amount of car traffic in Falmouth has increased. More importantly there are now many more first-time visitors who are not expecting to come across pedestrians on the roads. With the recent sealing of Morrison Street and Franks Street, it appears that average speeds within Falmouth have increased significantly.
An area of great concern is Grant Street (the main road into Falmouth) between James Street and the lagoon parking area and the bottom of Hammond Street.
While 50 km/hr is the general urban default speed limit across Tasmania, a speed limit of 40 km/hr is consistent with high pedestrian activity areas and is documented the Tasmanian Speed Zoning Guidelines as being able to be applied "in beachfront areas with low traffic volumes and no formal footpath facilities".
Pedestrians and cyclists represent one in four serious casualties in Tasmanian cities and towns. Pedestrians and cyclists are at high risk of serious injury or death if hit at speeds above 30km/hr. A 10 km/h reduction in travelling speeds can lead to a 25 percent reduction in deaths and serious injuries.
The National Road Safety Action Plan recommends a 40 km/h (or lower) speed limit in high pedestrian and cyclist use zones.
While this petition is primarily intended for residents and property owners in Falmouth, please feel free to share it with friends or family who are regular visitors to the area. 
The web address of this petition is www.petitions.net/reduce-falmouth-speed-limit
You can learn more about this initiative at https://www.islandsoftware.com.au/downloads/reduce-falmouth-speed-limit.pdf 
| | |
| --- | --- |
| | The author of this petition has closed this petition. |