اعتراض اعضای هیات علمی دانشگاه های علوم پزشکی کشور به موارد شمول سقف حقوق و نحوه احتساب مالیات این اعضاء در لایحه بودجه 1401
به نام خدا
اعضای هیات علمی دانشگاه های علوم پزشکی کشور به دنبال تضییع حقوق فرهیختگان دانشگاه و نقض آشکار نظام رتبه بندی حاکم بر دانشگاه های کشور که در لایحه بودجه پیشنهادی 1401 (جزء (8) بند (الف) تبصره (12) ) و پیرو آن در مصوبه اخیر کمیسیون تلفیق تظاهر یافته است و بیم آن می رود به زودی در صحن علنی مجلس به قانون تبدیل شود، نشستهای مشورتی متعددی  برای رایزنی با نمایندگان محترم مجلس برگزار کردند و  نامه های متعددی برای مقامات  مختلف(مقام معظم رهبری، وزیر محترم بهداشت و ریاست مجلس و ...) ارسال کردند. اما با مصوبات دور از انتظار کمیسیون بودجه و نزدیک شدن به طرح لایحه در صحن علنی مجلس، اعضای هیات علمی دانشگاه های علوم پزشکی از وزیر محترم بهداشت تقاضای پی گیری رعیات قوانین حاکم بر حقوق اعضاء در موارد زیر را دارند:
1 حاکم دانستن ماده 1 قانون اجرای احکام دائمی برنامه‌های توسعه بر جزء (8) بند (الف) تبصره (12(/ یا  تکمیل جمله پایانی جزء (٨) بند (الف) تبصره (12) و مستثنی کردن  فوق‌العاده محرومیت از مطب (تمام ‌وقت جغرافیایی) از شمول سقف حقوق
2. رعایت تبصره‌ (۲) ماده (٨۶) قانون مالیات‌های مستقیم و ماده (۵) قانون اصلاح پاره‌ای از مقررات مربوط به پایه حقوق اعضای هیأت علمی  مصوب ۱۶/۱۲/۱۳۶۸ و طی روال تمام سالیان گذشته جهت رفع مشکل مالیات پلکانی جزء (5) بند (الف) تبصره (12)
  به همین منظور  نامه ای به آن مقام محترم (با رونوشت به معاونتهای محترم)و با امضای بیش از 2100 نفر از اعضای هیات علمی از دانشگاه های مختلف کشور ارسال می کنیم و امیدواریم هرچه زودتر مانع تعرض به حقوق این اعضاء گردید که لینک آن به پیوست می آید:
نامه به وزیر محترم بهداشت (روی لینک کلیک کنید)
https://pdfhost.io/v/QRpvMY8j~__
اعضای هیات علمی دانشگاه های علوم پزشکی کشور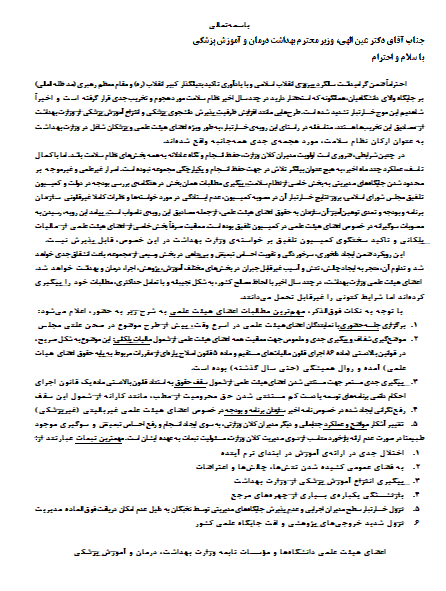 Sign this Petition
By signing, I authorize اعضای هیات علمی دانشگاه های علوم پزشکی to hand over the information I provide on this form to those who have power on this issue.