Save the night train from Denmark to Europe

Contact the author of the petition
Save the German overnight sleeper and motorail trains!
2016-03-02 18:51:39
To:
Alexander Dobrindt, German minister of transport, and
Martin Burkert, chairperson of the transport committee of the German federal parliament
>> Sign here!
Dear Sirs,
I ask you as representatives of the owner of Deutsche Bahn – the German citizens – to act now to prevent withdrawal of DB's night and motorail trains.

Why is this important?

Deutsche Bahn AG wants to discontinue all overnight and motorail trains with sleeping, couchette and seated cars by the end of 2016, at the latest. They will be replaced by seats-only ICE or IC trains and buses travelling overnight without any suitable sleeping accommodation.

This would mean an unacceptable cutback of service and a gap in the European transport offer:

By taking overnight sleeper trains for journeys such as Hamburg-Zurich or Amsterdam-Munich, people gain the day for work or leisure, making low-carbon train travel a practical and time-effective alternative to flying. On longer routes like Copenhagen-Lyon or Berlin-Rome, sleeper trains save passengers from having to stop and spend the night in a hotel.

If sleeper and motorail trains are discontinued, more traffic will hit the roads and there would be more short-haul flights, in direct opposition to the obligations of the Paris Climate Summit of 2015 and the self-declared climate protection goals of Deutsche Bahn AG.
>> Sign here!
Poul Kattler
Cheap flights and expensive trains in Europe: The climate pays the price difference!
2015-06-18 19:04:21
One can travel 50 times the same trip by train as one trip by plane, for example between two European capitals. If you only look at the effects on the climate. EU environment agency fears a rise in air trips of up to 270% from 2012 to 2050 if this trend is not reversed.  
At the same time trains are closed between European countries. For half a year ago stopped for example the night train from Denmark to the south. Despite the fact that there had never been more passengers! And the trend is the same in the rest of Europe. The politicians have not dared to speak transport in the Danish election campaign and the transport companies just give up! No stakes on the trains as the climate-friendly alternative to planes.  
This coming weekend's action in Europe will support trains across Europe. At Copenhagen Central Station, we make beds up on the platform, get dressed in pajamas and ask: Where is the night train to Münich / Basel / Amsterdam etc.? In pajamas, we go singing around and talk to passengers in the entrance hall. Halfway in the program we connect to the Berlin Hbh. and Paris Gare 'Est, who also lost their night train, and hear what they are doing down there in Europe?  
Support a climate-action near you about a completely overlooked problem in the climate debate = transport across borders in Europe!  
Time and place: Central Station track 7½ out between the hall and Tietgensbro Saturday. 20.6. pm. 18:45 to 21:00 and in the same time twice in the station hall. Speakers in Copenhagen, Kjeld Allan Larsen, Council for Sustainable Traffic and Jette Gotsche, Danish Cyclists Federation and others.  
Odense Railway Station track 5 on Saturday. 20.6. pm. 19:00.  
Elsewhere in Europe, take a look at the list below!  
See more about the Copenhagen event at:
>> https://www.facebook.com/events/365522360310727/

And:    
>> http://back-on-track.eu/weekend-of-action/
Sign the all-European petition:
http://www.petitions24.com/no-more-cuts-develop-europe-long-distance-rail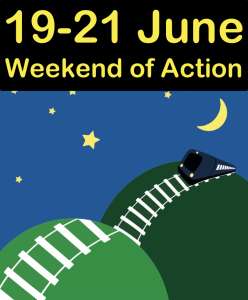 Poul Kattler
Goodbye to the "Danish" night train?
2014-10-26 19:20:02
In a week's time, during the night of 2 and 3 November the last two night trains to / from Denmark will meet somewhere in Germany. The last night train departs from Copenhagen via Odense and Kolding southbound on Sunday evening d. 2 November.
Our petition has been a fine manifestation and have as at now collected 8,000 signatures, but it has not prevented DB and DSB from terminating the train. For my part, I will stop the petition when the last train has departed.
I have taken steps to ensure that in Denmark we demonstrate the last departure. We will stand on the platforms and say goodbye - and hope to see the train soon again!
In Copenhagen our arrangement consists of these two elements:
Sunday. 2.11. at 18.15. Location: Below the clock, in the Main Hall.
A dance for the night train: Our manifestation in Copenhagen begins with a very special event. All guests at Copenhagen Central Station on Sunday evening at. 18:15 will witness the crowds under the clock suddenly burst out into dancing to James Brown's old soul number 'Night Train'. We welcome more volunteers for this little dance flashmob, so if you can set aside a few hours the same day from 3 PM to practice a funny and easy small dance, then look it up and register at https://www.facebook.com/events/616564321799051/
Or write to the organizer Nina: ninath83@hotmail.com
Sunday. 2.11. 18:30. Location: Track 7, in the middle of the platform.
Goodbye to the night train? A worthy protest with banners, signs, live music and two short speeches.
Register at https://www.facebook.com/events/369297779904837/ or just show up!
The train departs at 18.46. The manifestation ends when the music is at an end.
The train leaves towards Germany and we also have demonstrations along the route:
Odense on track 5 20:15 to 20:28 (until departure)
Kolding at track 1 20:55 to 21:10 (until departure)
Contact Leif Kajberg if you want to participate in Odense and Kolding. leif_kajberg@hotmail.com
Poul Kattler
Save the night train? We need more signatures!
2014-09-04 18:08:05
When I established the petition in the middle of the summer holidays, it was reported that the night train would terminate at the timetable change on December 14. DB and DSB will stop it already November 1st. At this moment it is clear that this setback not only affect the night train to Denmark, but also other night trains, such as Hamburg / Berlin - Paris and Autozug from Hamburg to the south. The cars must now be put on a truck through Europe!
Cross-border train services, both day and night, are at risk because they are typically not covered by agreements between countries and operators. This problem is now painfully clear. And is something that is being addressed both to the Danish and European Parliaments.
But we are still a small group of protesters. We have discovered we have friends around Europe. But we must do more to put pressure on the politicians. It must be possible to get 10,000 signatures (now 3,750) before the Danish parliament opens.
Be nice and tell your friends ones more on the petition.
I shall tell you that I update the wording of the petition a little bit according to the above.
Poul Kattler