Concert Hall Sarajevo Campaign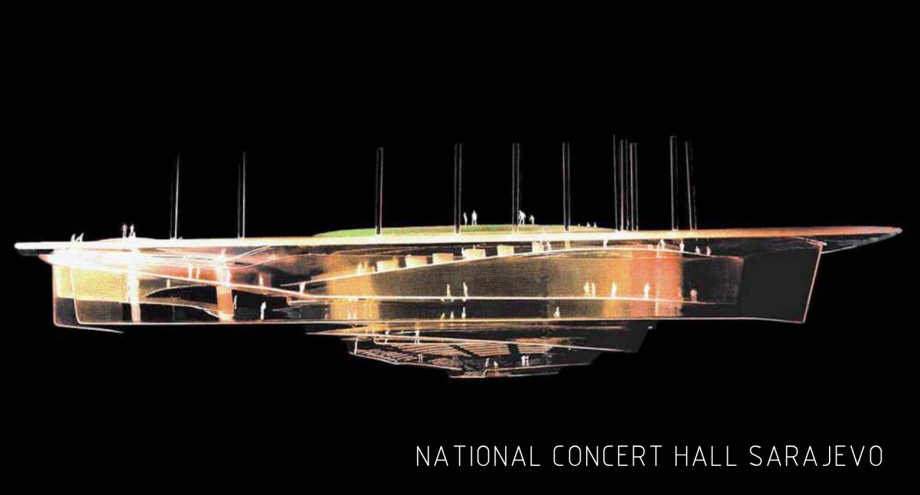 Invitation to sign petition for Sarajevo Concert Hall
We invite professionals, all citizens and friends of Sarajevo and Bosnia and Herzegovina to support campaign to build the Concert Hall Sarajevo in Marindvor, according to the anticipated regulatory plan and programs of development of Sarajevo and the Sarajevo Canton. This is an unduly neglected project that, by international agreement, through the world competition, was prepared in 1998 by Sarajevo Canton and the City of Rome. The project was chosen by a jury headed by the world-famous architect Zaha Hadid, with the participation of Bosnian architects Nedzad Kurt and Saida Jamaković and representatives of international associations of architects. The project was presented at numerous international architecture trade fairs (Venice, etc.) and published in professional journals and books. It is considered one of the best projects of the new generation.
Sarajevo Philharmonic Orchestra held on 9 February 2017 concert in honor of Zaha Hadid and supported the construction of Concert Hall Sarajevo as a natural seat for Philharmonic orchestra and the seat of musical life in Southeast Europe.
Department of Urban Planning, Faculty of Architecture in Sarajevo, submitted to the competent institutions petition opposing the changes to the regulation plan Marindvor where was planned construction of Concert Hall.  
Regulatory Plan Center Marindvor approved the construction of a Concert Hall Sarajevo, which will be located on the current parking lot, next to the Bridge of Suada Dilberović. At Contest for Concert Hall design participated architects from 43 countries. Competition was funded by the City of Rome. Among the 400 works, won a group of architects Urban Future, which is considered to be one of the most important groups today. The Concert Hall will be located 14.5 meters below ground. It will contain two halls for listening to music: the main hall with 1.500 seats for symphony concerts and other, smaller with 500 seats for chamber music, contemporary and popular music, and supporting facilities. Also, other facilities are planned: a restaurant, a coffee shop and a small bookstore and underground parking. The capacity of the complex is 2.300 visitors, 2.000 listeners, 200 musicians and a minimum of 100 highly qualified staff plus ancillary services, which would get a job in this center. The Hall will have the best art sound system and acoustics. The Hall will include musical park. For the first time in its history, Sarajevo will have such a hall, one of the first hall of its kind in Southeast Europe. The purpose of the Concert Hall is affirmation of musicians and talents, artistic creations and artists association. Our city would have all the conditions for the arrival of the greatest artists from around the world. The investment project is around 35 million worth, and the price includes the land on which the Concert Hall will be built.
Sign this Petition
By signing, I authorize IPC to hand over the information I provide on this form to those who have power on this issue.