"EXONERATED NOT COMPENSATED"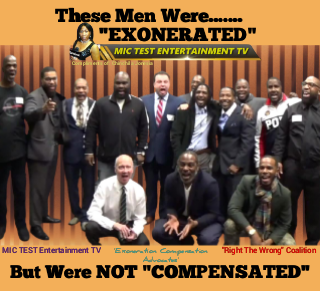 In the State of Pennsylvania there have been a total of 101 Exonerations (according to the Pennsylvania Innocence Project) with Vincent Moto being the first in the State to be EXONERATED through use of DNA. However, to date, no Exoneree HAVE BEEN COMPENSATED because, unfortunately, Pennsylvania is one of 14 states in the U.S.A. that 'DO NOT COMPENSATE' for their grave unjust mistake.
Those Wrongfully Convicted have already suffered enough being behind bars for crimes they did not commit, just to be released from prison with no money, no home, no car, no job, some with no family, no friends and/or no support team. It's like being kicked out on the street with just the clothes on your back and evicted with no place to go.
They have spent years, most of them decades locked-up behind bars...... traumatized and now they are free, but victimized and stigmatized. Most, if not all, suffer from PTSD (Post-Traumatic Stress Disorder) and as the result will more than likely never be able to live a normal life again after experiencing such a life-changing nightmarish ordeal that is relived in their minds over and over and over again.
COMPENSATION for The Wrongfully Convicted can never give them back the years they lost because there is no dollar amount that is more valuable than the Precious 'Commodity of Time'!!!
These men were taken away from their families, taken out of society, stripped of their livelihood, stripped of their manhood, forced to spend time away from their children time away from their parents and time away from friends and other loved ones.
These EXONERATED MEN LOST THE 'PRIME YEARS' OF THEIR LIVES and all that precious time lost can never ever and will never ever be regained!!!
It's time for Pennsylvania to 'RIGHT THE WRONG'  It's time for Pennsylvania to not just EXONERATE, but to also COMPENSATE!!
PLEASE HELP US FIGHT FOR COMPENSATION FOR THESE MEN SO THEY CAN TRY TO HAVE SOME SENSE OF NORMALCY IN THEIR LIVES AGAIN. BY SIGNING AND SHARING THIS PETITION WITH YOUR CITY, COUNTY, BOROUGH, TOWNSHIP and STATE LEGISLATORS and ENCOURAGING EVERYONE YOU KNOW TO SIGN THIS PETITION WILL GET US A STEP CLOSER to A BILL BEING PASSED!!!
THANK YOU FOR YOUR SUPPORT OF PENNSYLVANIA EXONEREES
                              "EXONERATED NOT COMPENSATED"
                                                  844-642-8378
Sign this Petition
By signing, I authorize CHINCHILA JONESIA - "RIGHT The WRONG" Coalition to hand over the information I provide on this form to those who have power on this issue.