Grant film director Mohamed Jabaly a work visa
THE NORWEGIAN FILM INDUSTRY NEEDS INTERNATIONAL DIRECTORS LIKE MOHAMED JABALY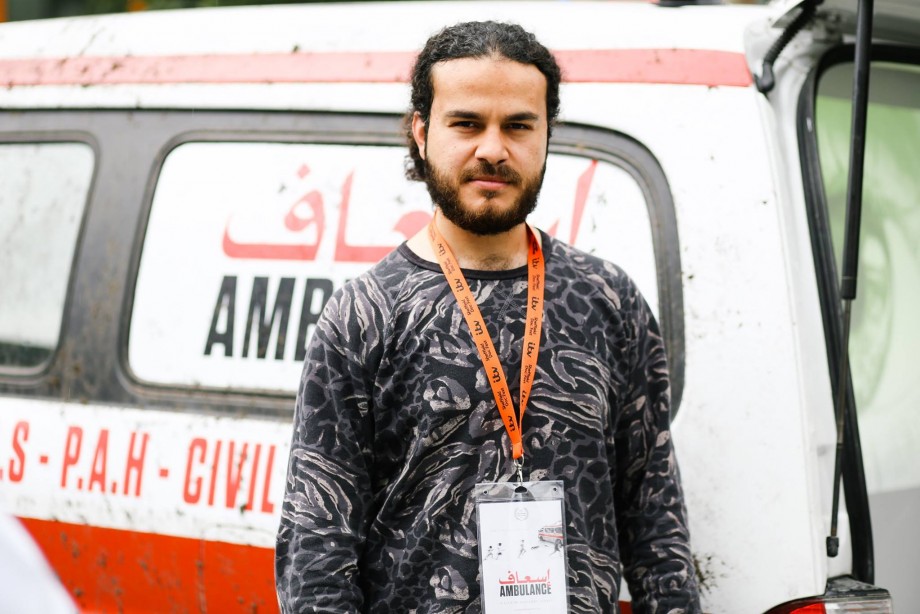 We support film director Mohamed Jabaly from Gaza and the producers of AMBULANCE (lead producer John Arvid Berger with executive producers Christine Cynn, Hermann Greuel, and Kristian Mosvold) in asking the Norwegian Directorate of Immigration (UDI) to grant Mohamed Jabaly a work visa for a job offered by Jabfilm in Tromsø, Norway. UDI and UNE (Norwegian Immigration Tribunal) have twice rejected his application on the grounds that Mohamed is 'not qualified' for the job of touring with his own film, a current success on the international festival circuit that has also been screened for the British Parliament.
We stand with Mohamed Jabaly, the AMBULANCE team, the Norwegian Filmworkers' Union, the Norwegian Film Producers' Association, the North Norwegian Film Centre, Tromsø Kommune and many others to tell UDI & UNE:
Grant Mohamed Jabaly a work visa.
Film professionals, not immigration officials, must have the right to determine whom to hire and whether they are qualified to work for our companies.
Norwegian film companies must be free to tell international stories from an international perspective.
International collaboration is vital to the film community and Norway should encourage talented professionals from around the world to work with Norwegian companies. Sadly, the Norwegian Directorate of Immigration is sending a different message to the world by rejecting work visas for foreigners and disrupting the economy of the Norwegian film industry. The latest headlines indicate that this case is part of a larger wave of visa rejections, deportations and harsh penalties for foreign workers, students, and asylum seekers within Norway.  
More information on the film at www.ambulancegazafilm.com  and www.facebook.com/AmbulanceFilm/
BACKGROUND ON MOHAMED JABALY
Mohamed came to Tromsø, Norway (a sister city with Gaza City) in the fall of 2014 with a harddrive containing footage from 51 days of war which destroyed whole neighbourhoods and killed over 2000 people. Mohamed risked his life to document the war with one ambulance crew, surviving a direct hit from aerial bombardment. He was invited to Tromsø by Tvibit, a youth organisation specialising in international exchange and film. Mohamed's visit was unexpectedly extended when the border between Egypt and Gaza was closed. Mohamed showed his footage of the war to Hermann Greuel of Tvibit, and a professional team began to form around Ambulance, including producer John Arvid Berger (named Arctic Producer of 2016 at Nordkapp Film Festival), executive producers Christine Cynn (co-director and co-producer of The Act of Killing), Kristian Mosvold of Øya Film, and Herman Greuel.
Ambulance premiered at Sheffield DocFest, was screened for the UK Parliament, won the Sun Bird prize for Best Documentary Feature at Days of Cinema Palestine, was in 'Best of Fests' section at Int'l Documentary Festival in Amsterdam, along with numerous other festivals and television networks. Mohamed was slated to travel on an extensive outreach tour with Ambulance, which has now been disrupted by the rejection of his work visa by UDI on the basis that he is 'not qualified' for the job of film director, despite the contradictory evidence and support from experienced industry professionals.
The Norwegian Film Institute, Norwegian Film Association, Northern Norwegian Film Centre and several national and international festivals are supporting our case and will continue to argue why this particular case is important for the whole Norwegian film industry.
Mohamed is not seeking to stay in Norway on a humanitarian basis. He is not seeking asylum. His plan is to go back to Gaza and his family when he is done with his film projects in Norway. He is 26 years old. If he attempts to return to Gaza when the border is closed, he will end up in an Egyption detention centre.
We within the film industry cannot allow UDI or UNE to decide who is qualified to direct films. If Norwegian film companies cannot work with foreign directors this violates our freedom of speech and restricts what stories can be told. The film industry is dependant upon an open flow of international talent in order to make high-quality and high-impact work for viewers around the world.
Mohamed and other Norwegian documentary filmmakers with a multicultural background are extremely successful with audiences and critics. Think of recent hits like No Where To Hide and the films of Deeyah Khan. The special perspective of foreigners and immigrants is, in fact, the very quality that attracts international attention, and has the potential to catalyse important social change.
Announcement from the administrator of this website

We have closed this petition and we have removed signatories' personal information.

European Union's General Data Protection Regulation (GDPR) requires a legitimate reason for storing personal information and that the information be stored for the shortest time possible.