Social movement of Iranians کمپین مردمی ایرانیان برای جلوگیری از برداشت غیر قانونی اموال ملت ایران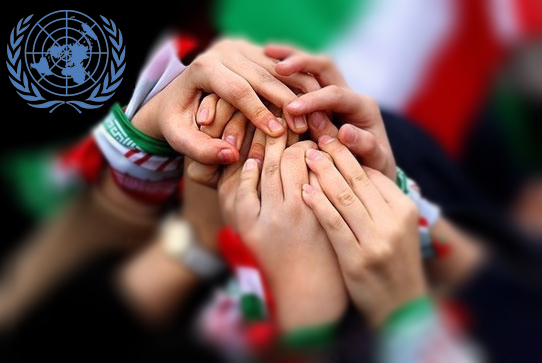 کمپین مردمی جلوگیری از برداشت غیر قانونی اموال ملت ایران در امریکا
جناب آقای بان کی مون
دبیر کل محترم سازمان ملل متحد
ما امضاکنندگان این بیانیه به‌عنوان جمعی از ملت ایران درخواست داریم که به نامه اعتراضی دولتمان به جنابعالی در مورد حکم دادگاه‌های امریکا درباره برداشت غیرقانونی دو میلیارد دلار از اموالمان در این کشور کاملا توجه کرده و از این امر که خلاف رویه بین‌المللی است به‌شدت و قاطعانه جلوگیری فرمایید
الحملة الشعبیة لمنع الولایاتالمتحدة عن سحب غیر المشروع من الممتلکات الشعب الإیرانی
السید بان کی مون
الأمین العام للآمم المتحدة
نحن الموقّعین علی هذا البیان کمجموعة من الشعب الإیرانی نطلب من حضرتک أن تأخذ هذه الرسالةشکوی التی قدأصدرتنيابةعنحكومتناحول الحکم القضائی المحاکم الأمریکی بشأن سحب غیر المشروع مليونيدولار من ممتلکات الأیرانیین فی الولایات المتحده بعینالإعتبار و نرجو من حضرتک أن توقف هذا الأمر الذی یکون نقیضاً من الإجراءات الدّولی بقوّة و علی نحو حاسم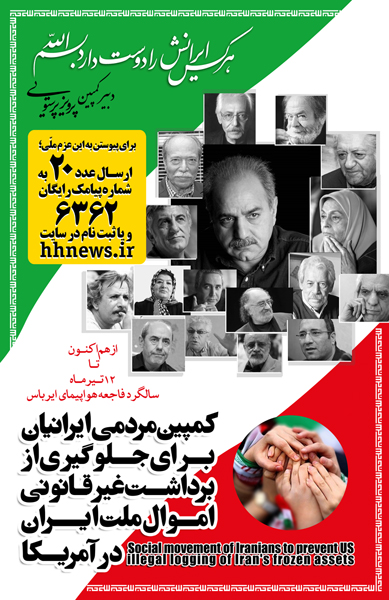 Social movement of Iranians to prevent US illegal logging of Iran's frozen assets
To the Secretary-General of the United Nations, Ban Ki-Moon:
As Iranian citizens, the signatories of this petition respectfully request your attention to the letter of protest written by our government regarding the United States' court decision on the continued frozen assets of Iran illegally held in the U.S., totaling two billion dollars.
We hope you intervene firmly and decisively against this action, which is contrary to international commitments.
Mouvement social 
A l'attention de Mr. Ban Ki-moon, Secrétaire Général des Nations-Unis
En tant que groupe issu du peuple iranien, les signataires de cette déclaration sollicitent toute votre attention sur la lettre de protestation écrite par notre gouvernement en ce qui concerne la décision des tribunaux américains de geler illégalement 2 milliards de dollars d'avoirs iraniens.
Nous espérons que vous interviendrez de manière ferme et décisive contre cette action qui est contraire aux engagements internationaux.
Movimiento social
Estimado Señor Ban Ki-moon, Secretario General de las Naciones Unidas.
Como grupo formando que forma parte del pueblo iraní, nosotros, signatarios de esta declaración le solicitamos en cuanto a la letra de protesta escrita por nuestro gobierno acerca de la decisión de los tribunales estadounidenses de congelar ilegalmente 2 mil millones de dólares de los activos iraníes.
Esperamos, que actuase de manera franca y con firmeza en contra de esta acción opuesta a los acuerdos internacionales.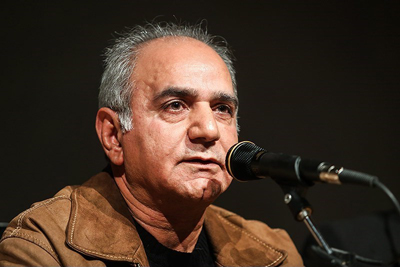 پرویزپرستویی دبیر کمپین بزرگ مردمی شد
 پرویز پرستویی به‌عنوان دبیر منتخب این کمپین اعلام داشت، ما مردم ایران انقدر در پیچ و خم حوادث روزگار آبدیده شده‌ایم که بخواهیم  و بتوانیم قدرتمندانه خواسته‌های به حقمان را از روش‌های قانونی و مدنی پیگیری کرده و بهانه به دست دشمنان این مرز و بوم  ندهیم. هرکس که این آب و خاک را دوست دارد بسم‌الله، با شرکت در این گردهمایی بزرگ ملی به دیگر جهانیان نشان دهد که هرگز نخواهد گذاشت حق فرزندانش از گلوی هیچ غاصبی به‌راحتی پایین برود
 اسامی تعدادی از هنرمندان که تاکنون در این کمپین شرکت کرده‌اند به شرح زیر است
هنرمندان و کارکنان خانه سینما
عزت الله انتظامی، داوود رشیدی، علی نصیریان، محمدعلی کشاورز، جمشید مشایخی، داریوش ارجمند، ژاله علو، احترام برومند، مجتبی راعی، ابراهیم حاتمی کیا ، مجید مجیدی ، رضا کیانیان ، پرویز پرستویی، فاطمه معتمد آریا، سید رضا میرکریمی ، کیومرث پوراحمد ، ابراهیم مختاری ، پوران درخشنده ، محمدحسین حقیقی، کمال تبریزی، فریدون جیرانی ، غلامرضا موسوی، محمدمهدی عسگرپور، علیرضا داوود نژاد ، ناصر عنصری ، شادمهر راستین، سید مهدی خادم، بهمن اردلان، کامران ملکی، عبداله اسفندیاری، محسن شاه ابراهیمی، حسین یاری، فرشته طائرپور، منوچهر محمدی، منوچهر شاهسواری، علیرضا شجاع نوری، عبدالحسن برزیده ، قاسم قلی پور، حبیب احمدزاده، مرتضی شایسته، جمال شورجه، کیوان کثیریان ، احمد طالبی نژاد، اکبر نبوی، سید ضیاء هاشمی ، فرزاد موتمن، جمال ساداتیان ، جعفر پناهی ، محمد متوسلانی، مجید انتظامی، مهدی کلهر، شاهین بهرام‌نژاد، محمد مهدی دادگو ، علیرضا زرین دست ، محمدرضا سکوت، پژمان لشگری پور، بهروز شعیبی، مسعود اطیابی، سعید سهیلی، عبداله علیخانی، حبیب کاوش، محمدرضا صفوی، تینا پاکروان ، مهرداد لشگری، مهدی کریمی، نرگس آبیار، همایون ارشادی، رضا درستکار ، مهران کاشانی، مهران رجبی، ایرج تقی پور، حسن آقا کریمی، عباس افشاریان، شاهرخ دستور تبار ، محسن روزبهانی، جواد طوسی، محمدرضا دلپاک ، پدرام اکبری، مجتبی متولی، حمید دهقانپور، حسن حسندوست، ابراهیم حاج علیرضا، فرهاد ارجمند، محمد پیرهادی، علی آشتیانی پور، امیر رضا معتمدی، حمید آخوندی، سید محمود رضوی، جواد نوروزبیگی، عادل معمار نیا ، شهریار اسدی، علی نیک رفتار، مصطفی احمدی، فر امرز روشنایی، مسعود نجفی ، روح انگیز شمس، سیمین آزادی، منصوره بسمل، مینا جهانگیری، منصوره وافری، میترا پیشنماز، غلامرضا کتال و خلیل رشنوی، سیدعلی صالحی، هادی افریده، فرزاد خوشدست، سیدحامد حسینی، مجید شتی، امیر آشتیانی‌پور، علی آشتیانی‌پور، افریده، کریمی صارمی، صانعی مقدم، بیتا منصوری، سعید سعدی، محمدصادق آذین، رضا داد، رضا انصاری، حجازی مهر، محمدرضا منصوری، ایرج تقی‌پور، محمدعلی نجفی، عباسی فرد، محمدمهدی حیدریان، جودی، داریوش غریب‌زاده، پرویز زارعی، شاهین بهرام نژاد، .........ه
هنرمندان و کارکنان حوزه هنری 
حسین غلامی، علی وزیریان، احمد آقا قلی‌زاده، قاسم غلامی، ملک دادیار گروسیان، قدرت‌اله معماریان، محمدحسین نیرومند، سیدمحسن نوری نجفی، فاطمه صغری منظوری، منصوره عالیخانی، عبدالحمید قدیریان، حسین عصمتی، غلامعلی طاهری، ابوالفضل خسروی، سعید نقاشیان، صدیقه سلمان، مینا صدری، آقای احمدپور، رامین اسدی، دکتری یاوری، جلیل عندلیبی، سید محمد میرزمانی، مهرداد کریم خاوری، حمیدرضا عاطفی، جهانگير نصري اشرفي، هوشنگ جاويد، هادی منتظری، حسن رياحي، مهدی آذرپندار، سرکارخانم محدثه پیرهادی، پوروزیری، یاسین پورعزیزی، احسان ثقفی، امید توتونچی، سیدمحمدرضا خردمندان، حسین دارابی، امید روشن‌بین، مهدی راوش، زهتابچیان، امیرعباس ربیعی، پیام حسین سوری، هادی قالیخانی، جواد مطوری، سمانه کرمانی، محسن ملکی، حسین حقیق‌یکتا، بهزاد بهزادپور، جعفر دهقان، عبدالحمید قدیریان، محمدتقی پاکسیما، مهدي فرجي، محمد آلادپوش، حمید کُریلی، محمدرضا مویینی، احمد مرادپور، جمال شورجه، محمدرضا جعفري جلوه، احمدرضا درویش، مهدی همایون فر، حسین محجوب، رضا بانکی، محسن روزبهانی، سید جواد هاشمی، حسین معززی نیا، امير اسفندیاری، سعید صادقی، عبدالله اسفندیاری، مهرداد فرید، محمود  اربابی، حمید بهمنی، مرتضی رزاق کریمی، حسن برزیده 
The author of this petition has closed this petition.

Announcement from the administrator of this website

We have removed signatories' personal information.

European Union's General Data Protection Regulation (GDPR) requires a legitimate reason for storing personal information and that the information be stored for the shortest time possible.