BANGAWAZÎYA AWARTE / بانگەوازییەکی بە پەلە
     بۆ سەرجەم پارت و رێکخراوە کوردستانییەکان
JI BO PARTÎ Û REXISTINÊN SÎYASÎ YÊN KURD!
بەڕێزان
بە پێشەنگایەتیی کۆمسیۆنی ژنانی کۆنگرەی نەتەوەیی کوردستان، ئێمە ژنانی کوردی هەر چوار پارچەی کوردستان لە دەرەوەی وڵات، لە 18ی ئازاری 2018 دا لە برۆکسل کۆبووینەوە. بڕیارمان دا بە هەموو هێزی خۆمان پێکەوە لەگەڵ تەواوی ژنانی کورد لە هەر کوێ هەن کار بکەین، بەو ئامانجەی کۆنگرەی یەکێتی نەتەوەیی کورد لە رۆژاوای کوردستان ببەسترێت. ئەگەر ئێمە خاوەنداریەتیی لە رۆژاوای کوردستان بکەین، دەتوانین بەر بە مەترسیی داگیرکاریی لەسەر باشووری کوردستان بگرین.
هەروەک دەزانن چارەنووسی هەموو پارچەکانی کوردستان بە یەکەوە گرێ دراوە. ئەم پێکەوە گرێدانەش لە قۆناغی ئێستادا لە چارەنووسی باشوور و رۆژاوای کوردستان زیاتر روون و لەبەرچاوە. ئیدی ئێمە ناچارین بە ئافراندنی ستراتیژی یەکێتی نەتەوەیی رێ لەبەردەم پلانی داگیرکەران بگرین.
بەڕێزان
لەبەر دۆخی ئاڵۆزی کوردستان، ئێمە وەک ژنانی کورد، بانگی ئێوە دەکەین بە خێرایی و لە نزیکترین دەرفەتدا، کە پێکەوە کۆنگرەی یەکێتی نەتەوەیی کورد بۆ رێگرتن لە مەترسییەکانی سەر کوردستان پێک بێنین. لە هێرشی داگیرکارانەی سەر عەفرین و هێرشی 16ی ئۆکتۆبەری سەر کەرکوک و باشووری کوردستان، ئەو راستییە ئاشکرا بوو کە هێزە نەیارەکانی کورد، لە پیلانی ستراتیژیی خۆیان بۆ لەناوبردنی دەستکەوتەکانی کوردستان لە کاردان. هێزە ناودەوڵەتیەکانیش لە بەرامبەر هێرشی دەوڵەتی تورکیا بۆ سەر عەفرین، بێدەنگ بوون و لەو بێدەنگییەش بەردەوامن. هەر هەمان ئەو هێزانەش بوون لەبەرامبەر هێرشی سەر کەرکوک بێدەنگ بوون. هەروەک چۆن لە شەڕی یەکەم و دوومی جیهانیدا رووی دا، ئەمڕۆش جارێکی تر دەیانەوێت کورد و کوردستان بکەن بە قوربانی بەرژەوەندییەکانی خۆیان. لە داڕشتنی نەخشەی نوێی رۆژهەڵاتی ناوەڕاستدا، کوردان بخەنە ژێردەستی هێزە داگیرکارەکانی هەرێمەکە. سیاسەتی نێودەوڵەتی بەرژەوەندی کوردستان ناپارێزێت، بەڵکو دەوڵەتانی وەک تورکیاو ئێران و عێراق و سوریا بە بنەما دەگرێت. هەر لەبەر ئەو بێدەنگیە نێودەوڵەتییە، بە نەتەوەیەکگرتووەکان و ناتۆ و یەکیەتیی ئەوروپاشەوە، هاوار ئەکا کە دەیەوێت هەموو رۆژاوای کوردستان تێک بدات. هەمانکات ئەردۆگان بە ئاشکرا دەڵێت: دەمانەوێت هێرش بکەینە سەر شەنگاڵ و کەرکوك و قەندیل. ئەوە دوو مانگە گەلی کورد، ژنی کورد لەگەڵ دۆستەکانیان لە سەرانسەری دنیادا بۆ خاوەندارێتی لە عەفرین لە سەرپێ و لە خەباتدان. بەڵام لە هەمووی گرنگتر هێزی یەکیەتیی نەتەوەیی خۆمانە. لە رۆژێکی وەک ئەمڕۆدا بەستنی کۆنگرەی یەکیەتیی نەتەوەیی کورد کارێکی هەرە پێویست و مێژووییە. ئێمە وەک ژنی کورد، هیچ ئاستەنگیەک لەبەردەم بەستنی کۆنگرەیەکی لەو چەشنە نابینین. دەوڵەتانی داگیرکەر کوردستانیان کردووە بە چەقی ئاڵۆزییەکان. دۆخەکە بەرەو شەڕی سێیەمی جیهانیی لە رۆژهەڵاتی ناوەڕاست هەنگاو دەنێت. ئەگەر ئەمڕۆ نەبێت ئەی کەی یەکیەتیی هێزە سیاسییە کوردییەکان رۆڵی خۆیان بۆ پاراستنی خاڵك و خاکەکەیان دەبینن!
ئێمە ژنانی کورد بانگی ئێوە دەکەین بەرژەوەندی تەسکی حزبایەتیی و تاکەکەسیی و ناوچەگەریی بخەنە لاوە، و بۆ پاراستنی کورد و کوردستان لە کۆنگرەی یەکیتیی نەتەوەیی کورددا، لە دژی داگیرکەران هەڵوێستی هاوبەش بگرن. بۆ ئێمە هیچ شتێک لە بەرژەوەندییەکانی گەلی کوردستان گرنگتر نییە.
سڵاو و ڕێز 
Birêz.....
Di peşengtiya komîsyona jinan a KNKê de em jinên Kurd ên ji çar parçeyên Kurdistanê li derveyê welêt di 18ê Adarê de li Brûksela Paytextê Belçîkayê kom bûn. Me bîryar girt ku em ê li gel hemû jinên Kurd bi hemû hêza xwe kar bikin, da ku kongra neteweyî ya Kurd a li Rojavayê Kurdistanê pek were. Eger em li Rojavayê Kurdistanê xwedî derbikevin, em ê karibin peşîya xeterîya dagirkeriya li ser Başûrê Kurdistanê jî bigrin. Qedera Bakûr, Rojhilat, Başûr û Rojavayê Kurdistan bi hev ve hatîye giredan. Bi taybet jî ya Rojava û Başûrê Kurdistanê. Em mecbûr in, bi afirandina stratejîya yektîtîya neteweyî bêbextîya li ser Kurdistanê rawestînin. Hêza me Kurdan ya ji bo vê yekê têra xwe heye.
Birêz,
Ji ber rewşa aloz a li Kurdistanê em wek jinên Kurd bang li we dikin ku bi lezûbez kongireya neteweyî ji bo pêşîlêgirtina xeterîyên li ser Kurdistanê, pek bînin.
Him di erîşên li ser Efrînê û him jî di 16ê Cotmeha 2017an de erîşen dagirkeran yên li ser Kerkûkê û Başûrê Kurdistanê de dîyar bû ku hezên li dij Kurd îro stratejîyeke ji bo tekbirina destkeftîyên Kurd çalak kirine. Hezên navdewletî beramberî erîşên Dewleta Tirk yên li ser Efrîn bê deng man û bêdengîya xwe berdewam dikin. Heman hêz beramberî erîşên li ser Kerkûkê jî bêdeng man. Wek di Şerên Cîhanê yên I. û II. de îro dîsa dixwazin Kurd û Kurdistanê bikin qurbana berjewendîyên xwe. Di guhertina nexşeya Rojhilata Navîn de Kurdan pêşkêşî hêzên dagirkerên herêmî dikin. Sîyaseta navdewletî ne Kurdan, lê dewletên wek Tirk, Îran, Irak û Sûriyê esas digrin.
Dewleta Tirk ji ber vê bêdengiya siyaseta dewletan, NATO û UNyê îro jî dibeje em ê tevahî Rojavayê Kurdistanê têk binin. Di heman demê de Erdogan pir eşkere dibêje ku ew ê biçe Şengal, Qendîl û Kerkûkê.
Ev 2 mehe ne, gelê Kurd, jinên Kurd û Kurdistanê li gel dostên xwe li hemû deverên cîhanê ji bo Efrînê li ser piyan in.
Lê ji hemûyan grîngtir û pewîstir hêza me ya yekîtîya neteweyî ye. Di rojên wisa bixeter yên wek îro, pêkanîna Kongra Neteweyî ya Kurdistanê pewîst, dîrokî û zarûrî ye.
Em wek jinên Kurd tu astengiyekê li peşîya lidarxistina Kongreya Neteweyî ya Kurdistanê nabînin. Dagirkeran îro dîsa Kurdistan kirine merkeza alozî, pevçûn û Şerê Cîhanê yê Sêyemîn ê ku li Rojhilata Navîn diqewime. Heger ne îro be wê kengê yekîtîya hêzên sîyasî yên Kurd rola xwe ya ji bo parastina ax û niştimana xwe bilîzin?
Em jinên Kurd bangê li we dikin ku hemû hesabên xwe yên hîzbayetî, takekesî, parçeperestî li alîyekî bihelin û tenê ji bo parastina Kurd û Kurdistanê di Kongra Neteweyî ya Kurdistanê de li dijî dagirkerîyê helwestê bigrin. Tu tiştek ji berjewendîyên gelê Kurd û Kurdistanê bi rûmettir û girîngtir nîne.
Li gel rêz û silavavan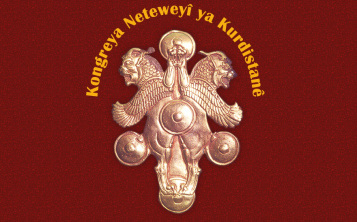 Sign this Petition
By signing, I authorize Kurdistan National Congress/ Women to hand over the information I provide on this form to those who have power on this issue.