Let's save the Plečnik Stadium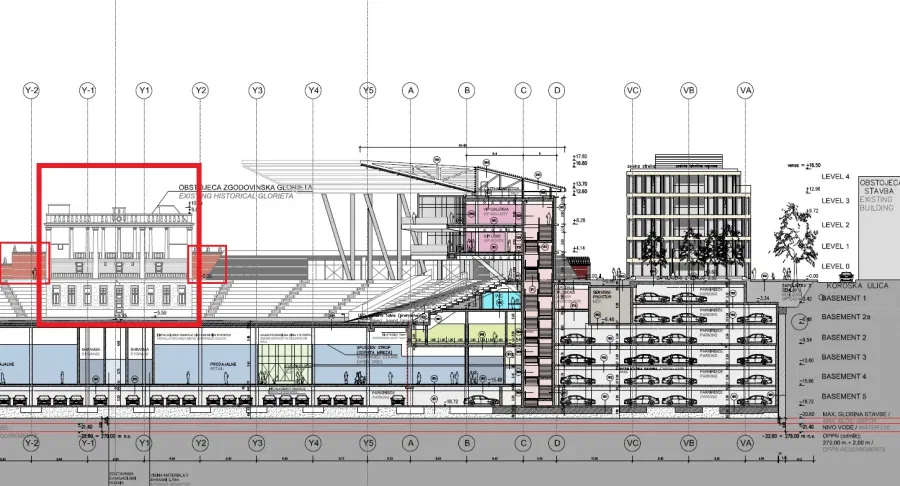 Presentation by dr. Miloš Kosec, which illustrates the relationship between the old
and the new - in the red square is Plečnik's gloriette
https://blog.architectuul.com/post/634638690353872896/a-false-dilemma
Let's Save the Plečnik Stadium
The Plečnik Stadium, together with other Plečnik's architectural works in Ljubljana, was declared a monument of national importance in 2009.Since 2007, the Bežigrad sports park company (BŠP, Bežigrajski športni park) has been trying to develop a colossal business-commercial and hotel complex on the site of the stadium and adjacent plots.The project completely neglects the protection regime for the monument: the original architectural elements planned to be renewed or reconstructed as replicas, would be degraded to a mere decoration of the new commercial colossus.
A threat to the monument was soon recognised by the domestic and international public (professional and general). The stadium was included on the lists of the most endangered cultural monuments by two international non-governmental organisations – Europa Nostra and DoCoMoMo. In the process of supervision in autumn 2020, the Ministry of Culture established that the positive cultural protection opinion of the Institute for the Protection of Cultural Heritage of Slovenia towards the BŠP project was illegal. As a result, a negative cultural protection opinion was issued for the project in February 2021, and in March 2021 the Ministry of the Environment and Spatial Planning refused to issue a building permit for the BŠP project.It seems that now is a good time to save the monument.
We call on the Olympic Committee of Slovenia (OCS) to withdraw from the BŠP project and leave the homonymous company. According to the environmental principles advocated by the international Olympic movement, OCS should promote proper protection of a cultural monument.
We call on the City of Ljubljana to abandon the inappropriate and harmful project, which does not represent the renovation of a cultural monument and step out of the company BŠP. We propose that, together with the state of Slovenia, it redeems the ownership share of the Elektronček (originally GSA) company and renovates the stadium following the protection regime and professional cultural protection guidelines. The stadium, an important monument of our nation's heritage, must be returned to society as a public good as soon as possible. Once again, the stadium must become part of Plečnik's Ljubljana and a common green open space accessible to all, intended for recreation, sports training, and various outdoor events.
Kaja Lipnik Vehovar
Arne Vehovar
prof. dr. Aleš Vodopivec
Urša Vrhunc
prof. mag. Tadej Glažar
dr. Miloš Kosec
Boris Briškidoc.
dr. Nika Grabar
Nena Gabrovec
Anže Zadel
izr. prof. mag. Anja Planišček
prof. dr. Rajko Kenda
Miha Blažič
Miran Mohar
Arjan Pregl
izr. prof. dr. Petra Čeferin
Janez Lajovic
dr. Pavel Gantar
doc. dr. Jela Krečič Žižek
prof. dr Slavoj Žižek
prof. dr. Peter Krečič
prof. dr. Rado Riha
izr. prof. dr. Beti Žerovc
doc. mag. Zora Stančič
Damjan Kozole
prof. dr. Apolonija Šušteršič
Janez Janša
Andrej Rozman Roza
prof. dr. Renata Salecl
Janko Belin
Žiga Pilih
doc. dr. Gorazd Kovačič
doc. dr. Petja Grafenauer
doc. dr. Blaž Lukan
prof. dr. Marko Juvan
Alen Ožbolt
Danijela Zajc
Maja Vardjan
prof.dr Svetlana Slapšak
Jernej Prijon
doc. dr. Jana Kenda
red. prof. dr. Boštjan Botas Kenda
Tomaž Štoka
Karmen Stariha
Civilna iniciativa za ohranitev Plečnikovega stadiona v izvirni obliki
Peter Mlakar
Igor Vidmar
doc. dr. Tadej Troha
dr. Damjan Prelovšek
Janko Rožič
Jernej Kastelic
prof. dr. Mojca Golobič
izr. prof. dr. Tatjana Capuder Vidmar
izr.prof.dr. Sonja Ifko