Memorandum
The second year students of the Department of Environmental, Water and Earth Sciences that are studying Diploma in Water Science and Technology are extremely upset and unhappy with the way BJ Mankazana is teaching us. We are also unhappy with how she treats and marks our papers. The situation is bad as most of the students are failing her module. All of the tests and the assignement written have errors. 
We wrote test one which had errors and she said that she will take accountability of it but only a few of the students marks were fixed and when we approach her about the situation, she shouts and says that she has fixed the marks and she says the following: 
"students are always confused". 
We again wrote another test (test2), which we were told that there were going to be both calculations and theory. The calculations were taught by the tutor called Karabo.  In the test, there was only thoery and no calculations whatsoever. She clearly told us in an online class we had to discuss the test that only 20% of the test will be theory and the rest will be calculations. But the test we wrote was 100% theory. Our class reps (Lethabo Dikgale and Themba Shabangu) went to her office to ask her about the test and she didnt give us proper answers. They then went to the HOD ( Dr Monyatsi) and we were granted a chance to write test 2B consisting calculations only. The test 2B also had errors which she only said on the 24th of June 2022, that she will take accountability.  
We again wrote test 3 (summative test). The test once again had errors that she said she will take accountability of. Students are also complaining that she did not mark their scripts properly and the total marks on the scripts do not correspond with the ones on ITS.
We were given an assignment which we were supposed to write on campus. The lecture just got in the class, gave the students who were in class the box with the assignments and requested to get the assignments back by the end of the class. And once again, there was a mistake, where she put a question we have never been taught. She once again said she will take accountability and subtract those marks from the total.
It is sad how our own HOD does not take the matter seriously to the point where she would see us in the office and say the following but in another language, " she does not want to be part of it. I have a class at 12:00 to teach".
Whenever we go to her office to ask her to view our scripts, she shouts at us and says " the box is in my car and its heavy". She even went to a point where she physically assaulted one of our class reps (Lethabo Dikgale) by hitting her with a pen and shouting in her face. There is an eye witness (Lubabalo Majaja). She always wants us to listen to her but she never listens to what students have to say because according to her, "students are always confused". She never wants us to ask questions because whenever we try to ask her a question,she promises us that she will leave us and not teach us.  The lecture later changed the weighs for our marks right after we asked to view our scripts multiple times.
We arranged with her a day to view our scripts and we agreed with Friday the 24th of June to view our scripts with the tutor as well. Later as time went, an announcement appeared stating that we will be going through the calculations with the tutor online and the theory with her on the Friday. The online class was not too good becuase the tutor was experiencing network issues and other issues with her baby as well. The tutor herself stated that there are mistakes and errors in the test and memorandum and that she will pass it through the lecture.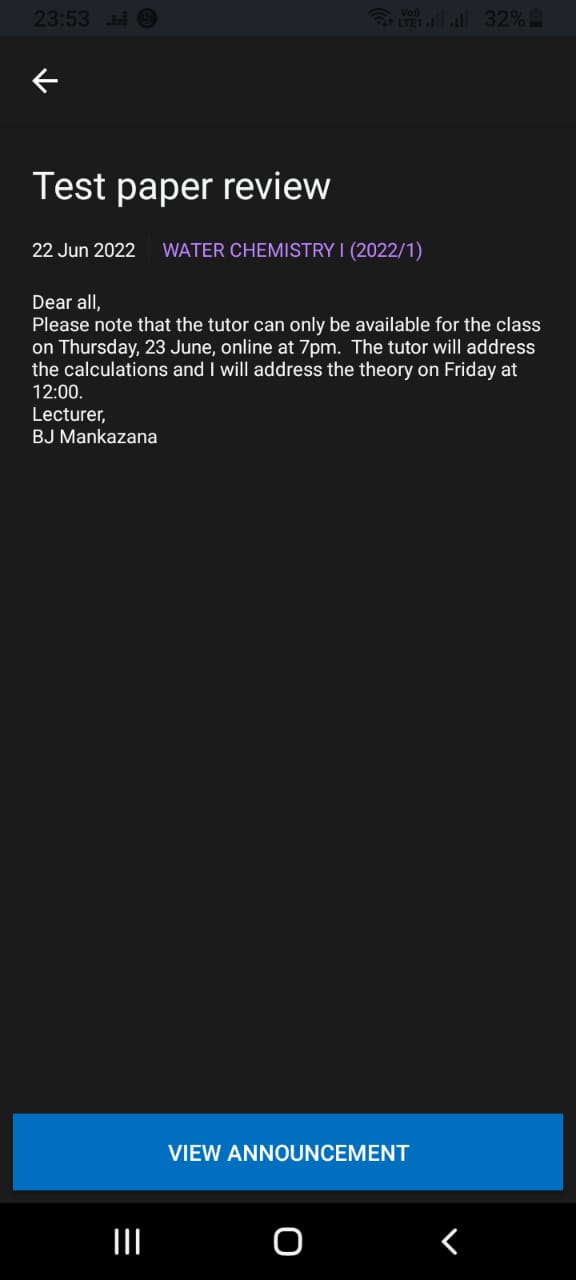 We have been pleading with her and asking her to view our scripts for a very long time. We told her that we cannot write the summative test without seeing our previous scripts as calculations were not taught by her but she kept on saying that she is not done marking the tests.  She then stated the reason we are failing calculations is because we are not using the methods taught by the tutor she appointed, but let us bare in mind that these are calculations and therr are many ways to kill a cat. 
We as a class are pleading for fair treatment from Lecturer BJ Mankazana and we humbly request that her question papers must be double checked by a moderator becfore writing because there are always errors that affect us students. We also request for her not to be our lecture for the module that we will be doing in second semester ( Water Plant management Science).
We also request for her to fix our marks as she stated on the 24th of June 2022. 
Instead of shouting at students and not giving them a chance to talk or ask questions, she should learn to listen to what students have to say.
  Below are screenshots and notifications from the lecture and us students trying to communicate with her.
With all being said, we request feedback as soon as it has been discussed and dealt with accordingly. 
Please kindly take this matter seriously.
On behalf of the 2nd year students studying Diploma in Water Science and Technology.
Class Representatives:
1. Lethabo Dikgale
2. Themba Shabangu