Promote music programs in schools by providing state funding.
Dear Student, Parent, Educator, Legislator, or Board Member,
My name is Radu Vasilescu, and I am a junior at Loveland High School (Loveland, OH). I'm a violinist in the LHS Chamber Orchestra, I'm the Principal 2nd Violinist of the Cincinnati Symphony Youth Concert Orchestra, and I am an all-around music lover. I plan to study music as a minor in college, and I plan to keep music as a vital part of my day-to-day life forever. However, none of this would have been possible without the support and involvement of the Loveland City School District's music programs.
The Loveland school district offers several music programs: From top-10-in-the-nation show choirs, to exceptional jazz, concert, and marching bands, to a wonderful strings program, to extensive elementary and intermediate music education classes. These programs attract a very large number of the school's students: An estimated 37% of Loveland High School's student body is involved in music, and this number is only increasing. However, music programs aren't just fun, they are also extremely beneficial.
Studies show that participation in a music program by high school students significantly increases standardized test scores, such as SAT and ACT [Source below]. Music is a vital part of a well-rounded student's life and education. Often, the fondest memories that people can recall from high school involve music. Be it marching band, orchestra, show choir, or another group, music leaves a permanent impact in anyone's life. These positive attributes are clearly reflected in the public opinion:
"95% of Americans consider music to be part of a well-rounded education, and 93% feel that schools should offer music education as part of the regular curriculum. Nearly four in five (79%) even say that music education should be mandated for every student in school."                                                                                                                                                        [Source below]
However, the funding and number of programs we have now is barely enough to maintain the demand caused by the large influx of students into the various ensembles. Instead of cutting funding, we should be doing everything possible to increase musical growth. The Loveland City School District has only one primary source of income to support its music programs: the Loveland Music Boosters. This non-profit 501(c)(3) organization is in charge of fundraising and providing financial support and assistance for the Loveland City School District music programs.
While the Loveland Music Boosters need over $60,000 per year to accomplish their goal, the state provides none of this, forcing them to organize and run their own fundraisers every year. If the state provided even half of this number, the parents and teachers involved in the Boosters could dedicate this time and effort to the music programs themselves.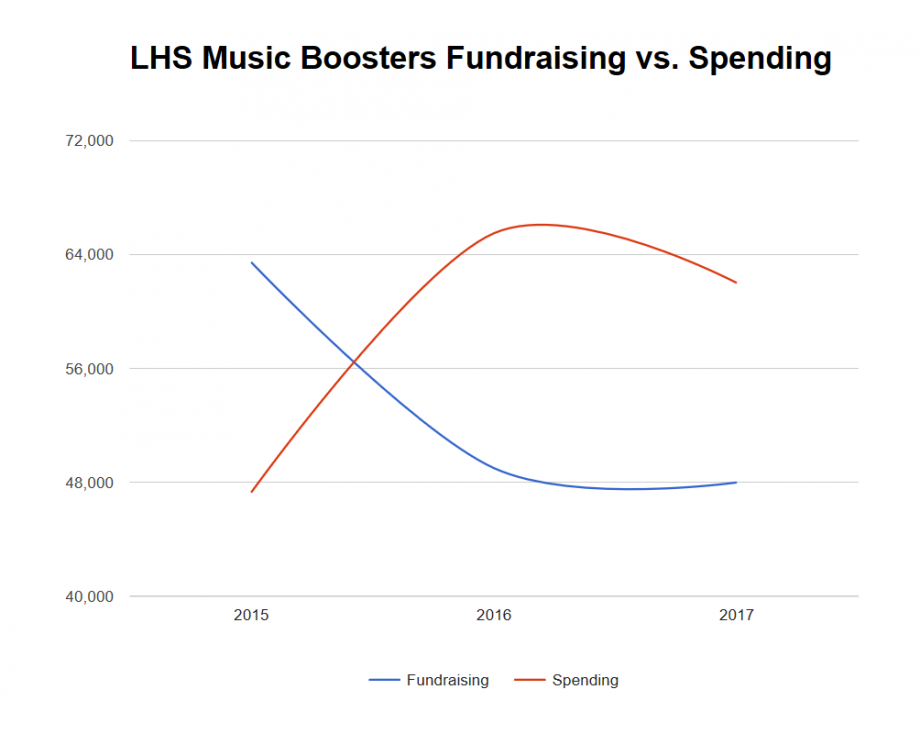 The graph above highlights the dramatic decrease in funds raised in fundraisers, as well as the increase in required expenses for the school's music programs. The school has a limited pool of instruments, uniforms, and equipment available to students. As these age, they need to be repaired or replaced, however, LHS has limited funds and availability to allocate to repairs and replacements because of the shortage in funding.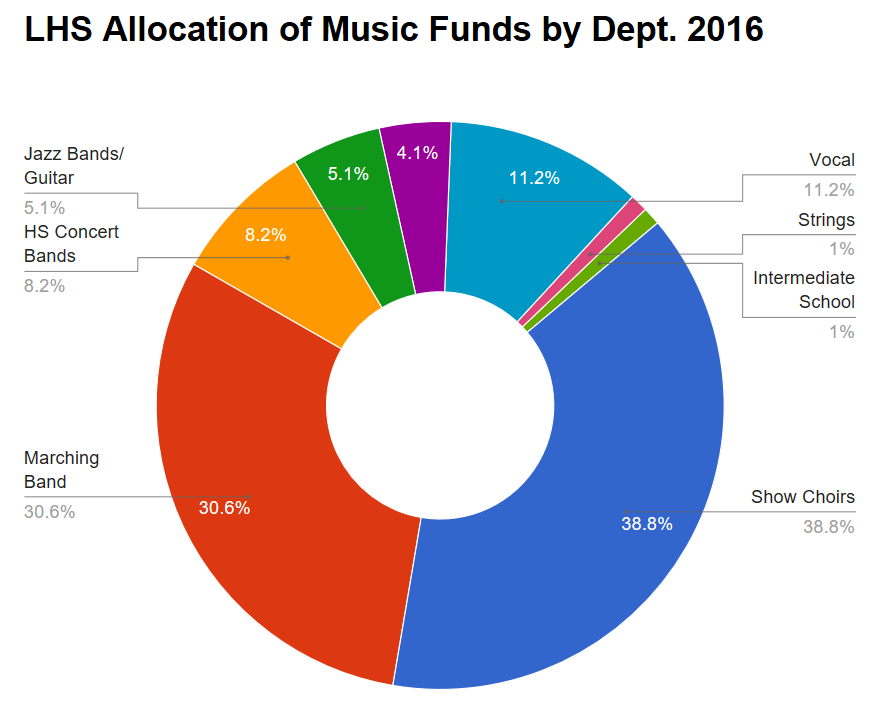 The Loveland Show Choirs receive a whopping 38.8% of our school's music funding-- around $20,000 per year. By contrast, the Loveland Intermediate School is only allocated under 1% of the budget. If the high school received more funding from the state to support its music programs, it could offer the same opportunities and support to all of its ensembles.
Music is important at all levels of education. From the youngest ages, music should be a part of every child's life. Instead of banging on cheap drums and singing off-key, elementary music programs need to be expanded to begin real instruments and attain immediate results. Music, being important and beneficial to the development of any student both mentally and artistically, must not stop after the fifth grade. Middle school should be a time in which music can blossom in the hearts of young instrumentalists, who find their passion in creating and performing music. Finally, high school music programs must nurture and empower the love for music created beforehand. These programs need to be large and robust, capable of teaching and coaching all students with a passion for music.
A lack of funding would inhibit growth and would smother the musical and artistic passion of Loveland's children. Our school district would be forced to make even greater compromises, and make do with less, leading to severely decreased opportunities for our students.
By contrast, increased state-provided funding or grants would allow our schools to develop existing programs, as well as more projects, ensembles, and ideas – thus meeting the overwhelming popular demand. Through an increase in funding, Loveland Schools has the potential to open the door for musical passion and pursuit to everyone.
In light of these facts, I urge you to consider an increase in availability and funding of music programs and classes in the Loveland School District. By signing this petition, you encourage a great leap forward in the musical education and developmen of public school children in our district and others, and you show your support for an action to increase support and funding for music. I feel confident that you recognize the significant benefits of these programs, and I look forward to a brighter, more musical future in Loveland and throughout Ohio's schools.
Thank you,
Radu Vasilescu
For more information, please see the websites below:
My website: http://www.musicinschools.tk/
Loveland Music Boosters: https://sites.google.com/site/lovelandmusicboosters/
Loveland Show Choirs: http://www.lovelandshowchoirs.org/
Loveland HS Bands: http://lovelandhighschoolbands.weebly.com/
PBS - Benefits of Music Education: http://www.pbs.org/parents/education/music-arts/the-benefits-of-music-education/
National Association for Music Education: http://www.nafme.org/
Gallup Poll (Music Students): http://www.gallup.com/poll/8434/americans-want-music-students-play.aspx
SHSU Article: http://www.shsu.edu/academics/music/center-for-music-education/praxis/articles/earnhart_articulating-the-why.html
Contact me:
Radu Vasilescu
(513) 677-3340
Sources:
Quote source: http://www.gallup.com/poll/8434/americans-want-music-students-play.aspx
Test scores source: http://www.shsu.edu/academics/music/center-for-music-education/praxis/articles/earnhart_articulating-the-why.html
Financial information provided courtesy of Mrs. Andrea Kiehl– President, Loveland Music Boosters.
Announcement from the administrator of this website

We have closed this petition and we have removed signatories' personal information.

European Union's General Data Protection Regulation (GDPR) requires a legitimate reason for storing personal information and that the information be stored for the shortest time possible.