Petition for ingredients declaration on alcoholic beverages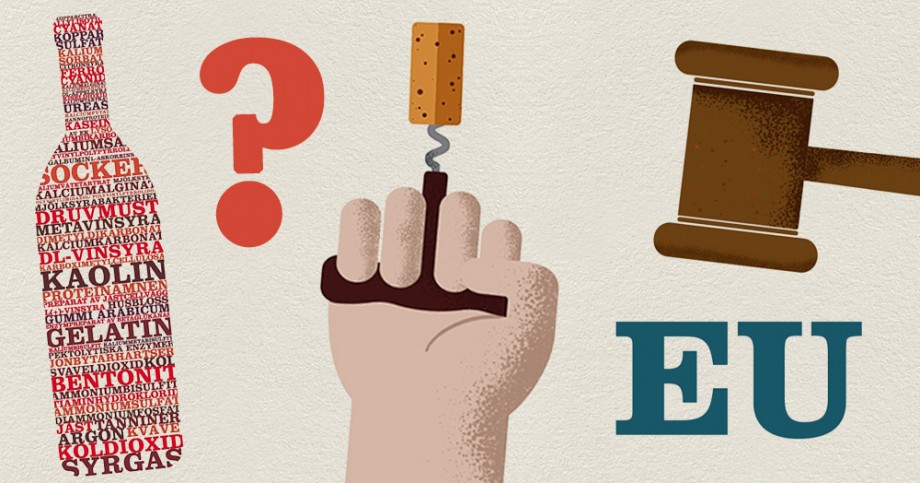 Within the EU, manufacturers of alcoholic beverages do not need to tell you what they have put into the bottle. All other food and beverages, on the other hand, must have detailed ingredients lists.  
In wine, for example, the manufacturers can use some 60 different additives and other substances, without them being declared on the bottle.  
It all comes down to an EU decision in 1979 where they failed to decide the labelling rules for alcoholic beverages. And since then, they have left things as they are. Until now. We hope.  
We consumers have the right to know what we are drinking, as with all other food. It should not be up to the manufacturers to decide, if and in what manner, the ingredients are to be declared, as the EU has proposed.  
Therefore, we demand that the European Commission remove this unreasonable exception and that mandatory ingredient lists are introduced on alcoholic beverages. 
Share the campaign site invinoveritas.se >>
Sign this Petition
By signing, I authorize In vino veritas to hand over the information I provide on this form to those who have power on this issue.
---
Is there something you want to change?
Change doesn't happen by staying silent. The author of this petition stood up and took action. Will you do the same? Start a social movement by creating a petition.
Start a petition of your own
Most popular petitions in last 30 days
We are writing to voice our concern in response to Grove City College's review and report of the use or discussion of Critical Race Theory on campus and its response to Dr. Jemar Tisby's talk at the college. As GCC students and graduates, we believe the use of critical methodologies is integral to the understanding and continual critique and analysis of the liberal arts. As a liberal arts college, Grove City should embrace and consider all theoretical frameworks and not censor or silence viewpoi
Created: 2022-04-29 Statistics
| Time period | All countries | United States |
| --- | --- | --- |
| All time | 486 | 471 |
| 30 days | 486 | 471 |
This petition is in support of the name change of the BTW Auditorium to the "S.L. Roundtree Theatre at Booker T. Washington High School.  There is rich history in the BTW Auditorium that lasted throughout several school years.  He may have taught your mother, maybe your grandmother, which was decades before he would have the opportunity to teach you.   Whether he taught dance, art or just your theatre instructor, Mr. Samuel L. Roundtree was not only an arts advocate, but he pioneered the arts mo
Created: 2022-04-25 Statistics
| Time period | All countries | United States |
| --- | --- | --- |
| All time | 435 | 431 |
| 30 days | 435 | 431 |
The New Bern-Craven County Public Library facility was last expanded in 1992 to 26,200 square feet. In 1990 the census population of the greater New Bern area (New Bern, Bridgeton, River Bend, Trent Woods, Township 2, Township 7 and Township 8) was 64,683.  In 2020 the population was 99,267, an increase of 53.4%.  According to standards just released by the State Library of North Carolina, minimally the library should have 64,524-sf (0.65 sf per capita served).    Modern libraries, in addition t
Created: 2022-04-25 Statistics
| Time period | All countries | United States |
| --- | --- | --- |
| All time | 413 | 407 |
| 30 days | 407 | 407 |
As friends of Grove City College, we write regarding recent controversies over Critical Race Theory and conversations about race at the college.    UPDATE (4.28.22) On Wednesday, April 20, a report from the Ad Hoc Committee of the Grove City College Board of Trustees was released to the public. Since the release, reaction has been strongly negative from many who signed a petition we initiated in March of this year. John Inazu, Law Professor at the University of Washington at St. Louis read the r
Created: 2022-03-09 Statistics
| Time period | All countries | United States |
| --- | --- | --- |
| All time | 629 | 614 |
| 30 days | 396 | 394 |
PETITION TO STOP THE ANNEXATION AND PROPOSED DEVELOPMENT PLAN KNOWN AS: "Jackson Farms Industrial Park" DRI case # 3553 This petition is intended to halt the annexation of land by the City of Pendergrass from the County of Jackson, Georgia. Parcel numbers: 101 008 and 101 008a. WE PETITION TO INCITE THE OBJECTION OF THE ANNEXATION AND DEVELOPMENT PLANS PROPOSED FOR THE FOLLOWING REASONS:  If the City of Pendergrass is allowed to annex these parcels, the citizens of unincorporated Jackson County
Created: 2022-04-14 Statistics
| Time period | All countries | United States |
| --- | --- | --- |
| All time | 192 | 190 |
| 30 days | 72 | 168 |
Investigation and Prosecution of Those Individuals Responsible for Crimes Against Humanity   29 September 2021     The International Criminal Court Office of the Prosecutor Post Office Box 19519 2500 CM The Hague The Netherlands     And   Ms. Karen Mosoti, or official replacement for the office of Liaison Office of the International Criminal Court to the United Nations 866 United Nations Plaza Suite 476 New York, NY, 10017 USA 212-486-1346/47/62     Email: otp.informationdesk@icc-cpi.int   Dear
Created: 2021-09-29 Statistics
| Time period | All countries | United States |
| --- | --- | --- |
| All time | 71769 | 13312 |
| 30 days | 264 | 148 |
University Schools 6525 West 18th Street Greeley, CO, 80634 (970) 506-7000   Dear Director Weaver, Ms. Budzynzki, Principal Casey and the University Board of Governors, This letter serves as a unified formal complaint and request to remove several books in the school library that depict graphic sex, violence and pedophilia. Furthermore, we request that a committee that includes parent members be created to review future library purchases, as trust has been diminished through the offering of thes
Created: 2022-05-21 Statistics
| Time period | All countries | United States |
| --- | --- | --- |
| All time | 111 | 111 |
| 30 days | 111 | 111 |
The point of this petition is announce support for the LGBT students at the University of Reading and the larger community as a whole. On the 25th of April, a pro conversion therapy for trans people speaker was invited to the UoR. The UN has called conversion therapy torture and the talk violated several University of Reading policies but was still allowed to go ahead. The University of Reading should make a public apology as the talk was abusive, disciminatory and harassment using the UoR's own
Created: 2022-04-25 Statistics
| Time period | All countries | United States |
| --- | --- | --- |
| All time | 578 | 105 |
| 30 days | 578 | 105 |
Petition summary and background: The City of Peosta is considering a re-zone of SW SW – SEC 03 T88N R1E; LOT 2 CLEMENS ADDITION; from A-1 (Agricultural) to M-2 (Heavy Industrial). Currently, this area is being used as a private quarry and this re-zone opens it up to a host of industrial use options, including sanitary landfill, junk yard, salvage yard, sewage or garbage plant, rock quarry, etc.  Location is shown on the attached letter below, this is the property on the North side of the railroa
Created: 2022-04-08 Statistics
| Time period | All countries | United States |
| --- | --- | --- |
| All time | 150 | 150 |
| 30 days | 2 | 89 |
We, the undersigned legal citizens of the United States of America, residents of the State of New York, in the interest of public health and well being of the citizenry, hereby OBJECT to the extension of the State Administrative Procedure Act (SAPA) for emergency regulations as outlined in the PHHPC Agenda for April 5,2022 in but not limited to the following sections;Section 2.13 as it relates to Isolation and Quarantine Procedures (Agenda 04.05.2022 document pages 7-11) as it is in violation of
Created: 2022-04-01 Statistics
| Time period | All countries | United States |
| --- | --- | --- |
| All time | 634 | 633 |
| 30 days | 79 | 79 |
Petitions.net
We provide free hosting for online petitions. Create a professional online petition by using our powerful service. Our petitions are mentioned in the media every day, so creating a petition is a great way to get noticed by the public and the decision makers.