Petition for ingredients declaration on alcoholic beverages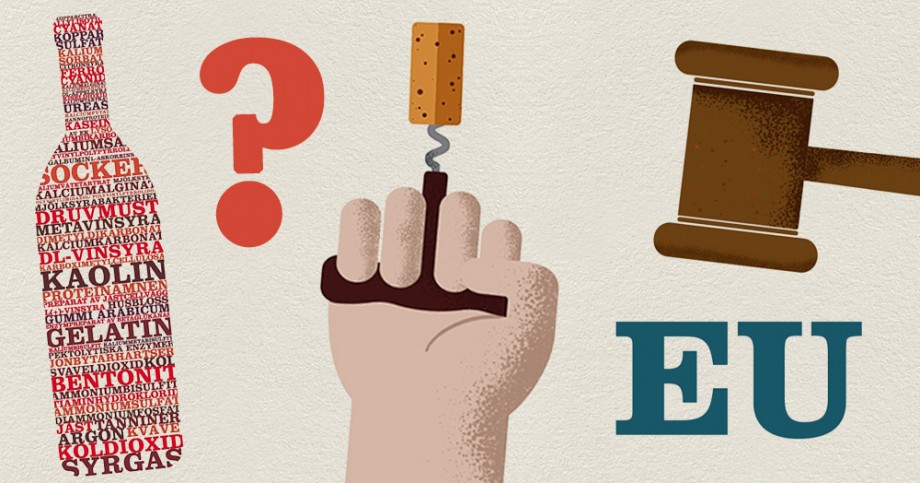 Within the EU, manufacturers of alcoholic beverages do not need to tell you what they have put into the bottle. All other food and beverages, on the other hand, must have detailed ingredients lists.  
In wine, for example, the manufacturers can use some 60 different additives and other substances, without them being declared on the bottle.  
It all comes down to an EU decision in 1979 where they failed to decide the labelling rules for alcoholic beverages. And since then, they have left things as they are. Until now. We hope.  
We consumers have the right to know what we are drinking, as with all other food. It should not be up to the manufacturers to decide, if and in what manner, the ingredients are to be declared, as the EU has proposed.  
Therefore, we demand that the European Commission remove this unreasonable exception and that mandatory ingredient lists are introduced on alcoholic beverages. 
Share the campaign site invinoveritas.se >>
Sign this Petition
By signing, I authorize In vino veritas to hand over my signature to those who have power on this issue.
---
Is there something you want to change?
Change doesn't happen by staying silent. The author of this petition stood up and took action. Will you do the same? Start a social movement by creating a petition.
Start a petition of your own
Most popular petitions in last 24 hours
URGENT!! Please say no to turn Sullivan School into more affordable housing, as well as a proposed zoning plan that will affect the entire city. The city already exceeds the federal guidelines for affordable housing. The 30 year tax abatement will increase our taxes more and we will pay double that they contribute after 30 years. The developer would not have to pay the 10,000.00 for at least 2 years until the federal money and grants come in. It is the start of a bigger plan for the 40r zoning p
Created: 2021-02-07
| Time period | All countries | United States |
| --- | --- | --- |
| All time | 125 | 125 |
| 24 hours | 20 | 20 |
From: Concerned Resident OwnersTo: All members of Betmar Acres Club, Inc. and Betmar Owners, Inc.Subject: DECLARATION OF COVENANTS, CONDITIONS AND RESTRICTIONS FORBETMAR ACRES CLUB, INC.Dear Members:In December, our Board announced that they have been working with theirattorney for a year developing a new DECLARATION OF COVENANTS, CONDITIONSAND RESTRICTIONS FOR BETMAR ACRES CLUB, INC. In response to this suddenand alarming development, many of our resident owners held meetings to discuss thisand
Created: 2021-02-25
| Time period | All countries | United States |
| --- | --- | --- |
| All time | 25 | 22 |
| 24 hours | 22 | 19 |
Dear Bishop Estevez, We, the undersigned, with all respect and humility, request that you reinstate the Sunday obligation for all Catholics in the Diocese of St. Augustine.  On March 16, 2020, you gave universal dispensation, to all Catholics in the diocese, from Sunday and holy day obligation due to fears of spreading coronavirus.  It was a time of confusion and fear of the unknown with regard to how serious this virus was.  Nearly a year has gone by. We now know, based on the science of this v
Created: 2021-02-25
| Time period | All countries | United States |
| --- | --- | --- |
| All time | 10 | 10 |
| 24 hours | 10 | 10 |
The purpose of this petition is to show Caldwell School District that as parents to Middle School and High School students we want them in school FULL TIME.  The Caldwell School District has decided that Elementary students can return Full time after spring break. They are ignoring the survery results that show parents want their children in school full  If you read the districts survey you'll see that parents from each school overwhelming say that they are VERY COMFORTABLE sending kids back to
Created: 2021-02-21
| Time period | All countries | United States |
| --- | --- | --- |
| All time | 46 | 46 |
| 24 hours | 9 | 9 |
Our children deserve to have fun without NYS "leaders" , again, forcing unnecessary mandates on them!  https://docs.google.com/forms/d/e/1FAIpQLSfaxIyQqo3tLZfPqjdkL5YH3xojzJ6_ebK3yPxeJvSk33ShRw/viewform?fbclid=IwAR1WBmjUIKkYGaok6PIOcra77x0T951WnKtU6ne-vI2M7qBoqju23YTu7f8
Created: 2021-02-24
| Time period | All countries | United States |
| --- | --- | --- |
| All time | 29 | 29 |
| 24 hours | 6 | 6 |
Petition to the President of the United States and members of Congress... This time bail out workers instead of Wall Street. 1. A Basic Income Guarantee of $2000.00 a month for every adult over 18 and $200.00 for each child in the family. 2. A $650.00 increase per month for everyone receiving Social Security. 3. Cancel ALL student debt. 4. Increase the Federal Minimum Wage to $16.00. The money can come from a hefty tax on the rich, a tax on stock market transactions, Federal Stimulus Funds for p
Created: 2020-11-29
| Time period | All countries | United States |
| --- | --- | --- |
| All time | 302 | 290 |
| 24 hours | 7 | 6 |
Dear Mr. Grey, I am married to the most compassionate, soulful, generous man in the world, and lucky for you, he also happens to be one of your biggest fans! Your FaceBook page recognizing him as a top fan seems to be shadowed only by the birth of his children. My husband, Rick, was raised not just listening to music but feeling it. His parents were music enthusiasts and record store owners; this helped to facilitate his passion for real musical and lyrical talent. Since Rick came upon your musi
Created: 2021-02-26
| Time period | All countries | United States |
| --- | --- | --- |
| All time | 5 | 5 |
| 24 hours | 5 | 5 |
WE WANT MAPLE BOURBON JERKY! Empire Jerky has agreed to create this boozy meat treat for us to enjoy if we get 9,000 signatures. Help us make the world a better place, one ounce of maple meat at a time. Please. 
Created: 2020-12-30
| Time period | All countries | United States |
| --- | --- | --- |
| All time | 7 | 5 |
| 24 hours | 7 | 5 |
Erie County Comptroller, failed media professional and all around layabout Stefan Mychajliw has spent eight years wasting taxpayer money as he tries to futher his own political career. After voters twice rejected his attempts to go to Congress, he continues to collect a salary while skipping work more often than he shows up.   From raising money for white supremacist gym owners so they can spread COVID, to creating online petitions that demonstrate a child's understanding of the law, Stefan has
Created: 2021-02-17
| Time period | All countries | United States |
| --- | --- | --- |
| All time | 69 | 69 |
| 24 hours | 4 | 4 |
Hello everyone. Welcome to "Walk Together SLL, INC's," second organized peaceful petition! For those of you that may be unfamiliar with who we are or what we stand for please allow for a brief introduction. "Walk Togther SLL, Inc," is a non profit organization advocating for pedestrian safety. SLL represents STOP, LOOK, and Listen. Earlier this year we created a petition requesting the Department of Transportation to conduct a safety survey or study of the areas in our local schools, libraries,
Created: 2020-11-25
| Time period | All countries | United States |
| --- | --- | --- |
| All time | 35 | 34 |
| 24 hours | 4 | 4 |
Petitions.net
We provide free hosting for online petitions. Create a professional online petition by using our powerful service. Our petitions are mentioned in the media every day, so creating a petition is a great way to get noticed by the public and the decision makers.