Petition for ingredients declaration on alcoholic beverages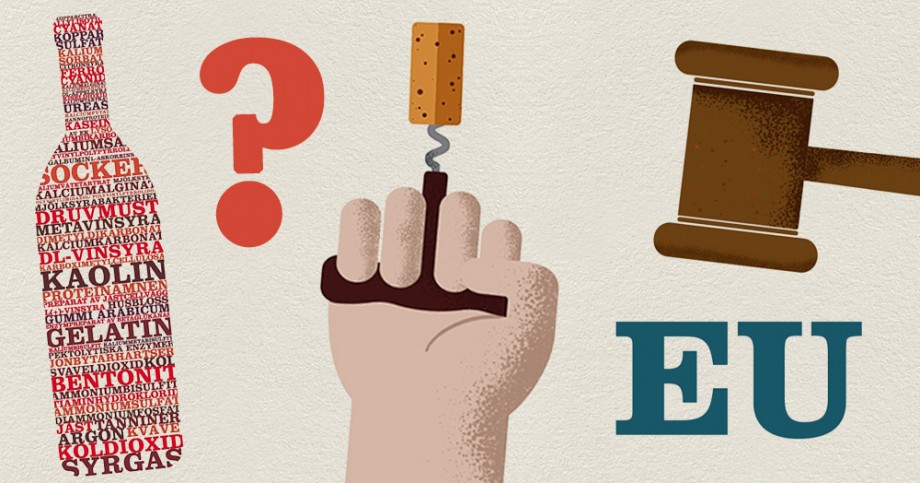 Within the EU, manufacturers of alcoholic beverages do not need to tell you what they have put into the bottle. All other food and beverages, on the other hand, must have detailed ingredients lists.  
In wine, for example, the manufacturers can use some 60 different additives and other substances, without them being declared on the bottle.  
It all comes down to an EU decision in 1979 where they failed to decide the labelling rules for alcoholic beverages. And since then, they have left things as they are. Until now. We hope.  
We consumers have the right to know what we are drinking, as with all other food. It should not be up to the manufacturers to decide, if and in what manner, the ingredients are to be declared, as the EU has proposed.  
Therefore, we demand that the European Commission remove this unreasonable exception and that mandatory ingredient lists are introduced on alcoholic beverages. 
Share the campaign site invinoveritas.se >>
Sign this Petition
By signing, I authorize In vino veritas to hand over my signature to those who have power on this issue.
Most popular petitions in last 7 days
We need to rally together to keep our YMCA in its original building...a building that was home to many children way before it was the YMCA ... a building that has helped children stay off the streets and become something...a building that is a staple in our community. The YMCA is looking to relocate and or downsize, which will result in the loss of a sense of community, a loss of many needed services, activities, space, and possibly jobs. Do not let this happen...we won't go down without a fight
Created: 2019-11-14
| Time period | All countries | Canada |
| --- | --- | --- |
| All time | 815 | 788 |
| 7 days | 813 | 786 |
Die Departement wil ons dwing om hulle idee van seksvoorligting aan ons kinders bloot te stel. Die ouer MOET oor reg beskik om self hieroor te besluit!!
Created: 2019-11-05
| Time period | All countries | South Africa |
| --- | --- | --- |
| All time | 332 | 327 |
| 7 days | 142 | 140 |
The 3-day gospel camp is an annual tradition that our school has held for many years. It is an opportunity for students to praise, worship, and connect with God without distractions from academics. Although the recent developments in Hong Kong have caused a lot of trouble at school, we, the students, still wish to have a three-day gospel camp not only to bond with each other but to focus on God. By signing this petition, I, a student of CAIS, am vouching for a 3 day Gospel Camp and will accept a
Created: 2019-11-14
| Time period | All countries | Hong Kong S.A.R., Ch |
| --- | --- | --- |
| All time | 122 | 121 |
| 7 days | 122 | 121 |
Sign the petition below to encourage Republic Records to update Ariana Grande's RIAA certifications in the United States of America. Share it, so other people can sign it too. Press them on social media (Twitter, Facebook or Instagram) so they can see and take an attitude. (twitter.com/republicrecords + twitter.com/scooterbraun + instagram.com/republicrecords + instagram.com/scooterbraun)
Created: 2019-11-16
| Time period | All countries | Brazil |
| --- | --- | --- |
| All time | 97 | 20 |
| 7 days | 97 | 20 |
please sign and share this petition. this store has been running under very questionable conditions, many reports to rspca but no action has taken place. still to this day many birds in small cages together, water bowls dry, food and and bird feeces are always all over the floor, many people have gotten parrots from this shop and have taken them to vet to find they have a desease called "beak and feather" which is highly contagious so basically all of the birds there would most likey have it asw
Created: 2017-03-13
| Time period | All countries | Australia |
| --- | --- | --- |
| All time | 2156 | 2058 |
| 7 days | 93 | 90 |
On the 8th November 2019 many 3rd year unisa LLB students gathered to write their LEV3701 exam only to find out it was leaked . This is totally unfair and prejudices our rights as students. The university has numerous scandals concerning leaked papers and we as students demand recourse . We are demanding for a portfolio as this isn't the first time it occurs . The university furthermore fails to mark our exams. Whenever you ask for a copy of your exams they decline only to find out that half the
Created: 2019-11-09
| Time period | All countries | South Africa |
| --- | --- | --- |
| All time | 378 | 366 |
| 7 days | 86 | 84 |
Petition for Animal and Nature Police establishment  Thank you for your allowing to really know yourself and really create a new life for Romania"s animals and nature! We live in a hostile , chaotic and hectic environment. Fortunately, we have laws that either prevent disastrous events, or save us from the clutches of danger. It's not just us, but pets and nature need laws to protect them, too. Please accept my choice to write as schematically as possible, I felt it so much easier you'll memoriz
Created: 2015-12-31
| Time period | All countries | Romania |
| --- | --- | --- |
| All time | 30732 | 27381 |
| 7 days | 86 | 81 |
  Dr Joseph Nkusi is a Rwandan citizen. He must be released from prison in Rwanda as soon as possible, in order to be resettled in Norway. He got protection in Norway in 2018, two years after The Norwegian Immigration Appeals Board forced him back to Rwanda. Dr Joseph Nkusi came to Norway as a researcher at the University of Bergen in 2009. When his work visa was about to expire, he applied for protection in Norway. He got negative decisions, first from UDI (Directorate of Immigration) and then
Created: 2019-10-23
| Time period | All countries | Norway |
| --- | --- | --- |
| All time | 342 | 309 |
| 7 days | 72 | 53 |
We are against animal testing. For those who don't understand the meaning of this horrible act, imagine living your entire life in a cell no bigger than a small walk-in closet. Growing tumours bigger than your body. Not choosing what you eat. When you eat. What you do. Whether or not to have a partner or children (if you even get to that point in life). How you will spend your time. Or not even having a chance to say your very first words, because your vocal cords would be cut so you can't commu
Created: 2019-11-07
| Time period | All countries | Australia |
| --- | --- | --- |
| All time | 47 | 30 |
| 7 days | 37 | 24 |
Plastic pollution is a big problem. It has killed thousands of innocent lives that should not suffer from our waste. What is plastic pollution? Plastic pollution is pretty self explanatory, it is when plastic is polluting our land and sea, resulting in thousands of deaths for marine animals. Sometimes when birds are cut open their stomachs are filled with plastic. Scientists have proven that by 2025, there will be around 1 tonne of plastic for every 3 tonnes of fish, and by 2050, there will be m
Created: 2019-11-11
| Time period | All countries | Australia |
| --- | --- | --- |
| All time | 36 | 27 |
| 7 days | 36 | 27 |
Tczew Bridge - it was here 80 years ago that World War II broke out. The State Treasury took over Westerplatte, we urge the Polish authorities to take over the Tczew Bridge, complete its protracted reconstruction and create a branch of the Museum of the Second World War. Residents and local authorities support this idea. The petition is addressed to: the President of the Republic of Poland, the Prime Minister, the Chancellery of the Sejm, the Ministry of Culture and the Ministry of Infrastruct
Created: 2019-09-08
| Time period | All countries | Poland |
| --- | --- | --- |
| All time | 3555 | 3404 |
| 7 days | 34 | 31 |
Petitions.net
We provide free hosting for online petitions. Create a professional online petition by using our powerful service. Our petitions are mentioned in the media every day, so creating a petition is a great way to get noticed by the public and the decision makers.