Petition to induct Australian Country Music Pioneer Kevin Shegog (dec) into the Tamworth Roll of Renown.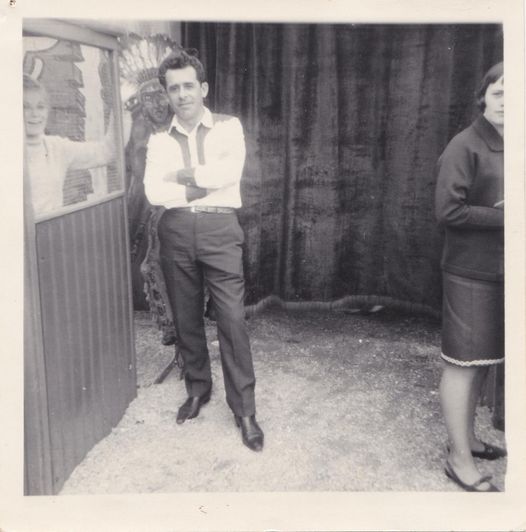 Hi country music fans.
I hope you'll join with me, my family, our friends and Kevin Shegog fans in our effort to build a petition to accompany a submission the organisers of the Tamworth Roll of Renown to consider posthumously awarding this honour to dad in 2023.  
One only has to look at his discography (below) to see  that W&G had so much faith in his ability, talent and popularity they continued to produce album after album and an impressive list of singles and EP's.
Dad was an extremely talented and prolific singer, songwriter, performer and recording artist who had numerous songs in the charts, both here and overseas.
The likes of Johnny Chester, Chad Morgan, Terry Gordon OAM and many fans and supporters believe dad's inclusion in the Roll of Renown is long overdue.
I hope you'll help us out by signing the petition and asking your friends to do the same.
I also invite letters of recommendation from anyone who feels their influence may have a positive effect on the decision making process in Tamworth. 
Thank you everyone, your support is highly valued and much appreciated.
Kindest regards
Susan Shegog
Kevin Shegog Discography
Singles
| Title | Label | Year | Notes |
| --- | --- | --- | --- |
| Little Kangaroo | W&G | 1960 | (as Kevin Shegog and The Gold-Toppers) |
| My Blues & Me | W&G | 1961 | (as Kevin Shegog and The Gold-Toppers) |
| One Small Photograph | W&G | 1961 |   |
| I'm So in Love With You | W&G | 1961 | (with the Jack Varney Group) |
| A Prayer for Baby | W&G | 1961 | (with the Jack Varney Group) |
| Jambalaya | W&G | 1961 | (as Kevin Shegog and The Gold-Toppers) |
| Wayward Rambler | W&G | 1961 | (as Kevin Shegog and The Gold-Toppers) |
| Knoxville Girl | W&G | 1961 | Cover version |
| Big Old Lazy River | W&G | 1962 |   |
| Fall-Out Shelter | W&G | 1962 |   |
| Your Answer to Me | W&G | 1962 |   |
| I'm on the Right Road Now | W&G | 1962 |   |
| Cutie | W&G | 1962 | (with the Hawking Brothers) |
| I Can't Stop Loving You | W&G | 1962 |   |
| Oh Gee, What's Wrong With Me | W&G | 1962 |   |
| Wolverton Mountain (cover) | W&G | 1962 | Chart position No. 3 |
| You Weren't Invited But You Were There | n/a | 1962 |   |
| Cowboy Boots | n/a | 1963 |   |
| Love Me a Little Bit | n/a | 1963 |   |
| From Here on | n/a | 1963 |   |
| Lorena | n/a | 1963 |   |
| I've Got the World by the Tail | n/a | 1963 |   |
| Silent Tears | n/a | 1963 |   |
| Talk Back Trembling Lips | W&G | 1963 | Cover version |
| Wealthy John | n/a | 1963 |   |
| The Strange Little Melody | n/a | 1963 |   |
| When I Gave You My Heart | n/a | 1963 |   |
| Don't Bug the Beatles | n/a | 1964 |   |
| If You Were in My Shoes | n/a | 1964 |   |
| Great Big Casey | n/a | 1964 |   |
| Pretty Blue Ribbons | n/a | 1964 |   |
| Saginaw, Michigan | n/a | 1964 |   |
| A Huggin' and a Kissin' | n/a | 1964 |   |
| It Hurts So Much (To See You Go) | n/a | 1965 |   |
| Phar Lap (The Red Terror) | n/a | 1965 |   |
| Johnny Was a Friend of Mine | n/a | 1965 |   |
| Apple Blossom Belle | n/a | 1967 |   |
| Sault St. Marie | n/a | 1967 |   |
| Teacher's Pet | n/a | 1968 |   |
| Miss Personality | n/a | 1968 |   |
| Little Frisco | n/a | 1970 |   |
| Little Curly Hair in a Highchair | n/a | 1970 |   |
| Melbourne Airport, Tullamarine | n/a | 1971 |   |
| Ballad of Hillbilly Smith | n/a | 1971 |   |
| Redbacks Don't Eat Meat | n/a | 1971 |   |
| Daddy Frank | n/a | 1971 |   |
| Top Forty | n/a | 1971 |   |
| ALBUMS |   |   |   |
| --- | --- | --- | --- |
| Title | Label | Year | Notes |
| "Kevin Shegog" | W&G | 1962 |   |
| Country Concert | W&G | 1962 | with the Hawking Brothers) |
| Great Country & Western Songs | W&G | 1963 |   |
| Kevin Shegog's Greatest Hits | W&G | 1964 |   |
| A History of Country and Western Music | W&G | 1965 |   |
| The Kevin Shegog Album | W&G | 1965 |   |
| The Best of Kevin Shegog | Master | 1966 |   |
| Kevin Shegog Goes Nashville | W&G | 1968 |   |
| Big Country Songs | W&G | 1970 |   |
| Modern Country Songs | W&G | 1972 |   |
| Rodeo Man | W&G | 1973 |   |
| Kevin Shegog | W&G | 1974 |   |
| Honky Tonk Girl | R&H | 1985 |   |
| EP's |   |   |   |
| --- | --- | --- | --- |
| Deep Down in Shegog | Planet Records | 1959 |   |
| The Best of Kevin Shegog | W&G | 1960 | as Kevin Shegog and the Gold Toppers |
| Songs of Praise | W&G | 1962 |   |
| Wolverton Mountain | W&G | 1962 |   |
| King of Country & Western | W&G | 1964 |   |
| Great Country & Western Songs (Vol, 2) | W&G | 1964 |   |
| One Small Photograph | W&G | 1964 | as Kevin Shegog and the Gold Toppers |
| Kevin Shegog Sings Favourites | W&G | 1965 |   |
|   |   |   |   |
|   |   |   |   |
Compilations
[
edit
]
| Title | Label | Year | Notes |
| --- | --- | --- | --- |
| Greatest Hits | W&G | n/a |   |
| Ballad of a Hillbilly Singer | Canetoad Records | 2004 | (post-houmous release) |