Prevent RZM2022-00039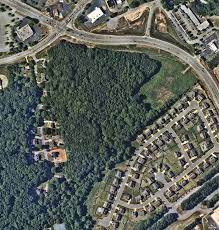 SAY NO TO RZM2022-00039
SAY NO TO 93 Townhomes and approximately 400 daily trips
UPDATE: THE NEXT MEETING 3/8/2023 PLANNING COMMISSION MEETING @ 7PM.
The Gwinnett County Board of Commissioners is considering rezoning +/- 19 acres at the corner of Braselton Hwy/Hwy 124 and Auburn Rd/Hwy 324. As proposed, this high-density development, 93 townhomes, would empty directly onto Hwy 324. The stretch of road from this intersection to Fort Daniel Elementary, 4/10 of a mile, would then include seven entry/exit onto Auburn Rd/Hwy 324.  
The applicant says this development would enhance the walkability of the neighborhood.  Both Hwy 324 and Hwy 124 are high-traffic areas; walking on either of these highways is dangerous.  This development would be totally reliant upon vehicles as a primary means of transportation. This is not a walkable area.
The applicant says the development would be a good fit for the neighborhood.  If that is the case, then why do they need three waivers and a variance to comply with the Hamilton Mill 324/124 Overlay District? According to that document, access to the contiguous property should be used to enhance traffic safety.  The developer said that this wasn't possible due to the challenging topography of the area.  Should residents of the area have to sacrifice traffic safety and quality of life because 11 of the 19 acres are unbuildable? The applicant cites the property's "steep" and "severe" topography as the reasons for requesting waivers and variances and ignoring the Hamilton Mill 324/124 Overlay District requirements.  The applicant claims the zoning is why the three parcels haven't been developed-it's not the zoning it's the topography!
The current zoning on this land is R-200 & C-1.  Due to the "challenging topography" 48 of the 93 units would be on eight of the 20 acres, as currently configured twenty three of the units would border eight existing backyards.  Changing this zoning to R-TH would be a huge increase in density and rezoning to a dissimilar use.
WE submit these are reasons to say NO to this rezoning application.
The County Planning Commission has unanimously voted to recommend denial of this project to the County Board of Commissioners last Fall.  Our case was remanded back to the Planning Commission and will be heard by them again March 8th, Wednesday 7 pm.
If you agree that RZM2022-00039 is a bad plan for this intersection, please sign this petition.
| | |
| --- | --- |
| | The author of this petition has closed this petition. |