re-open beastrampz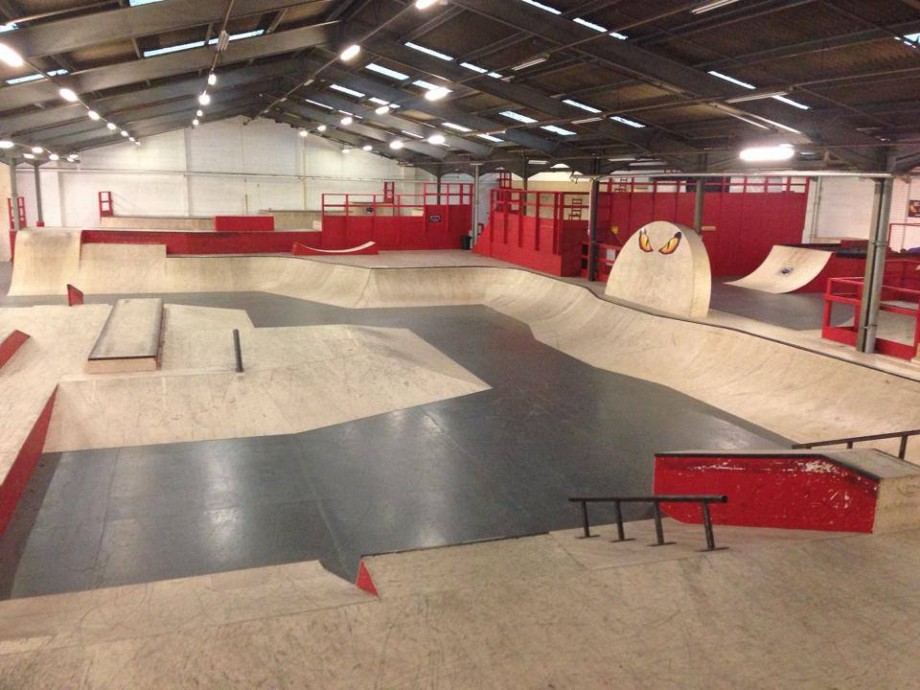 We want your signiture!
Beast rampz being the only indoor skate park left open in the manchester area has recently closed its doors due to financial problems, BEAST RAMPZ is a 27500 foot indoor skate park that caters for all action sports
including:
Skate
Bmx
Scooter
Inline
For the manchester community that attend beast rampz there is now nowhere else to riding an indoor skatepark in manchester. This is a dis hart to us all and we need something done.
We demand that the local council (http://www.manchester.gov.uk/site/index.php) allocate funds to aid the parks re-opening and keep it open. as athletes and locals a like we need facilities to train on a regular basis.
1) We do not have an indoor skate park that exists in the manchester area
2) We need beast rampz to re-open its doors
3) It will be a safe place for children to come with there parents
With the signitures we collect we can re-open beast rampz for good!
Sign this Petition
By signing, I authorize Aaron haywood to hand over my signature to those who have power on this issue.
Most popular petitions in last 7 days
Mclaren circus uses animals such as lions, snakes, tigers, camels and many more. These animals should not be used as entertainment and these animals deserve to have a better life and be free from that horrible business. The animals deserve to be respected and to be free to live in the wild instead of cages for peoples entertainment.  THIS NEEDS TO STOP. 
Created: 2019-11-16
| Time period | All countries | South Africa |
| --- | --- | --- |
| All time | 4306 | 3825 |
| 7 days | 4305 | 3825 |
  After their recent Stategic Review the Royal British Legion have proposed to increase the number of case workers to help beneficiaries. In turn they plan to close the 4 UK Break Centres Alderson House, Bennet House, Byng House and Somerset Legion House along with the Handy Van Service. The Break Centres provide an invaluable opportunity for members of the armed forces community to avail of an all inclusive break for some well deserved respite. A break can give someone a safe sanctuary to meet
Created: 2019-11-20
| Time period | All countries | United Kingdom |
| --- | --- | --- |
| All time | 1356 | 1325 |
| 7 days | 1355 | 1325 |
The City of Ekurhuleni is planning to amend its Land Use Scheme to allow for taverns and spaza shops on properties zoned Residential 1.  This will have potential to dramatically change the structure and amenity of all suburban areas.  Please submit written comments to Sibongile.Nkosi@ekurhuleni.gov.za and/or sign this online petition. DEADLINE 30TH NOVEMBER 2019.
Created: 2019-11-20
| Time period | All countries | South Africa |
| --- | --- | --- |
| All time | 1298 | 1276 |
| 7 days | 1294 | 1276 |
We need to rally together to keep our YMCA in its original building...a building that was home to many children way before it was the YMCA ... a building that has helped children stay off the streets and become something...a building that is a staple in our community. The YMCA is looking to relocate and or downsize, which will result in the loss of a sense of community, a loss of many needed services, activities, space, and possibly jobs. Do not let this happen...we won't go down without a fight
Created: 2019-11-14
| Time period | All countries | Canada |
| --- | --- | --- |
| All time | 1100 | 1066 |
| 7 days | 598 | 584 |
Petition for Animal and Nature Police establishment  Thank you for your allowing to really know yourself and really create a new life for Romania"s animals and nature! We live in a hostile , chaotic and hectic environment. Fortunately, we have laws that either prevent disastrous events, or save us from the clutches of danger. It's not just us, but pets and nature need laws to protect them, too. Please accept my choice to write as schematically as possible, I felt it so much easier you'll memoriz
Created: 2015-12-31
| Time period | All countries | Romania |
| --- | --- | --- |
| All time | 31224 | 27818 |
| 7 days | 507 | 451 |
English follows Afrikaans Die Departement van Landbou, Bosbou en Visserye het aangekondig dat lewendehawe veilings in Limpopo, Mpumalanga, Gauteng en Noordwes tot verdere kennisgewing opgeskort word weens die uitbreek van bek- en klouseer. Ons verwerp hierdie besluit aangesien die nodige openbare deelname nie ingewin is nie, die verbod op veilings gaan nie die probleem oplos nie en die uitbreek is sedert Januarie 2019, nie met die nodige erns hanteer nie.  Teken asseblief ons petisie om gelys te
Created: 2019-11-18
| Time period | All countries | South Africa |
| --- | --- | --- |
| All time | 351 | 340 |
| 7 days | 351 | 340 |
The Customer Care call centre in the City of Ekurhuleni has been experiencing various technical glitches and is constantly offline. Residents are often unable to log service calls or request assistance with account and billing queries. The call centre is inundated with calls and residents are left on hold for long periods of time or cut-off before being assisted.    According to the City of Ekurhuleni's general service standards, telephone calls are supposed to be answered within 5 rings and cus
Created: 2019-11-18
| Time period | All countries | South Africa |
| --- | --- | --- |
| All time | 134 | 132 |
| 7 days | 134 | 132 |
GATVOL DRIVERS To Whom it may concern(BOLT  Management) This pettition serves to air our griviences to the responsible authorities.   We as BOLT drivers disagree on how BOLT treats us. We have to work under bad conditions and circumstances, our demands as drivers are as follows: Out with fixed prices Away with discounts BOLT must assist with impounds SOS Button not working We need BOLT black just like UBER BLACK Minibus drivers take cars off BOLT drivers and demand payment to get your car back.
Created: 2019-11-20
| Time period | All countries | South Africa |
| --- | --- | --- |
| All time | 128 | 127 |
| 7 days | 128 | 127 |
please sign and share this petition. this store has been running under very questionable conditions, many reports to rspca but no action has taken place. still to this day many birds in small cages together, water bowls dry, food and and bird feeces are always all over the floor, many people have gotten parrots from this shop and have taken them to vet to find they have a desease called "beak and feather" which is highly contagious so basically all of the birds there would most likey have it asw
Created: 2017-03-13
| Time period | All countries | Australia |
| --- | --- | --- |
| All time | 2173 | 2073 |
| 7 days | 110 | 105 |
Sign the petition below to encourage Republic Records to update Ariana Grande's RIAA certifications in the United States of America. Share it, so other people can sign it too. Press them on social media (Twitter, Facebook or Instagram) so they can see and take an attitude. (twitter.com/republicrecords + twitter.com/scooterbraun + instagram.com/republicrecords + instagram.com/scooterbraun)
Created: 2019-11-16
| Time period | All countries | Brazil |
| --- | --- | --- |
| All time | 102 | 20 |
| 7 days | 102 | 20 |
Hi everyone, the greenway that is currently being built to enable a clear path from sallins into naas may not include the stretch of land along the canal from underneath the railway bridge at Soldiers Island to the gap in Sallins Pier opposite the houses, opposite the canal. If we can put a petition through to the council, it would go a long way to persuading them that this final stretch being finished would enable more people, families, children, school goers, to use this greenway/pathway from
Created: 2019-11-18
| Time period | All countries | Ireland |
| --- | --- | --- |
| All time | 101 | 100 |
| 7 days | 101 | 100 |
Petitions.net
We provide free hosting for online petitions. Create a professional online petition by using our powerful service. Our petitions are mentioned in the media every day, so creating a petition is a great way to get noticed by the public and the decision makers.