SAVE BETMAR- NO HOA- NO 720
From: Concerned Resident Owners
To: All members of Betmar Acres Club, Inc. and Betmar Owners, Inc.
Subject: DECLARATION OF COVENANTS, CONDITIONS AND RESTRICTIONS FOR
BETMAR ACRES CLUB, INC.
Dear Members:
In December, our Board announced that they have been working with their
attorney for a year developing a new DECLARATION OF COVENANTS, CONDITIONS
AND RESTRICTIONS FOR BETMAR ACRES CLUB, INC. In response to this sudden
and alarming development, many of our resident owners held meetings to discuss this
and ask questions. The Board held all of their discussions in "special" meetings and
would not allow the members to speak.
"We have no intention to make Betmar a 720 HOA as they proclaim. We are
remaining a 617 Not For Profit Corp..."
That statement was made in a letter posted on the BETMAR website on
1/23/2021 at 6:47 PM. In the above statement, "as they proclaim" is referring to what
they also stated are "falsehoods and misleading statements" about the potential for a
Homeowners Association to be formed through this action.
Recently, at a properly noticed Betmar Acres Club Inc. General Assembly
meeting held on February 3, 2021, the Chair and the attorney claimed that the meeting
was only an informational meeting and there could not be any motions or voting. The
attorney also stated there will be NO VOTE on this issue. This is a direct violation of our
right to vote as stated in the Bylaws. This is a matter of GREAT IMPORT if there ever
was one.
During the attorney's' presentation at this recent meeting, the attorney mentioned
many times the need to have OUR properties governed under Florida Statute
CHAPTER 720 HOMEOWNERS' ASSOCIATION in order to have and maintain
enforcement rights. Not too far into the meeting, the attorney clearly stated they intend
"to start the process of converting either the Club or Owners or both into a true Chapter
720 Homeowners' Association".
YOU OWN YOUR PROPERTY, YOU HAVE RIGHTS!!
NO ONE CAN FORCE YOU TO SIGN ANYTHING, PERIOD!
Please help us to hold the Board accountable and to hold a General Assembly meeting
of the members of Betmar Acres Club, Inc. and allow us to weigh in on this important
matter. Even if you believe a homeowner's association is not a danger to our way of life,
we need to slow things down and make sure to limit the Board's power over our
finances and our park.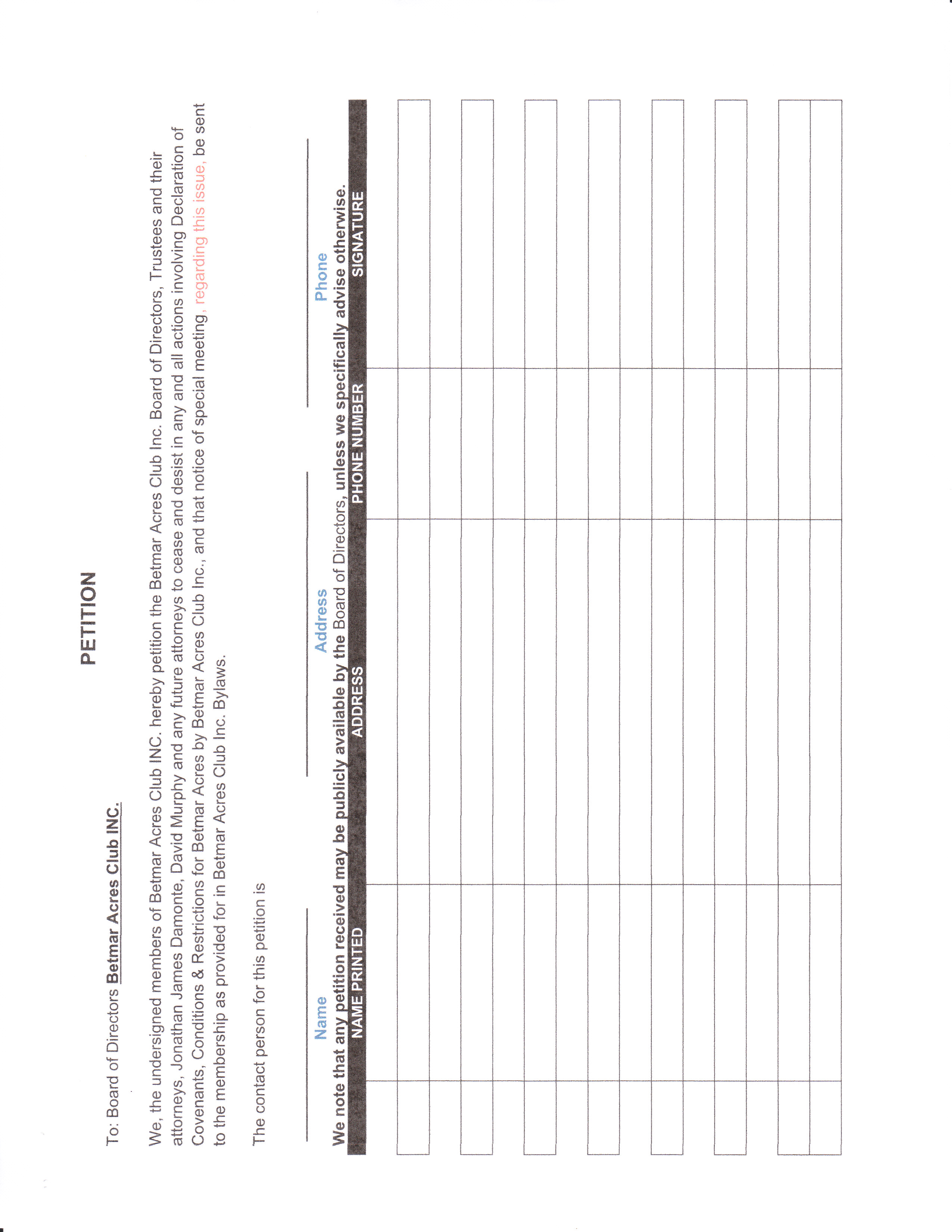 Sign this Petition
By signing, I authorize Darlene Costello to hand over my signature to those who have power on this issue.