Steina Vasulka á heiðurslaun listamanna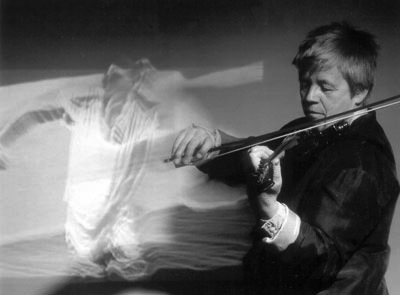 Við undirrituð hvetjum stjórnvöld til að nýta heimildir um heiðurslaun listamanna og veita Steinu Vasulka heiðurslaunin eins fljótt og auðið er. Steina Vasulka sem er fædd Steinunn Briem Bjarnadóttir í Reykjavík árið 1940, er alþjóðlegur frumkvöðull á sviði videólistar allt frá því hún hóf að starfa með miðilinn 1967.
Steina og eiginmaður hennar Woody Vasulka (fæddur í Tékklandi árið 1937 og einn af tengdasonum Íslands) fluttu til New York árið 1965 þar sem þau kynntust vídeói sem þá var nýr og ókannaður miðill. Þar stofnuðu þau The Kitchen árið 1971, sem var vettvangur fyrir vídeólistamenn og er ennþá starfandi. Árið 1973 voru þau fengin til að koma á fót námi í nýmiðlalistum (mediaartstudies) í Buffaló háskóla í New York fylki, sem þá var nýlunda í Bandaríkjunum sem var mikilvægt frumkvöðlastarf. Þau hafa búið í Santa Fe í Nýju Mexíkó síðan árið 1980 og helgað sig listinni. Í dag koma þau hjón reglulega til Íslands bæði til að vinna að nýjum verkum og sýna en Steina hefur ávalt leitað fanga og innblásturs á Íslandi. Nú hefur verið opnuð Vasulka stofa á Listasafni Íslands sem verður miðstöð rannsókna og tilrauna á sviði videólista auk þess að halda utan um algjörlega einstakt safn - archive þeirra hjóna sem margir hafa sóst eftir.
Vasulka hjónin eru einstakir frumkvöðlar á sviði vídeólistar. Sérstakt framlag þeirra til þessarar ungu listgreinar byggist á rannsóknum þeirra á eiginleikum rafrænna mynda og tilraunum með tækjabúnað. Verk Steinu, Machine Vision sem hún vann að í Buffaló, er eitt af lykilverkum vídeólistasögunnar. Verk hennar hafa fylgt þróun tækninnar í þeim skilningi að nýr búnaður verður henni uppspretta nýrra verka. Steina sýndi verk sín á Íslandi í fysta sinn árið 1984 á Listhátíð í Reykjavík. Stærsta verk hennar gat þá aðeins verið uppi í stuttan tíma þar sem ekki var hægt að útvega tíu sjónvarpskjái í nema þrjá daga. Þegar Steina sýndi næst á Íslandi árið 1993 voru myndvarpar og gagnsæ sýningartjöld komin til sögunnar og vakti verk af fossandi vatni í jökulám mikla athygli. Eftir að Kjarvalsstaðir efndu til stórrar einkasýningar á verkum Steinu árið 1996 var hún valin til að vera fulltrúi Íslands á Feneyjartvíæringnum árið 1997, fyrst kvenna. Steina hefur á síðustu tveimur áratugum unnið með fjölda skjáa og myndvarpa til að skapa heildarumhverfi hreyfimynda sem hún umbreytir með aðstoð stafrænnar tækni. Íslendingar hafa fengið tækifæri til að kynnst mörgum þessara verka sem þykja áhrifamikil og vekja jafnan hrifningu, en þau eru án frásagnar og byggð upp eins og tónverk.
Ef litið er á stöðu Steinu á heimsvísu er ekki skrifað um vídeólist án þess að minnst sé á Vasulka hjónin og verk þeirra. Steina er í raun einn af best þekktustu listamönnum Íslands á alþjóðlegum vettvangi þó svo að ekki hafi mikið farið fyrir því hér heima. Hún á þar að auki að baki ævistarf sem er afar merkilegt framlag til þróunar vídeólistar. Forseti Íslands veitti Steinu Vasulka fálkaorðuna fyrir hennar framlag til videólistar árið 2015.
Við teljum að Steina verðskuldi heiðurslaun og óskum þess að allsherjarnefnd Alþingis og mennta- og menningarmálaráðuneytið nýti heimildir fyrir heiðurslaunum listamanna svo hún fái þau eins fljótt og auðið er.
Announcement from the administrator of this website

We have closed this petition and we have removed signatories' personal information.

European Union's General Data Protection Regulation (GDPR) requires a legitimate reason for storing personal information and that the information be stored for the shortest time possible.