Stop FL Panhandle Maritime National Heritage Area
Visit StopNHA.com to learn more. Sign up for the newsletter for updates.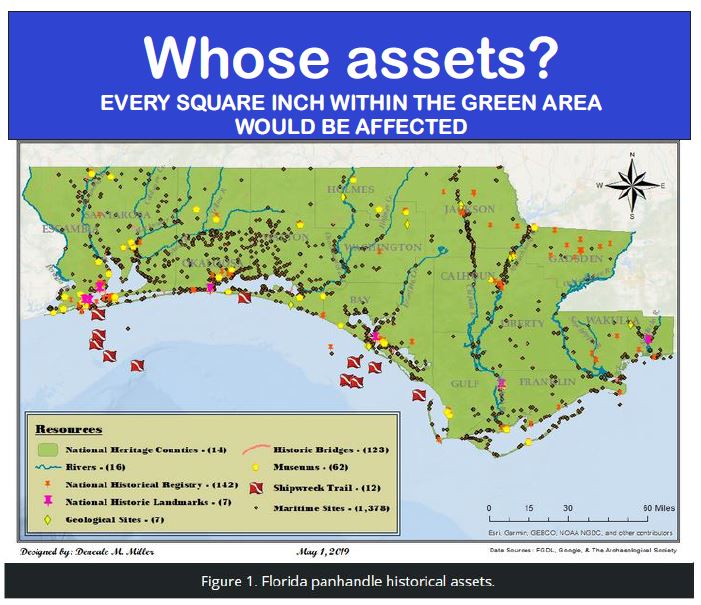 A National Heritage Area (NHA) drives a wedge between citizens and local government.
A National Heritage Area is a large area of land/water with a boundary. It operates with the permission and guidance of the National Park Service (no friend to private property). The National Park Service description is "National Heritage Areas are places where historic, cultural, and natural resources combine to form cohesive, nationally important landscapes. Unlike national parks, National Heritage Areas are large lived-in landscapes." Anything within an NHA boundary labeled historical, cultural, or natural is to be controlled.
In cooperation with the National Park Service, a self-appointed "managing entity" oversees and influences local land-use decisions using citizens' tax dollars and donations from other conservation/preservation groups. The Interior Department, National Park Service, and the "managing entity" are not elected by "We the People."
We petition Congressman Matt Gaetz and Congressman Neal Dunn, Senator Rick Scott, and Senator Marco Rubio! DO NOT introduce ANY bill into Congress to initiate a National Heritage Area, or any other "National" designation in northwest Florida. Cosponsorship of bills for any other National Heritage Area in the United States should be withdrawn immediately.