STOP RZM2022-00039 STOP HIGH DENSITY IN HOG MOUNTAIN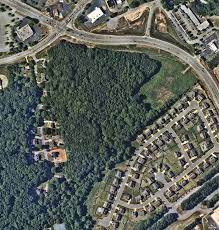 SAY NO TO RZM2022-00039                                                                                      Intersection of Hwy 324/Hwy 124 - Site Plan #3
STOP HIGH DENSITY IN HOG MOUNTAIN           
The Gwinnett County Planning Commission voted 7-1 to recommend denial of this rezoning application. The Planning Commission is an advisory body to the Board of Commissioners.  The BOC can follow the Planning Commission's recommendation, or they can overrule them with a simple majority of three votes. This vote will happen on March 28, 2023, 7 pm at Gwinnett Justice and Administrative Center, 75 Langely Drive, Lawrenceville, 30046
It is important that we let the Board of Commissioners know that area residents are in opposition to this proposed rezoning. The applicant is seeking to rezone three parcels, about 19 acres, currently zoned RA-200 and C-1 to assemble them into a single use,     R-TH -- townhomes.  As proposed, this high-density development, 93 townhomes, would have one way in/out --directly onto Hwy 324. The stretch of road from this intersection to Fort Daniel Elementary, 4/10 of a mile, would then include seven entry/exit points onto Auburn Rd/Hwy 324.  This area has experienced nearly 200 accidents including 3 fatalities in the past 13 months.  The only exit/entry would sit just below the intersection of two state highways, on a curve already protected by a guardrail This is not the place to add another entry point onto Hwy 324.
The applicant says this development would enhance the area and the walkability of the neighborhood.  Both Hwy 324 and Hwy 124 are high-traffic areas; walking on either of these highways is dangerous.  This locked-in development would be totally reliant upon vehicles as a primary means of transportation.  This is not a walkable area.
The applicant says the development would be a good fit for the neighborhood.  If that is the case, then why do they need waivers and a variance to not comply with the Hamilton Mill 324/124 Overlay District? According to that document, access to contiguous property should be used to increase traffic safety.  The applicant said that this wasn't possible due to the "challenging topography" of the parcels. Their plan would decrease traffic safety.
Should area residents have to sacrifice traffic safety and quality of life because RLG wants to flip the zoning of this corner? The applicant cites the property's "steep, severe and challenging" topography as the reasons for requesting waivers and variances and to not comply with the Hamilton Mill 324/124 Overlay District requirements.
Due to the "challenging topography" 45 of the 93 units would be on one parcel abutting R-100 homes, as currently configured twenty backyards would border eight existing backyards.  Changing this zoning to R-TH would be a huge increase in density and rezoning to a dissimilar use from bordering subdivisions. RLG is NOT the property owner, they won't be the builder.  They only buy the property after they flip the zoning.  They then sell to a builder who may or may not be tied to the site plan submitted.  This is a speculative zoning flip. 
WE submit these are reasons to say NO to this rezoning application. If you agree that RZM2022-00039 is a bad plan for this intersection and a bad plan for the area, please sign this petition.   
| | |
| --- | --- |
| | The author of this petition has closed this petition. |