Stop the killings by fulani herdsmen in Nigeria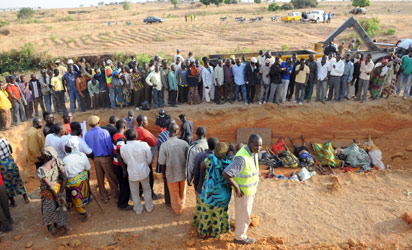 The Honorable Congressman


Dear Congressman,
We write to you as concerned Christian citizens of Nigeria who seek help from the international community to intercede in the devastating violence ravaging our towns. Due to the negligence and impunity of our own government, we have been forced to seek assistance abroad. As part of our efforts to raise awareness and petition action, we have collaborated with the US-based nonprofit organization, Jubilee Campaign. Jubilee Campaign has expressed that your office has been an ally to persecuted Christians, and we humbly request that you send a letter to Nigeria's President Buhari and appeal him to stop the attacks that are wiping out entire Christian communities in Nigeria.
Nigeria is evenly split between Christians and Muslims. One of the Islamic ethnic groups is the Fulani, many of whom are occupied as herders. In the past 5 years, a militia associated with the Fulani has launched systematic attacks on predominantly Christian farming communities. The attacks are extremely deadly. From May 2015- December 2016, 881 persons were killed. After killing or displacing everyone in a village, the attackers move in and stay there themselves. Any survivors of the attacks are killed if they try to return home.
Despite the growing violence and the thousands of lives that have already been lost, our government refuses to help us. There have been many times when police forces have been warned of an imminent attack, and they still fail to respond until after the attack is over. Our president has been almost silent about the thousands of human lives lost in this violence and has come up with no viable solution to stop it. As local police are directly managed by the federal government, a lack of interest by the executive means a lack of local response. We have also been appalled at the statements that have come from Kaduna State governor, Governor El-Rufai. He has stated that he tracked down the killers and paid them off to stop the attacks, yet he will not reveal the identity nor prosecute these attackers. Furthermore, he stated to those who are promoting self-defense, "…Defend yourself is hate speech. You can't defend yourself if there is a government. We are going to arrest and prosecute all those that pass that message." Not only does the government fail to defend us, but it also threatens those who try to defend themselves.
As we've been exhausting all domestic resources to no avail, we now ask that the US Congress become our ally. We know that this is a busy time for you, but we hope that you can find the time to send a letter to President Buhari asking him to immediately take action to stop this merciless violence. We greatly appreciate your time and assistance.
Here are some  links  of our personal accounts to the violence
The Southern Kaduna Genocide:
https://drive.google.com/file/d/0BzXmb34Umb9zVmMtMTEzeWowRm8/view?ts=58690936
links with Images:
Sir, the below 3 links content VERY graphic images of death bodies of my people lying in pool of blood after been butchered like pigs.  
Warning: some of these images on these link are too graphic that i wouldn't advise you to even look at them .

http://www.nairaland.com/3546254/killing-southern-kaduna-people-fulani

http://www.skvoices.com/

http://ced-ra.org
Our people speaking out back at home:
https://www.youtube.com/watch?v=La-GLL90eA0
https://www.youtube.com/watch?v=8AWtFYL0tbM&t=21s
https://www.youtube.com/watch?v=CFPdZbTKIZc
https://www.youtube.com/watch?v=hxI7FGA8oGE&t=3s
https://www.youtube.com/watch?v=RNfeXZPGB-k

https://www.youtube.com/watch?v=b-cs6xuzfio
https://www.youtube.com/watch?v=PlqS5keJEQw
https://www.youtube.com/watch?v=j_r83pb-3_k
Sincerely,
People of Southern Kaduna state in Nigeria
Announcement from the administrator of this website

We have closed this petition and we have removed signatories' personal information.

European Union's General Data Protection Regulation (GDPR) requires a legitimate reason for storing personal information and that the information be stored for the shortest time possible.