Students Supporting CUE Faculty Association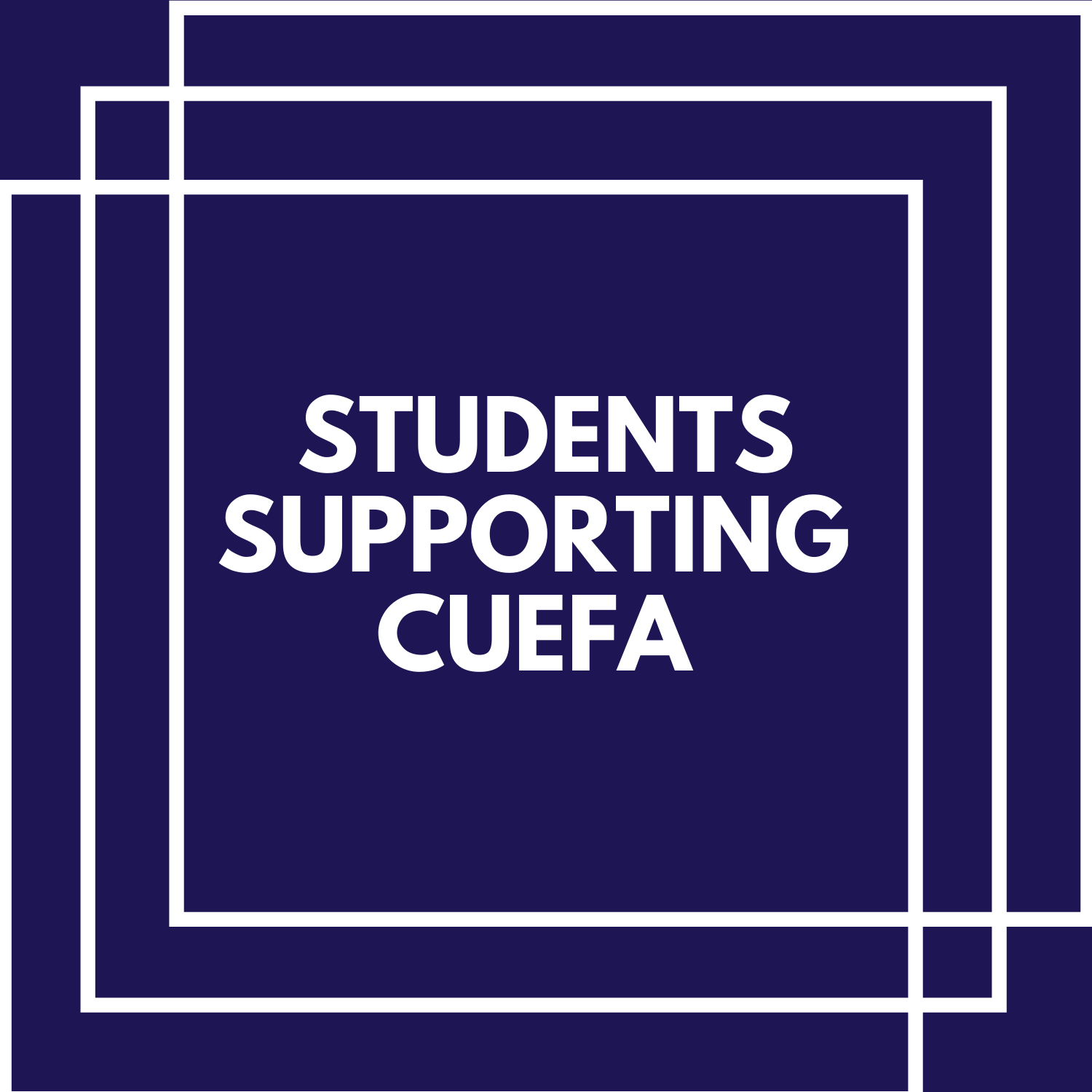 While we as current students, alumni and members of the community understand that labour disputes do occur, we cannot sit idly by while the faculty continue to be negatively impacted by the University administration's unsustainable, aggressive and inflammatory labour relations strategies.
This is becoming an increasing issue at not only our school and we share the prevailing sentiment that: Faculty working conditions are student learning conditions
While there are a number of issues left unresolved at this point in negotiations, the current workload expectation is the biggest issue. CUE's workload requirements for faculty are currently higher than at any other university in Canada. The unmanageable workload expected of our faculty directly impacts the quality of our education. This is why we will not maintain a neutral third-party in the imposition of austerity on post-secondary education.
Please join us in expressing our support for CUEFA with the hopes of quick and fair agreement between them and the administration.
UPDATE: DECEMBER 26th 2021 to reflect the movement in bargaining and indicate the next most pressing, unresolved issue.
Salary - we want the institution to refocus their resources on supporting their primary mission as a university, specifically academic endeavors. To support teaching and research, to be able to recruit and retain good people, you have to pay a reasonable salary that is comparable to other institutions within the same sector. We are at the bottom of the sector across Canada when matched against comparator universities. We submitted our most recent counter on December 19.

The University has had 2 of our best financial years in around 100 years - with a 7.8M surplus and a 11.5M surplus over the last 2 years (this is a profit of 25% of their annual budget).
The University's administration chose to buy the Magrath Mansion: although 1.42M was donated by the family, the university's administration still spent 1.75M on the purchase.
We are seeking fair compensation that is comparable to those of professors at similar universities in Canada. Recent Changes to the bylaws of the Board of Governors state that the President's salary will be guided by the compensation paid to the Presidents of an agreed set of comparator universities. We would be happy to have our salaries guided by the same set of comparator universities.