Vegans against participation and subsidies for milk and meat production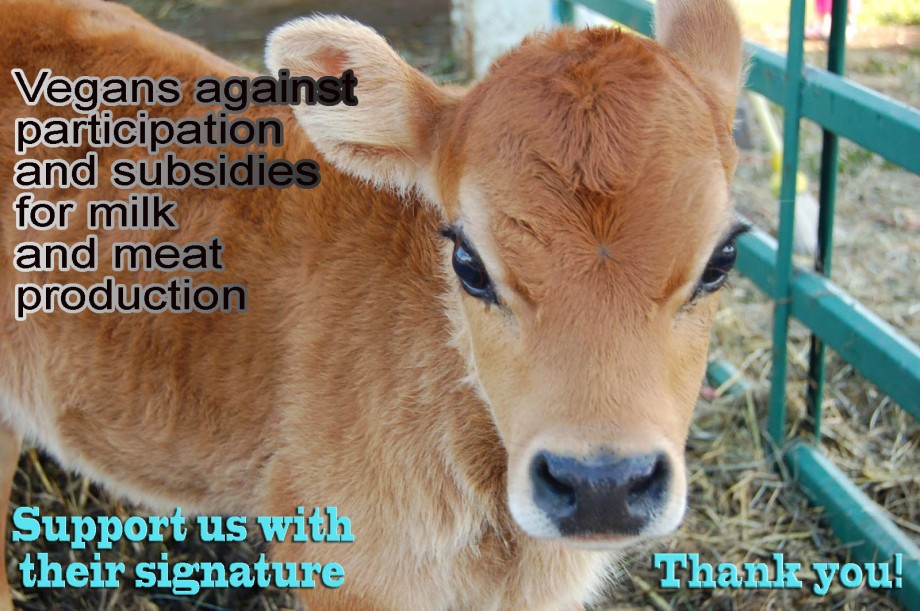 Vegans against participation and subsidies for milk and meat production Based on the Constitutional Act on the Rights and freedom of National Minorities, Article 21: Prohibition of Discrimination, Article 23: Dignity And Free Development Of Personality, Article 25.: Inviolability of Physical and Mental Integrity, Article 43: Freedom of thought, conscience and religion, Article 45: Conscientious objection, Article 46: Freedom of opinion and expression, Article 48: Promoting respect of Differences, Article 74: Environmental Protection Right, Article 84: Developing a Spirit of Tolerance and Respect, we vegans hereby demand to be excluded from all forms of milk and meat production participation and subsidies.
We refuse to have our taxes used for the abovestated purposes. We do not wish to fund meat and dairy industry because such actions contradict our conscientious decisions and violate our personal freedom of thought and action in accordance with our conscience. We hereby kindly ask those who approve and support our attitude in the spirit of understanding and tolerance, to support us with their signature. Thank you!
Announcement from the administrator of this website

We have closed this petition and we have removed signatories' personal information.

European Union's General Data Protection Regulation (GDPR) requires a legitimate reason for storing personal information and that the information be stored for the shortest time possible.