Support Zagreb Tourism: Re-establishment of tourist bus stop & parking zone in city center
Re-establishment of the tourist bus stop on Palmotićeva Street and the bus parking zone on Vončinina Street  
By the decision of the City Authorities of Zagreb (the Transport Department at the City Office for Reconstruction, Development, Physical Planning, Construction, Utility Services and Transport), the tourist bus stop (pick-up/drop-off point) on Palmotićeva Street and the tourist bus parking zone on Vončinina Street have been permanently closed and relocated to:  
1. Zagreb Train Station – the south side of Ante Starčević Square
2. Mažuranić Square
3. Zagreb Trade Fair (Zagrebački Velesajam) parking lot  

The licensed local tour guides from Zagreb, both foreign and local tour leaders and bus drivers, as well as travel agencies from all over the world have already expressed great dissatisfaction and disappointment with this decision, since its implementation would inevitably lead to a series of organizational and logistical problems and major traffic jams, which would significantly impact the number of tourist groups visiting the capital of Croatia.  
Here are sixmain reasons why we believe that it is of major importance for Zagreb as a tourist destination to re-establish the tourist bus stop on Palmotićeva Street and the bus parking zone on Vončinina Street.    

1.      Standard Zagreb tours are extremely time-limited: they usually last around 2 hours and cover the Old Town main sights, located in the very heart of the city center (Kaptol – the area around Zagreb's Cathedral and the Upper Town). Due to the new decisions, Zagreb sightseeing tours would have to be extended by an hour (half an hour of additional walking in each direction) and this would inevitably cause negative reactions among many clients, leading to cancellations of sightseeing tours and exclusion of Zagreb tours from the travel itineraries.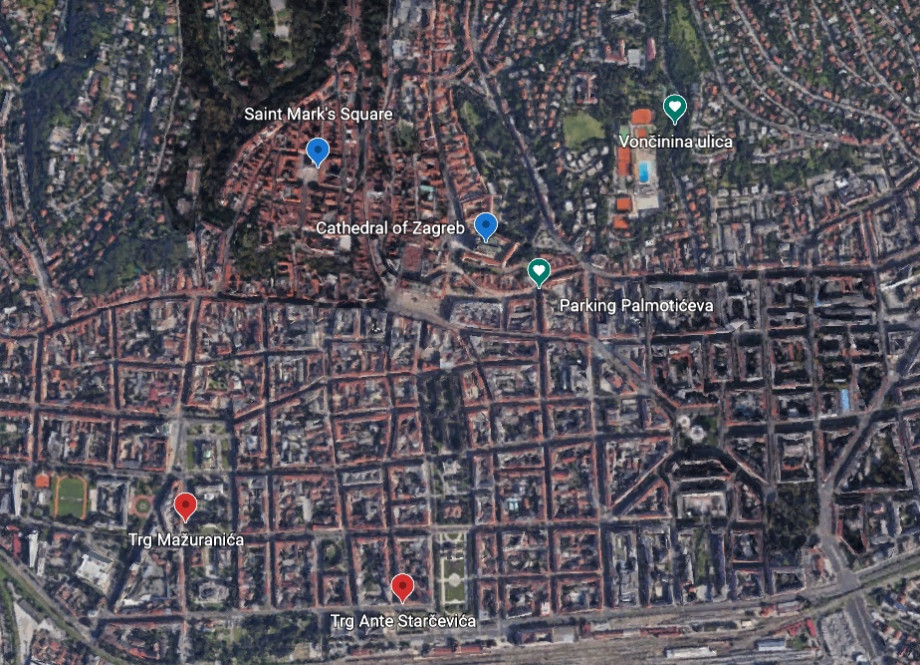 A significant reduction in the number of tourist groups visiting Zagreb would negatively impact not only travel agencies, tour leaders and tour guides, but also restaurants, souvenir shops and other retail stores in the city center, especially those in the before mentioned zone of the Old Town and namely, European Square.    

2.      Most tourist groups need a comfort break after getting off the bus, before they start their sightseeing. If they get off on Palmotićeva Street, there is a nearby public toilet at their disposal, located on the Cesarčeva Street, where you can find tourists from recently arrived buses (40 people per bus on average) waiting in line. Should the City of Zagreb go through with this decision, tens, sometimes hundreds of tourists will not be able to use the restroom before they go on a 2-hour walking tour, as there are no public toilets or similar appropriate facilities nowhere near the 2 newly suggested tourist bus stops.  

3.      Such a decision could lead to major traffic jams, especially if there are two or three tourist buses lined up on Mažuranić Square at the moment when the daily city bus arrives. That very same stop is used as a regular bus station for the 118 bus line to Voltino . In the event that, for example, two tourist buses arrive at Mažuranić Square (and one would expect there to be more), the 118 city bus and other road users could very well find themselves in a highly inconvenient situation. Since the drivers of tourist buses cannot predict the amount of time they need to drive from the Zagreb Trade Fair to Mažuranić Square (or Starčević Square), one would expect them to arrive early and wait for their groups. This means that bus 118 would have nowhere to stop. Should bus 118 or the tourist buses have nowhere to stop, a traffic jam could easily build up on both Žerjavićeva and Perkovčeva streets.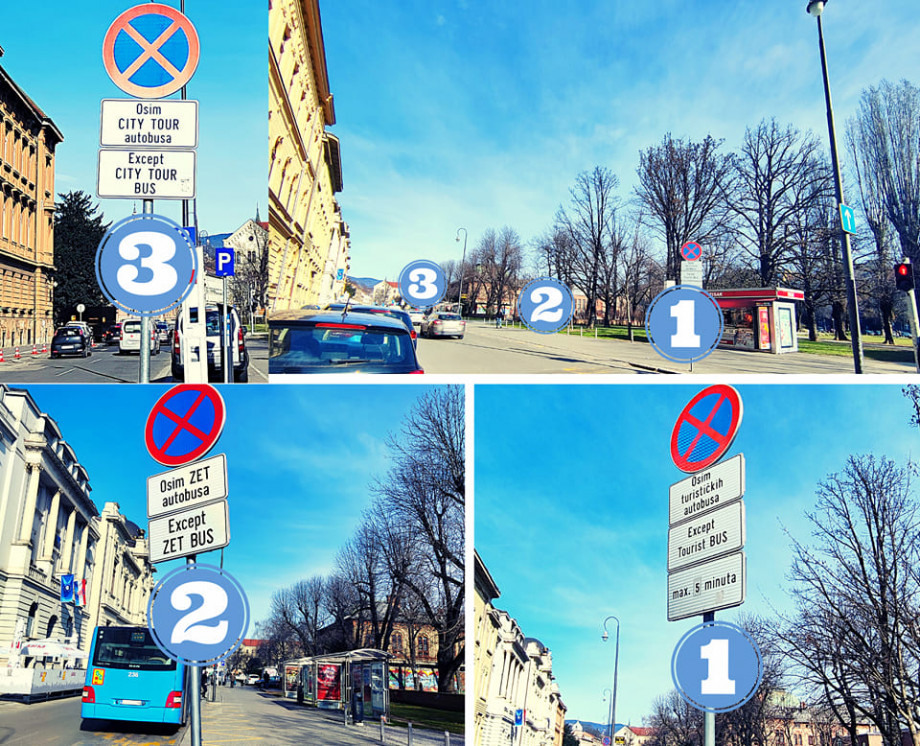 4.      If the decision about the parking lot at the Zagreb Trade Fair remains in force, that would mean that all tourist buses visiting the capital would have to cross the Sava River at least twice in order to park at the Zagreb Trade Fair parking lot and then to return to the center and pick up their group. So, if all tourist buses visiting Zagreb would travel from the city center to the Zagreb Trade Fair parking lot and back during the entire tourist season, it would very likely lead to traffic jams and cause great frustration for both tourists and citizens of Zagreb.   In addition, since most tourist buses (due to their height) are unable to pass through the underpasses on Savska and Miramarska Street on the way to the city center, it is to be expected that the new decision will cause additional traffic jams on Marin Držić Avenue and on Selska Street.    
5.      The designated tourist bus parking zone on Vončinina Street has been ideal for tourist buses. It allowed the drivers to wait for their groups relatively close to the pick-up/drop-off point. Parking at the Zagreb Trade Fair (located across the Sava River!) would make it much more difficult for them to estimate how long is needed to get back to the city center on time (especially in the event of traffic jams on the Sava bridges).   Both foreign and Croatian tourist agencies have carefully planned round-trip schedules, where there is no room for major changes. The main reasons being the working hours and drivers' mandatory rest periods.As Andrea Sesar from the Four Travel Agency explains: "In order to respect drivers' working hours and the duration of their mandatory rest, it is necessary that both the pick-up/drop-off point and the parking zone return to Palmotićeva and Vončinina streets. All drivers are obliged to take a legal break after a stipulated amount of driving time. If the bus parking zone is too far from the center and if the driver gets stuck in a traffic jam, he could well run out of hours. If that happened, the driver would be forced to park the vehicle during the last minute before his tachograph time runs out. In other words, if the driver has to take a break, he has to do it any place on the road because the inspection would not see the location when checking the tachograph card. The law is very strict and the penalties rigorous. For the sake of tourist bus drivers, it is of extreme importance that the pick-up/drop-off point and parking zone return to their old locations."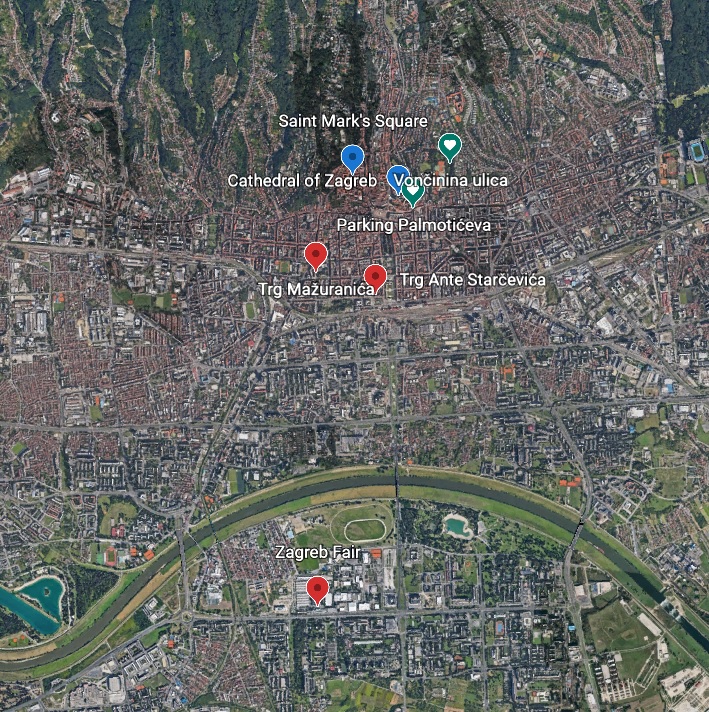 6. For the reasons laid out above, it is to be expected that the drivers of tourist buses are highly likely to disregard the rules and stop and park in prohibited areas of the city. 
This in fact has been confirmed by the random parking of tourist buses within the city center, since the new regulations were introduced a few days before the beginning of the Advent Christmas Market. 
Here is what tourist guide Josipa Šiklić, known as "Purgerica", says about this situation: 
"During the period of Advent in Zagreb, when the bus stop in Palmotićeva Street was already marked as "out of use", I witnessed, first-hand, buses with foreign license plates making long stops at the top of Zrinjevac Park, taking their time, not minding the traffic jams they were causing for both guests and locals, proceeding upwards to Praška Street (strictly forbidden to even enter unless you are a tenant, taxi, guest of the hotel nearby, or emergency service cars), blocking the whole tram traffic towards our Main Square. Other buses, arriving from various destinations, chose ZET's bus stop on Kaptol as their new "solution" for dropping off their passengers, infuriating the locals, as those particular bus stops are exclusively for local ZET bus lines, and the space they occupy is already way too narrow even for the drop offs involving solely local passengers.  In case people were bothered by our presence in Palmotićeva Street, we would have greatly appreciated being given some heads up, and being offered, as professionals in the hospitality industry, the chance for a fair dialogue with tenants of the street and representatives of the city council's sector for traffic & infrastructure, which could have led to finding common ground and a much more sustainable solution. The one we have now lacks logic, sustainability, fairness and good hospitality spirit, which we boast with so much in our charming Zagreb.I won't even mention the extra long walk for elderly guests or young preschoolers who come to learn about their city, because empathy unfortunately has no place in bureaucracy, as it appears, so at least let's participate as citizens of this beautiful and beloved city in reducing, not increasing, traffic jams and generally good city behavior."
------------------------------------------- 
Therefore, we are kindly asking the Zagreb Authorities to re-establish the Palmotićeva Street pick-up/drop-off point and the Vončinina parking zone in order to avoid further organizational, logistical and traffic chaos, and to allow the further development and sustainability of Zagreb tourism.  
Zagreb has become a regular destination for many tourists in the past few years because of its beauty, well organized infrastructure and accessibility to all attractions.
If we want to keep tourism in Zagreb, we have to keep the well-established traditions and make them better, not worse.  
Let Zagreb remain a city which tourists from all over the world are eager to return to.
___
Media coverage: the list is updated daily.