4120 Kurth St S, Salem, Oregon, Land Use Application
If you are concerned about the application filed with the city of Salem to rezone property located at 4120 Kurth St S, you are urged to sign this petition. While development and use of the property is generally a positive for the neighborhood, the proposal to rezone the property to RM 2, which will allow up to 42 multifamily units, is not acceptable. 
The proposed development plan:
Is inconsistent with the Sunnyslope Neighborhood Plan that provides that multifamily units shoud be clustered at major intersections to reduce the amount of traffic through the neighborhood. The number of units should vary from seven to 15 units per acre (36 units are proposed on 1.5 acres). The proposed development is also inconsisten with the Transportation System Plan. 

The proposed multifamily project is not near a major intersection. In fact, the two collector roads, Browning Ave S and Cunningham Ln S, do not meet urban standards, which means "street[s] that are fully improved to urban standards are constructed with appropriate substrate, curbs, gutters, storm drainage, sidewalks, illumination, and bicycle lanes where designated. Improved streets that are not currently built to their ultimate design capacity will be constructed to their ultimate design as travel demand warrants." (Salem Transportation System Plan, p. 3-12.)

Browning lacks curbs, sidewalks, and adequate lighting from Liberty St S to Kurth. The road is at times very narrow. Wide vehicles, such as school busses or trailers, cannot travel the street without the tires on either side of the vehicle touching one or both of the white and yellow lines marking the lanes. In some places, the white line isn't even marked on asphalt because the road has worn away.

Cunningham is only partially curbed with sidewalks from Liberty to Kurth. While the street does have some lighting and a bike lane, people walking or jogging must do so in the road for long stretches, which congests traffic and puts pedestrians at risk. 


Schools are already at or exceeding capacity. The proposed development plan will put increased pressure on class sizes and school busses.
For the reasons above and any included in the optional comments, I oppose the application to rezone the site at 4120 Kurth St S. 
More information about the proposed development plan taken from minutes of the Sunnyslope Neighborhood Association's May 21, 2020 meeting:  
The developer proposes a 36-unit apartment complex housed in four buildings with three floors each on the 1.5 acre site. The planned development will require a zone change from singl-family residential to RM 2, which would allow for up to 48 units. With the existing utilities in place, the plan is to keep as many trees as possible. Buildings will be set back 30 feet from neighboring property lines The developer will be required to make 1⁄2 street improvements along the property lines on Kurth and Browning which will include sidewalks. They will also be required to construct a 90-foot turn around on their property for Mesa Street. There will be entrances off Browning and Kurth with two parking spaces per unit. These will be market rate units. According to the architect, the units will not be "affordable" housing units, but will be market rate units.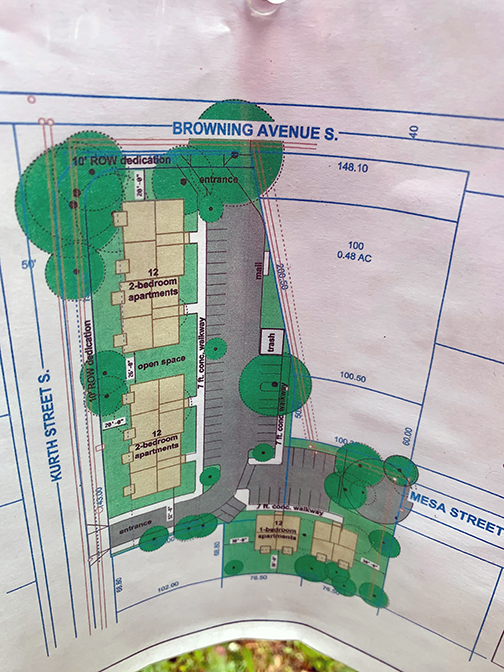 Sign this Petition
By signing, I authorize Kevin Willingham, Sunnyslope Resident to hand over my signature to those who have power on this issue.