RENDÜLETLENÜL
Tisztelt magyar állampolgárok!

A kormány egyik meghatározó politikusa, Németh Szilárd, a Nemzetbiztonsági Bizottság alelnöke titkosszolgálati információkra alapozva három magyar állampolgárt, Vágó Gábort, Gulyás Mártont és Schilling Árpádot név szerint vádolt meg, hogy ők lennének az elkövetkezendő hónapok utcai zavargásainak szervezői.
Hazug, méltatlan és minden alapot nélkülöző, meggondolatlan nyilatkozatával a szolgálatok munkájára is árnyékot vetett és kontrollálhatatlanul veszélyes helyzetbe hozta a megnevezetteket.
Mi, az alapvető demokratikus európai jogokban bízó és azokat elváró magyar állampolgárok tiltakozunk az ilyen és hasonló kinyilatkoztatások, gyanúsítgatások és félelemkeltések ellen. Ezért egyértelműen kifejezzük: szolidárisak vagyunk három honfitársunkkal, őszintén bízunk a szolgálatok függetlenségében, és hogy valóban képesek megvédeni minket a provokációtól és minden fenyegetéstől, amely kockáztatja magyar állampolgárok testi épségét.
Ezért 2017. szeptember 18-án 17:30-kor a Falk Miksa utca 9-11., az Alkotmányvédelmi Hivatal elé szolidaritási gyűlést hirdetünk, amelyre várunk minden békés, jószándékú embert.
Mutassuk meg, hogy nem félünk, hogy normális közállapotokat követelünk, hogy a gyűlöletkeltésnek nincs hatalma felettünk!
A fenti gondolatokkal egyetértve írom alá ezt a petíciót.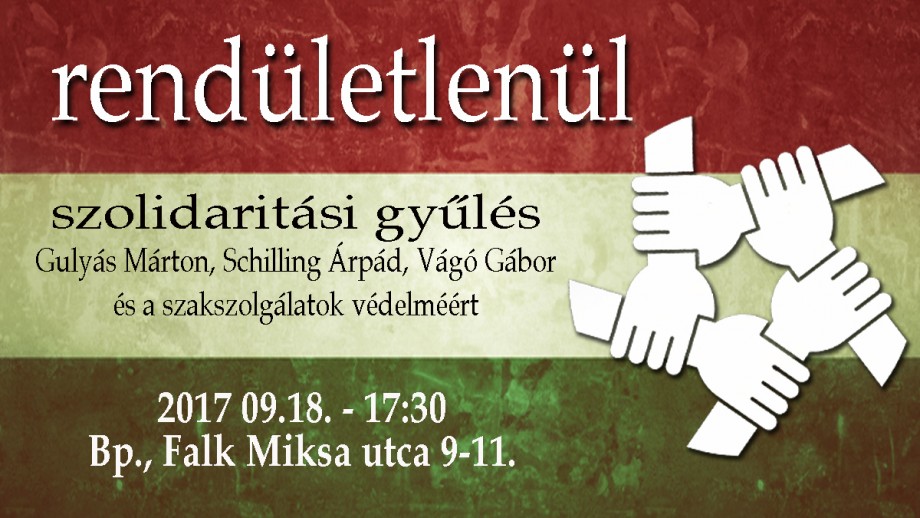 Announcement from the administrator of this website

We have closed this petition and we have removed signatories' personal information.

European Union's General Data Protection Regulation (GDPR) requires a legitimate reason for storing personal information and that the information be stored for the shortest time possible.