Restore, Preserve and Protect the Historic World War II-era blimp hangars in Tustin, California
Help save the landmark World War II-era blimp hangar in Tustin, California: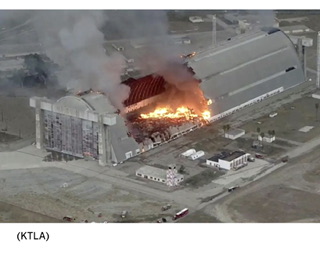 (photo credit KTLA news, Nov. 7, 2023)

A massive blaze that started early Tuesday November 7th scorched and substantially damaged the north blimp hangar at Tustin Naval Air Station, which is one of a pair at the complex and an Orange County landmark that dates back to 1942. Both hangars were erected by the military during World War II.
The hangars are two of the world's largest free-standing wooden structures. Both are listed in the Register of National Historic Places.
This petition aims to initiate a grassroots effort to rebuild, repair and preserve both hangars. Sign this petition if you support a proposal that the two hangars be protected as historical landmarks that are integral to the visual and cultural history of Orange County.
With a significant show of support we may be able to persuade the County of Orange to endow these structures with the protections that will preserve them for future generations.
By adding your name to this petition you are simply communicating your approval of city and county efforts that align with a Tustin Hangar Preservation efforts by the administration of Orange County.
Please show that you care and sign this petition.