Save the wildlife and bushlands/corridors in Campbelltown from redevelopment
This is a petition to help SAVE our native and local wildlife and one of our much loved ICONS the KOALA.
Channel 7 new report on smiths creek
https://au.news.yahoo.com/nsw/video/watch/24250055/koala-corridor-could-be-wiped-out/
Developments of housing estates and removal of our bushlands are one our well known KILLERS to our wildlife and protected species yet our governments pass the approvals of these destructive machines and MANY if not ALL our wildlife LOSE their homes, LOSE their babies and their babies become ORPHANED.



The animals that use these corridors and bushlands are KOALAS, WALLABIES, POSSUMS, ECHIDNAS, WOMBATS, ROOS, GLIDERS, and who can forget our feathered friends that fly up above for they to nest in these trees and hollows and just to name a few these are our LORIKEETS, EAGLES, OWLS, HAWKS, KOOKABURRAS, COCKATOOS the list is endless.



So if we do not voice our opinions and concerns and speak up for our wonderful wildlife then who will, it's up to us as a community to save our animals habitats that they call home.



Please show your support and love of our wildlife by signing this petition every signature counts.
http://www.petitions24.com/saving_the_corridorsbushlands_of_campbelltown_for_our_wildlife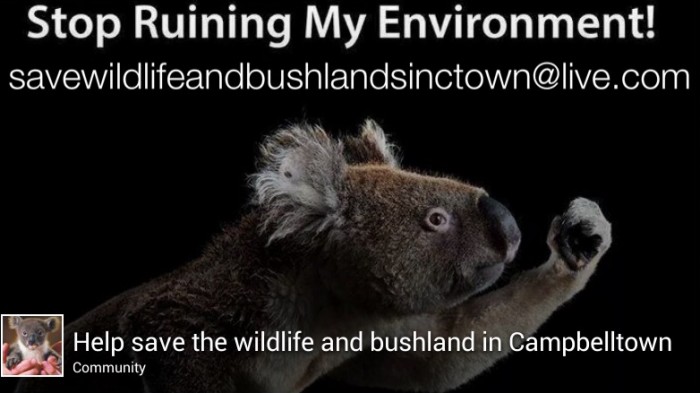 Announcement from the administrator of this website

We have closed this petition and we have removed signatories' personal information.

European Union's General Data Protection Regulation (GDPR) requires a legitimate reason for storing personal information and that the information be stored for the shortest time possible.