FÖRBJUD MINKUPPFÖDNING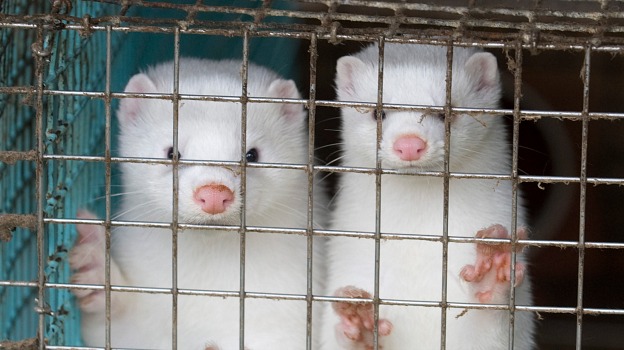 I Sverige föds sedan 2014 enbart minkar upp på pälsdjursfarmer för sin päls. Rävfarmningen fasades ut 2001 och 2014 stängde den sista chinchillafarmen, till följd av strängare regler för hållningen av djuren varför då inte förbjuda även uppfödning av mink?

När den nuvarande  djurskyddslagen (1988:534) ersatte den gamla, uttalades att kravet på att djuren ska kunna "bete sig naturligt" även gällde pälsdjuren.

Sedan den nya lagen infördes 1988 hade 90 procent av farmerna försvunnit till år 2010 på grund av den snabba strukturomvandlingen. Räv- och chinchillafarmer, som fanns till när lagen trädde i kraft, har gradvis avvecklats eftersom näringarna inte lyckades leva upp till de nya reglerna.
4 § Djur skall hållas och skötas i en god djurmiljö och på ett
sådant sätt att det främjar deras hälsa och ger dem möjlighet
att bete sig naturligt. - Djurskyddslag (1988:534)

Hur ska en mink kunna bete sig naturligt i en bur på Burarna är 30 × 90 cm stora och 45 cm höga.
Under november-december dödas alla minkar utom de som ska användas i avel. De dödas genom att placeras i en låda som fylls med koldioxid.
Inandning av koldioxid är plågsamt och metoden kan ta lång tid.
Minkvalpar som är yngre än 14 dagar får dock avlivas genom slag mot huvudet.

Att sådant här ens är tillåtet och inte går under djurplågeri är fruktansvärt. Det MÅSTE bli en ändring.

DRIS - Djurens röst i Sverige
Bibi Noris
Ordförande
Sign this Petition
By signing, I authorize Bibi Noris to hand over my signature to those who have power on this issue.